Definition of MM dividend-irrelevance proposition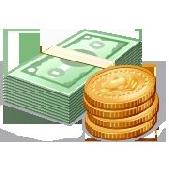 MM dividend-irrelevance proposition
Theory that under ideal conditions, the value of the firm is unaffected by dividend policy.


---
Related Terms:
A promise to sell an asset before the seller has lined up purchase of the asset. This
seller can offset risk by purchasing a futures contract to fix the sales price.


---
Information that is known to some people but not to other people.


---
A situation wherein participants in a transaction have different net tax rates.


---
A lack of equivalence between two things, such as the unequal tax treatment of interest expense
and dividend payments.


---
A subcommittee of a company's board of directors assigned the responsibility
of ensuring that corporate financial reporting is fair and honest and that an audit is conducted
in a probing and diligent manner.


---
A committee formed in response to SEC chairman Arthur Levitt's initiative to improve the financial
reporting environment in the United States. In a report dated February 1999, the committee
made recommendations for new rules for regulation of financial reporting in the United States that
either duplicated or carried forward the recommendations of the Treadway Commission.


---
The theoretical amount per share that each stockholder would receive if a company's assets were sold on the balance sheet's date. Book value equals:
(Stockholders' equity) / (Common stock shares outstanding)


---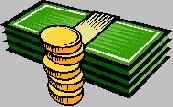 The actual physical commodity, as distinguished from a futures contract.


---
A dividend paid in cash to a company's shareholders. The amount is normally based on
profitability and is taxable as income. A cash distribution may include capital gains and return of capital in
addition to the dividend.


---
Payment of cash by the firm to its shareholders.


---
Cash flow from operations minus preferred stock dividends, divided by the
number of common shares outstanding.


---
A privately owned, profit-seeking firm that accepts deposits and makes loans.


---
An agreement between a creditor and a borrower, where the creditor has loaned an amount to the borrower for business purposes.


---
Demand for payment.


---
A loan made on real estate collateral, other than a residential property, in which a mortgage is given to secure payment of principal and interest.


---
Commercial paper
Short-term unsecured promissory notes issued by a corporation. The maturity of
commercial paper is typically less than 270 days; the most common maturity range is 30 to 50 days or less.


---
commercial paper
Short-term unsecured notes issued by firms.


---
Commercial risk
The risk that a foreign debtor will be unable to pay its debts because of business events,
such as bankruptcy.


---
Commission
The fee paid to a broker to execute a trade, based on number of shares, bonds, options, and/or
their dollar value. In 1975, deregulation led to the creation of discount brokers, who charge lower
commissions than full service brokers. Full service brokers offer advice and usually have a full staff of
analysts who follow specific industries. Discount brokers simply execute a client's order -- and usually do not
offer an opinion on a stock. Also known as a round-turn.


---
Commission broker
A broker on the floor of an exchange acts as agent for a particular brokerage house and
who buys and sells stocks for the brokerage house on a commission basis.


---
Commission house
A firm which buys and sells future contracts for customer accounts. Related: futures
commission merchant, omnibus account.


---
Commitment
A trader is said to have a commitment when he assumes the obligation to accept or make
delivery on a futures contract. Related: Open interest


---
Commitment fee
A fee paid to a commercial bank in return for its legal commitment to lend funds that have
not yet been advanced.


---
committed cost
a cost related either to the long-term investment
in plant and equipment of a business or to the
organizational personnel whom top management deem
permanent; a cost that cannot be changed without longrun
detriment to the organization


---
Committee, AIMR Performance Presentation Standards Implementation Committee
The Association for Investment Management and Research (AIMR)'s Performance Presentation Standards Implementation
Committee is charged with the responsibility to interpret, revise and update the AIMR Performance
Presentation Standards (AIMR-PPS(TM)) for portfolio performance presentations.


---
Commodities Exchange Center (CEC)
The location of five New York futures exchanges: Commodity
Exchange, Inc. (COMEX), the New York Mercantile exchange (NYMEX), the New York Cotton Exchange,
the Coffee, Sugar and Cocoa exchange (CSC), and the New York futures exchange (NYFE). common size
statement A statement in which all items are expressed as a percentage of a base figure, useful for purposes of
analyzing trends and the changing relationship between financial statement items. For example, all items in
each year's income statement could be presented as a percentage of net sales.


---
Commodity
A commodity is food, metal, or another physical substance that investors buy or sell, usually via
futures contracts.


---
Common-base-year analysis
The representing of accounting information over multiple years as percentages
of amounts in an initial year.
Common-size analysis The representing of balance sheet items as percentages of assets and of income
statement items as percentages of sales.


---
common body of knowledge (CBK)
the minimum set of knowledge needed by a person to function effectively in a particular field


---
Common market
An agreement between two or more countries that permits the free movement of capital
and labor as well as goods and services.


---
Common Shares
Are equity instruments that take no security against assets, have no fixed terms of repayment and pay no fixed dividends.


---
common-size balance sheet
Balance sheet that presents items as a percentage of total assets.


---
common-size income statement
Income statement that presents items as a percentage of revenues.


---
Common stock
These are securities that represent equity ownership in a company. Common shares let an
investor vote on such matters as the election of directors. They also give the holder a share in a company's
profits via dividend payments or the capital appreciation of the security.


---
Common stock
Shares of ownership sold to the public.


---
Common Stock
A financial security that represents an ownership claim on the
assets and earnings of a company. This claim is valid after the
claims of the debt providers and preferred stockholders have been
satisfied.


---
common stock
Ownership shares in a publicly held corporation.


---
Common Stock
That part of the capital stock of a corporation that carries voting rights and represents
the last claim on assets and dividends.


---
Common stock equivalent
A convertible security that is traded like an equity issue because the optioned
common stock is trading high.


---
Common stock market
The market for trading equities, not including preferred stock.


---
Common stock/other equity
Value of outstanding common shares at par, plus accumulated retained
earnings. Also called shareholders' equity.


---
Common stock ratios
Ratios that are designed to measure the relative claims of stockholders to earnings
(cash flow per share), and equity (book value per share) of a firm.


---
compensation committee
a company committee comprised mainly of members of the board of directors; is responsible
for establishing compensation packages for top management
and setting general compensation policies and guidelines


---
constant-growth dividend discount model
Version of the dividend discount model in which dividends grow at a constant rate.


---
Contingent immunization
An arrangement in which the money manager pursues an active bond portfolio
strategy until an adverse investment experience drives the then-available potential return down to the safetynet
level. When that point is reached, the money manager is obligated to pursue an immunization strategy to
lock in the safety-net level return.


---
Cost of Common Stock
The rate of return required by the investors in the common stock of
the company. A component of the cost of capital.


---
Cum dividend
With dividend.


---
Cumulative dividend feature
A requirement that any missed preferred or preference stock dividends be paid
in full before any common dividend payment is made.


---
Discounted dividend model (DDM)
A formula to estimate the intrinsic value of a firm by figuring the
present value of all expected future dividends.


---
Dividend
A dividend is a portion of a company's profit paid to common and preferred shareholders. A stock
selling for $20 a share with an annual dividend of $1 a share yields the investor 5%.


---
Dividend
A payment a company makes to stockholders. Earnings before income tax. The profit a company made
before income taxes.


---
Dividend
The payment of after-tax profits to shareholders as their share of the profits of the business for an accounting period.


---
Dividend
A payment made to shareholders that is proportional to the number of shares
owned. It is authorized by the Board of Directors.


---
dividend
Periodic cash distribution from the firm to its shareholders.


---
Dividend
As the term dividend relates to a corporation's earnings, a dividend is an amount paid per share from a corporation's after tax profits. Depending on the type of share, it may or may not have the right to earn any dividends and corporations may reduce or even suspend dividend payments if they are not doing well. Some dividends are paid in the form of additional shares of the corporation. dividends paid by Canadian corporations qualify for the dividend tax credit and are taxed at lower rates than other income.
As the term dividend relates to a life insurance policy, it means that if that policy is "participating", the policy owner is entitled to participate in an equitable distribution of the surplus earnings of the insurance company which issued the policy. Surpluses arise primarily from three sources:
1) the difference between anticipated and actual operating expenses,
2) the difference between anticipated and actual claims experience, and
3) interest earned on investments over and above the rate required to maintain policy reserves. Having regard to the source of the surplus, the "dividend" so paid can be considered, in part at least, as a refund of part of the premium paid by the policy owner.
Life insurance policy owners of participating policies usually have four and sometimes five dividend options from which to choose:
1) take the dividend in cash,
2) apply the dividend to reduce current premiums,
3) leave the dividends on deposit with the insurance company to accumulate at interest like a savings plan,
4) use the dividends to purchase paid-up whole life insurance to mature at the same time as the original policy,
5) use the dividends to purchase one year term insurance equal to the guaranteed cash value at the end of the policy year, with any portion of the dividend not required for this purpose being applied under one of the other dividend options.
NOTE: It is suggested here that if you have a participating whole life policy and at the time of purchase received a "dividend projection" of incredible future savings, ask for a current projection. Life insurance company's surpluses are not what they used to be.


---
Dividend
Unlike dividends which are paid to company shareholders, participating insurance policy dividends are not based on the company's overall profits. Rather, they are determined by grouping policies by type and country of issue and looking at how each class contributes to the company's earnings and surplus.


---
Dividend clawback
With respect to a project financing, an arrangement under which the sponsors of a project
agree to contribute as equity any prior dividends received from the project to the extent necessary to cover
any cash deficiencies.


---
Dividend clientele
A group of shareholders who prefer that the firm follow a particular dividend policy. For
example, such a preference is often based on comparable tax situations.


---
dividend discount model
Computation of today's stock price which states that share value equals the present value of all expected future dividends.


---
Dividend discount model (DDM)
A model for valuing the common stock of a company, based on the
present value of the expected cash flows.


---
dividend growth method
a method of computing the cost
of common stock equity that indicates the rate of return
that common shareholders expect to earn in the form of
dividends on a company's common stock


---
Dividend growth model
A model wherein dividends are assumed to be at a constant rate in perpetuity.


---
Dividend income
Income that a company receives in the form of dividends on stock in other companies that it holds.


---
Dividend limitation
A bond covenant that restricts in some way the firm's ability to pay cash dividends.


---
Dividend payout ratio
Percentage of earnings paid out as dividends.


---
dividend payout ratio
Computed by dividing cash dividends for the year
by the net income for the year. It's simply the percent of net income distributed
as cash dividends for the year.


---
dividend payout ratio
Percentage of earnings paid out as dividends.


---
Dividend policy
An established guide for the firm to determine the amount of money it will pay as dividends.


---
Dividend Policy
This policy governs Canada Life's actions regarding distribution of dividends to policyholders. It's goal is to achieve a dividend distribution that is equitable and timely, and which gives full recognition of the need to ensure the ongoing solidity of the company. It also specifies that distribution to individual policyholders must be equitable between dividend classes and policyholder generations, and among policyholders within any class.


---
Dividend rate
The fixed or floating rate paid on preferred stock based on par value.


---
Dividend reinvestment plan (DRP)
Automatic reinvestment of shareholder dividends in more shares of a
company's stock, often without commissions. Some plans provide for the purchase of additional shares at a
discount to market price. dividend reinvestment plans allow shareholders to accumulate stock over the Long
term using dollar cost averaging. The DRP is usually administered by the company without charges to the
holder.


---
Dividend rights
A shareholders' rights to receive per-share dividends identical to those other shareholders receive.


---
Dividend yield (Funds)
Indicated yield represents return on a share of a mutual fund held over the past 12
months. Assumes fund was purchased 1 year ago. Reflects effect of sales charges (at current rates), but not
redemption charges.


---
dividend yield ratio
Cash dividends paid by a business over the most
recent 12 months (called the trailing 12 months) divided by the current
market price per share of the stock. This ratio is reported in the daily
stock trading tables in the Wall Street Journal and other major newspapers.


---
Dividend yield (Stocks)
Indicated yield represents annual dividends divided by current stock price.


---
Dividends
Amounts paid to the owners of a company that represent a share of the income of the company.


---
Dividends
Profits paid out to shareholders by a corporation.


---
Dividends per share
Amount of cash paid to shareholders expressed as dollars per share.


---
Dividends per share
dividends paid for the past 12 months divided by the number of common shares
outstanding, as reported by a company. The number of shares often is determined by a weighted average of
shares outstanding over the reporting term.


---
Doctrine of sovereign immunity
Doctrine that says a nation may not be tried in the courts of another country
without its consent.


---
e-commerce (electronic commerce)
any business activity that uses the Internet and World Wide Web to engage in financial transactions


---
Earnings per share of common stock
How much profit a company made on each share of common stock this year.


---
Euro-commercial paper
Short-term notes with maturities up to 360 days that are issued by companies in
international money markets.


---
Ex-dividend
This literally means "without dividend." The buyer of shares when they are quoted ex-dividend
is not entitled to receive a declared dividend.


---
Ex-dividend date
The first day of trading when the seller, rather than the buyer, of a stock will be entitled to
the most recently announced dividend payment. This date set by the NYSE (and generally followed on other
US exchanges) is currently two business days before the record date. A stock that has gone ex-dividend is
marked with an x in newspaper listings on that date.


---
ex-dividend date
Date that determines whether a stockholder is entitled to a dividend payment; anyone holding stock before this date is entitled to a dividend.


---
Extra or special dividends
A dividend that is paid in addition to a firm's "regular" quarterly dividend.


---
Federal Open Market Committee (FOMC)
Fed committee that makes decisions about open-market operations.


---
Firm commitment underwriting
An undewriting in which an investment banking firm commits to buy the
entire issue and assumes all financial responsibility for any unsold shares.


---
Futures commission merchant
A firm or person engaged in soliciting or accepting and handling orders for
the purchase or sale of futures contracts, subject to the rules of a futures exchange and, who, in connection
with such solicitation or acceptance of orders, accepts any money or securities to margin any resulting trades
or contracts. The FCM must be licensed by the CFTC. Related: commission house , omnibus account


---
Gamma
The ratio of a change in the option delta to a small change in the price of the asset on which the
option is written.


---
Gamma
The rate of change of delta for a derivative security relative to the
price of the underlying asset; i.e., the second derivative of the option price
relative to the security price.


---
Homemade dividend
Sale of some shares of stock to get cash that would be similar to receiving a cash dividend.


---
Illegal Immigration Reform and Immigrant Responsibility Act of 1996 (IIRIRA)
A federal Act shielding employers from liability if they have made
a good-faith effort to verify a new employee's identity and employment eligibility.


---
Immediate settlement
Delivery and settlement of securities within five business days.


---
Immigration Reform and Control Act of 1986
A federal Act requiring all employers having at least four employees to verify the identity and employment
eligibility of all regular, temporary, casual, and student employees.


---
Immunization
The construction of an asset and a liability that are subject to offsetting changes in value.


---
Immunization strategy
A bond portfolio strategy whose goal is to eliminate the portfolio's risk against a
general change in the rate of interest through the use of duration.


---
Indicated dividend
Total amount of dividends that would be paid on a share of stock over the next 12 months
if each dividend were the same amount as the most recent dividend. Usually represent by the letter "e" in
stock tables.


---
Related to : financial, finance, business, accounting, payroll, inventory, investment, money, inventory control, stock trading, financial advisor, tax advisor, credit.