Definition of Possessions corporation

Possessions corporation
A type of corporation permitted under the U.S. tax code whereby a branch operation
in a U.S. possessions can obtain tax benefits as though it were operating as a foreign subsidiary.


---
Related Terms:
Legal document establishing a corporation and its structure and purpose.


---
Better known as CDIC, this is an organization which insures qualifying deposits and GICs at savings institutions, mainly banks and trust companys, which belong to the CDIC for amounts up to $60,000 and for terms of up to five years. Many types of deposits are not insured, such as mortgage-backed deposits, annuities of duration of more than five years, and mutual funds.


---
A foreign corporation whose voting stock is more than 50% owned
by U.S. stockholders, each of whom owns at least 10% of the voting power.


---
A legal "person" that is separate and distinct from its owners. A corporation is allowed to own
assets, incur liabilities, and sell securities, among other things.


---
A legal entity, organized under state laws, whose investors purchase
shares of stock as evidence of ownership in it. A corporation is a legal entity, which
eliminates much of the liability for the corporation's actions from its investors.


---
Business owned by stockholders who are not personally
liable for the business's liabilities.


---
A U.S. corporation that receives a tax incentive for
export activities.


---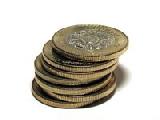 Specialized banking institutions, authorized and chartered by the Federal Reserve Board
in the U.S., which are allowed to engage in transactions that have a foreign or international character. They
are not subject to any restrictions on interstate banking. Foreign banks operating in the U.S. are permitted to
organize and own and Edge corporation.


---
A federal institution that insures bank deposits.


---
A special type of corporation created by the Tax Reform Act of 1984 that
is designed to provide a tax incentive for exporting U.S.-produced goods.


---
A Congressionally chartered corporation that
purchases residential mortgages in the secondary market from S&Ls, banks, and mortgage bankers and
securitizes these mortgages for sale into the capital markets.


---
Process by which a company receives its Articles of Incorporation allowing it to operate as a corporation.


---
A wholly owned subsidiary of the Midwest Stock
Exchange that operates a clearing service for the comparison, netting, and margining of agency-guaranteed
MBSs transacted for forward delivery.


---
A firm that operates in more than one country.


---
A federal agency that insures the vested benefits of
pension plan participants (established in 1974 by the ERISA legislation).


---
Preferred Stock Stock that has a claim on assets and dividends of a corporation that are prior
to that of common stock. Preferred stock typically does not carry the right to vote.


---
Private Export Funding Corporation (PEFCO)
Company that mobilizes private capital for financing the
export of big-ticket items by U.S. firms by purchasing at fixed interest rates the medium- to long-term debt
obligations of importers of U.S. products.


---
Related to : financial, finance, business, accounting, payroll, inventory, investment, money, inventory control, stock trading, financial advisor, tax advisor, credit.