Definition of Freddie Mac (Federal Home Loan Mortgage Corporation)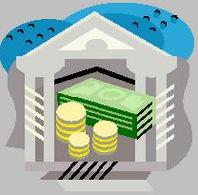 Freddie Mac (Federal Home Loan Mortgage Corporation)
A Congressionally chartered corporation that
purchases residential mortgages in the secondary market from S&Ls, banks, and mortgage bankers and
securitizes these mortgages for sale into the capital markets.


---
Related Terms:
A bank machine, sometimes referred to as an automated teller machine (ATM).


---
Variations of mortgage instruments such as adjustable-rate and variablerate
mortgages, graduated-payment mortgages, reverse-annuity mortgages, and several seldom-used
variations.


---
Legal document establishing a corporation and its structure and purpose.


---
A loan in which two companies in separate countries borrow each other's currency for a
specific time period and repay the other's currency at an agreed upon maturity.


---
A short term loan to cover the immediate cash requirements until permanent financing is received.


---
Related: Call money rate.


---
A mortgage loan on newly developed property that the builder subsidizes during the
early years of the development. The builder uses cash to buy down the mortgage rate to a lower level than the
prevailing market loan rate for some period of time. The typical buydown is 3% of the interest-rate amount
for the first year, 2% for the second year, and 1% for the third year (also referred to as a 3-2-1 buydown).


---

A bank term loan that calls for no amortization.


---
Better known as CDIC, this is an organization which insures qualifying deposits and GICs at savings institutions, mainly banks and trust companys, which belong to the CDIC for amounts up to $60,000 and for terms of up to five years. Many types of deposits are not insured, such as mortgage-backed deposits, annuities of duration of more than five years, and mutual funds.


---
The school of macroeconomic thought prior to the rise of Keynesianism.


---
mortgage against which no additional debt may be issued.


---
A security backed by a pool of pass-throughs , structured so that
there are several classes of bondholders with varying maturities, called tranches. The principal payments from
the underlying pool of pass-through securities are used to retire the bonds on a priority basis as specified in
the prospectus.
Related: mortgage pass-through security


---
An agreement between a creditor and a borrower, where the creditor has loaned an amount to the borrower for business purposes.


---
A loan made on real estate collateral, other than a residential property, in which a mortgage is given to secure payment of principal and interest.


---
A foreign corporation whose voting stock is more than 50% owned
by U.S. stockholders, each of whom owns at least 10% of the voting power.


---
Conventional mortgage
A loan based on the credit of the borrower and on the collateral for the mortgage.


---

Corporation
A legal "person" that is separate and distinct from its owners. A corporation is allowed to own
assets, incur liabilities, and sell securities, among other things.


---
Corporation
A legal entity, organized under state laws, whose investors purchase
shares of stock as evidence of ownership in it. A corporation is a legal entity, which
eliminates much of the liability for the corporation's actions from its investors.


---
corporation
Business owned by stockholders who are not personally
liable for the business's liabilities.


---
Dealer loan
Overnight, collateralized loan made to a dealer financing his position by borrowing from a
money market bank.


---
Demand Loan
A loan which must be repaid in full on demand.


---
Domestic International Sales Corporation (DISC)
A U.S. corporation that receives a tax incentive for
export activities.


---
Edge corporations
Specialized banking institutions, authorized and chartered by the federal Reserve Board
in the U.S., which are allowed to engage in transactions that have a foreign or international character. They
are not subject to any restrictions on interstate banking. Foreign banks operating in the U.S. are permitted to
organize and own and Edge corporation.


---
Electronic Federal Tax Payment Systems (EFTPS)
An electronic funds transfer system used by businesses to remit taxes to the government.


---
Equivalent loan
Given the after-tax stream associated with a lease, the maximum amount of conventional
debt that the same period-by-period after-tax debt service stream is capable of supporting.


---
Farm Improvement and Marketing Cooperatives Loans Act
See here


---
Federal agency securities
Securities issued by corporations and agencies created by the U.S. government,
such as the federal home loan Bank Board and Ginnie Mae.


---
Federal credit agencies
Agencies of the federal government set up to supply credit to various classes of
institutions and individuals, e.g. S&Ls, small business firms, students, farmers, and exporters.


---
Federal Deposit Insurance Corporation (FDIC)
A federal institution that insures bank deposits.


---
Federal Employer Identification Number
A unique identification number issued
by the federal government used for payroll purposes to identify the company
when it deals with the Internal Revenue Service.


---
Federal Financing Bank
A federal institution that lends to a wide array of federal credit agencies funds it
obtains by borrowing from the U.S. Treasury.


---
Federal funds
Non-interest bearing deposits held in reserve for depository institutions at their district federal
Reserve Bank. Also, excess reserves lent by banks to each other.


---
Federal funds market
The market where banks can borrow or lend reserves, allowing banks temporarily
short of their required reserves to borrow reserves from banks that have excess reserves.


---
Federal funds rate
This is the interest rate that banks with excess reserves at a federal Reserve district bank
charge other banks that need overnight loans. The Fed Funds rate, as it is called, often points to the direction
of U.S. interest rates.


---
Federal Funds Rate
The interest rate at which banks lend deposits at the federal Reserve to one another overnight.


---
Federal Home Loan Banks
The institutions that regulate and lend to savings and loan associations. The
federal home loan Banks play a role analogous to that played by the federal Reserve Banks vis-à-vis
member commercial banks.


---
Federal Insurance Contributions Act of 1935 (FICA)
A federal Act authorizing the government to collect Social Security and Medicare payroll taxes.


---
Federal Open Market Committee (FOMC)
Fed committee that makes decisions about open-market operations.


---
Federal Reserve Banks
The twelve district banks in the federal Reserve System.


---
Federal Reserve Board
Board of Governors of the federal Reserve System.


---
Federal Reserve System
The central bank of the U.S., established in 1913, and governed by the federal
Reserve Board located in Washington, D.C. The system includes 12 federal Reserve Banks and is authorized
to regulate monetary policy in the U.S. as well as to supervise federal Reserve member banks, bank holding
companies, international operations of U.S.banks, and U.S.operations of foreign banks.


---
Federal Reserve System
The central banking authority responsible for monetary policy in the United States.


---
Federal Reserve (the Fed)
The central bank in the United States, responsible for setting interest rates.


---
Federal Unemployment Tax Act (FUTA)
A federal Act requiring employers to pay a tax on the wages paid to their employees, which is then used to create a
pool of funds to be used for unemployment benefits.


---
Federally related institutions
Arms of the federal government that are exempt from SEC registration and
whose securities are backed by the full faith and credit of the U.S. government (with the exception of the
Tennessee Valley Authority).


---
Fixed-rate loan
A loan on which the rate paid by the borrower is fixed for the life of the loan.


---
Fixed Rate Loan
loan for a fixed period of time with a fixed interest rate for the life of the loan.


---
Foreign Sales Corporation (FSC)
A special type of corporation created by the Tax Reform Act of 1984 that
is designed to provide a tax incentive for exporting U.S.-produced goods.


---
GEMs (growing-equity mortgages)
mortgages in which annual increases in monthly payments are used to
reduce outstanding principal and to shorten the term of the loan.


---
GMCs (guaranteed mortgage certificates)
First issued by freddie mac in 1975, GMCs, like PCs, represent
undivided interest in specified conventional whole loans and participations previously purchased by freddie mac.


---
Government National Mortgage Association (Ginnie Mae)
A wholly owned U.S. government corporation
within the Department of Housing & Urban Development. Ginnie Mae guarantees the timely payment of
principal and interest on securities issued by approved servicers that are collateralized by FHA-issued, VAguaranteed,
or Farmers home Administration (FmHA)-guaranteed mortgages.


---
Graduated-payment mortgages (GPMs)
A type of stepped-payment loan in which the borrower's payments
are initially lower than those on a comparable level-rate mortgage. The payments are gradually increased over
a predetermined period (usually 3,5, or 7 years) and then are fixed at a level-pay schedule which will be
higher than the level-pay amortization of a level-pay mortgage originated at the same time. The difference
between what the borrower actually pays and the amount required to fully amortize the mortgage is added to
the unpaid principal balance.


---
Homemade dividend
Sale of some shares of stock to get cash that would be similar to receiving a cash dividend.


---
Homemade leverage
Idea that as long as individuals borrow (or lend) on the same terms as the firm, they can
duplicate the affects of corporate leverage on their own. Thus, if levered firms are priced too high, rational
investors will simply borrow on personal accounts to buy shares in unlevered firms.


---
Incorporation
Process by which a company receives its Articles of Incorporation allowing it to operate as a corporation.


---
Insured Mortgage
An insured mortgage protects only the mortgage lender in case you do not make your mortgage payments. This coverage is provided by CMHC [Canada mortgage and Housing corporation] and is required if a person has a high-ratio mortgage. [A mortgage is high-ratio if the amount borrowed is more than 75% of the purchase price or appraised value, whichever is less.]


---
Intercompany loan
loan made by one unit of a corporation to another unit of the same corporation.


---
Inventory loan
A secured short-term loan to purchase inventory. The three basic forms are a blanket
inventory lien, a trust receipt, and field warehousing financing.


---
Jumbo loan
loans of $1 billion or more. Or, loans that exceed the statutory size limit eligible for purchase or
securitization by the federal agencies.


---
Loan amortization schedule
The schedule for repaying the interest and principal on a loan.


---
Loan Capital
Borrowed funds having a fixed interest rate.


---
Loan Covenants
Express stipulations included in loan agreements that are designed to monitor
corporate performance and restrict corporate acts, affording added protection to the lender.


---
Loan syndication
Group of banks sharing a loan. See: syndicate.


---
Loan value
The amount a policyholder may borrow against a whole life insurance policy at the interest rate
specified in the policy.


---
Loans payable
Amounts that have been loaned to the company and that it still owes.


---
Macaulay duration
The weighted-average term to maturity of the cash flows from the bond, where the
weights are the present value of the cash flow divided by the price.


---
Macaulay duration
A widely used measure of price sensitivity to yield
changes developed by Frederick macaulay in 1938. It is measured in years and
is a weighted average-time-to-maturity of an instrument. The macaulay
duration of an income stream, such as a coupon bond, measures how long, on
average, the owner waits before receiving a payment. It is the weighted
average of the times payments are made, with the weights at time T equal to
the present value of the money received at time T.


---
Machinery
The cost of machinery owned by the company.


---
Macroeconomics
The study of the determination of economic aggregates such as total output and the price level.


---
MACRS (Modified Accelerated Cost Recovery System)
A depreciation method created by the IRS under the Tax Reform Act of 1986. Companies must use it to depreciate all plant and equipment assets installed after December 31, 1986 (for tax purposes).


---
Modified Accelerated Cost Recovery System (MACRS)
Depreciation method that allows higher tax deductions in early years and lower deductions later.


---
Mortgage
A loan secured by the collateral of some specified real estate property which obliges the borrower
to make a predetermined series of payments.


---
Mortgage
Debt instrument by which the borrower (mortgagor) gives the lender (mortgagee) a lien on property as security for the repayment of a loan.


---
Mortgage-backed securities
Securities backed by a pool of mortgage loans.


---
Mortgage-Backed Securities Clearing Corporation
A wholly owned subsidiary of the Midwest Stock
Exchange that operates a clearing service for the comparison, netting, and margining of agency-guaranteed
MBSs transacted for forward delivery.


---
Mortgage bond
A bond in which the issuer has granted the bondholders a lien against the pledged assets.
Collateral trust bonds


---
Mortgage (Credit Insurance)
An agreement between a creditor and a borrower, where the creditor has loaned an amount to the borrower for purposes of purchasing a loan secured by a home.


---
Mortgage duration
A modification of standard duration to account for the impact on duration of MBSs of
changes in prepayment speed resulting from changes in interest rates. Two factors are employed: one that
reflects the impact of changes in prepayment speed or price.


---
Mortgage Insurance
Commonly sold in the form of reducing term life insurance by lending institutions, this is life insurance with a death benefit reducing to zero over a specific period of time, usually 20 to 25 years. In most instances, the cost of coverage remains level, while the death benefit continues to decline. Re-stated, the cost of this kind of insurance is actually increasing since less death benefit is paid as the outstanding mortgage balance decreases while the cost remains the same. Lending institutions are the most popular sources for this kind of coverage because it is usually sold during the purchase of a new mortgage. The untrained institution mortgage sales person often gives the impression that this is the only place mortgage insurance can be purchased but it is more efficiently purchased at a lower cost and with more flexibility, directly from traditional life insurance companies. No matter where it is purchased, the reducing term insurance death benefit reduces over a set period of years. Most consumers are up-sizing their residences, not down-sizing, so it is likely that more coverage is required as years pass, rather than less coverage.
The cost of mortgage lender's insurance group coverage is based on a blended non-smoker/smoker rate, not having any advantage to either male or female. mortgage lender's group insurance certificate specifies that it [the lender] is the sole beneficiary entitled to receive the death benefit. mortgage lender's group insurance is not portable and is not guaranteed. Generally speaking, your coverage is void if you do not occupy the house for a period of time, rent the home, fall into arrears on the mortgage, and there are a few others which vary by institution. If, for example, you sell your home and buy another, your current mortgage insurance coverage ends and you will have to qualify for new coverage when you purchase your next home. Maybe you won't be able to qualify. Not being guaranteed means that it is possible for the lending institution's group insurance carrier to cancel all policy holder's coverages if they are experiencing too many death benefit claims.
mortgage insurance purchased from a life insurance company, is priced, based on gender, smoking status, health and lifestyle of the purchaser. Once obtained, it is a unilateral contract in your favour, which cannot be cancelled by the insurance company unless you say so or unless you stop paying for it. It pays upon the death of the life insured to any "named beneficiary" you choose, tax free. If, instead of reducing term life insurance, you have purchased enough level or increasing life insurance coverage based on your projection of future need, you can buy as many new homes in the future as you want and you won't have to worry about coverage you might loose by renewing or increasing your mortgage.
It is worth mentioning mortgage creditor protection insurance since it is many times mistakenly referred to simply as mortgage insurance. If a home buyer has a limited amount of down payment towards a substantial home purchase price, he/she may qualify for a high ratio mortgage on a home purchase if a lump sum fee is paid for mortgage creditor protection insurance. The only Canadian mortgage lenders currently known to offer this option through the distribution system of banks and trust companies, are General Electric Capital [GE Capital] and Central mortgage and Housing corporation [CMHC]. The lump sum fee is mandatory when the mortgage is more than 75% of the value of the property being purchased. The lump sum fee is usually added onto the mortgage. It's important to realize that the only beneficiary of this type of coverage is the morgage lender, which is the bank or trust company through which the buyer arranged their mortgage. If the buyer for some reason defaults on this kind of high ratio mortgage and the value of the property has dropped since being purchased, the mortgage creditor protection insurance makes certain that the bank or trust company gets paid. However, this is not the end of the story, because whatever the difference is, between the disposition value of the property and whatever sum of unpaid mortgage money is outstanding to either GE Capital or CMHC will be the subject of collection procedures against the defaulting home buyer. Therefore, one should conclude that this kind of insurance offers protection only to the bank or trust company and absolutely no protection to the home buyer.


---
Mortgage Life insurance (Credit Insurance)
Decreasing term life insurance that provides a death benefit amount corresponding to the decreasing amount owed on a mortgage.


---
Mortgage pass-through security
Also called a passthrough, a security created when one or more mortgage
holders form a collection (pool) of mortgages sells shares or participation certificates in the pool. The cash
flow from the collateral pool is "passed through" to the security holder as monthly payments of principal,
interest, and prepayments. This is the predominant type of MBS traded in the secondary market.


---
Mortgage pipeline
The period from the taking of applications from prospective mortgage borrowers to the
marketing of the loans.


---
Mortgage-pipeline risk
The risk associated with taking applications from prospective mortgage borrowers
who may opt to decline to accept a quoted mortgage rate within a certain grace period.


---
Mortgage rate
The interest rate on a mortgage loan.


---
Mortgagee
The lender of a loan secured by property.


---
Mortgager
The borrower of a loan secured by property.


---
Multicurrency loans
Give the borrower the possibility of drawing a loan in different currencies.


---
Multifamily loans
loans usually represented by conventional mortgages on multi-family rental apartments.


---
Multinational corporation
A firm that operates in more than one country.


---
Negative Loan Covenants
loan covenants designed to limit a corporate borrower's behavior
in favor of the lender.


---
Open-end mortgage
mortgage against which additional debts may be issued. Related: closed-end mortgage.


---
Operating Loan
A loan advanced under an operating line of credit.


---
Parallel loan
A process whereby two companies in different countries borrow each other's currency for a
specific period of time, and repay the other's currency at an agreed maturity for the purpose of reducing
foreign exchange risk. Also referred to as back-to-back loans.


---
Pension Benefit Guaranty Corporation (PBGC)
A federal agency that insures the vested benefits of
pension plan participants (established in 1974 by the ERISA legislation).


---
personal loan
A lump sum that you borrow from a financial institution for a specified period of time. To repay the loan, you pay interest on the entire lump sum, and make payments on a scheduled basis.


---
Positive Loan Covenants
loan covenants expressing minimum and maximum financial measures
that must be met by a borrower.


---
Possessions corporation
A type of corporation permitted under the U.S. tax code whereby a branch operation
in a U.S. possessions can obtain tax benefits as though it were operating as a foreign subsidiary.


---
Preferred Stock Stock that has a claim on assets and dividends of a corporation that are prior
to that of common stock. Preferred stock typically does not carry the right to vote.


---
Private Export Funding Corporation (PEFCO)
Company that mobilizes private capital for financing the
export of big-ticket items by U.S. firms by purchasing at fixed interest rates the medium- to long-term debt
obligations of importers of U.S. products.


---
Related to : financial, finance, business, accounting, payroll, inventory, investment, money, inventory control, stock trading, financial advisor, tax advisor, credit.