Definition of National Saving

National Saving
Private saving plus public saving. That part of national income which is not spent on consumption goods or government spending.


---
Related Terms:
An international bank headquartered in Basel, Switzerland, which
serves as a forum for monetary cooperation among several European central banks, the Bank of Japan, and the
U.S. Federal Reserve System. Founded in 1930 to handle the German payment of World War I reparations, it
now monitors and collects data on international banking activity and promulgates rules concerning
international bank regulation.


---
A U.S. corporation that receives a tax incentive for
export activities.


---
A wholly owned U.S. government corporation
within the Department of Housing & Urban Development. Ginnie Mae guarantees the timely payment of
principal and interest on securities issued by approved servicers that are collateralized by FHA-issued, VAguaranteed,
or Farmers Home Administration (FmHA)-guaranteed mortgages.


---
Measures and economy's total income. It is equal to GDP plus the income
abroad accruing to domestic residents minus income generated in domestic market accruing to non-residents.


---
International Bank for Reconstruction and Development makes loans at nearly conventional terms to countries for projects of high
economic priority.


---
International Banking Facility. A branch that an American bank
establishes in the United States to do Eurocurrency business.


---
A collective term that refers to global bonds, Eurobonds, and foreign bonds.


---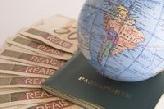 A receipt issued by a bank as evidence of ownership of one or more
shares of the underlying stock of a foreign corporation that the bank holds in trust. The advantage of the IDR
structure is that the corporation does not have to comply with all the regulatory issuing requirements of the
foreign country where the stock is to be traded. The U.S. version of the IDR is the American Depository
Receipt (ADR).


---
The attempt to reduce risk by investing in the more than one nation. By
diversifying across nations whose economic cycles are not perfectly correlated, investors can typically reduce
the variability of their returns.


---
A subsidiary incorporated in the U.S., usually in Delaware, whose sole
purpose was to issue debentures overseas and invest the proceeds in foreign operations, with the interest paid
to foreign bondholders not subject to U.S. withholding tax. The elimination of the corporate withholding tax
has ended the need for this type of subsidiary.


---
States that the interest rate differential between two countries should be an
unbiased predictor of the future change in the spot rate.


---
A mutual fund that can invest only outside the United States.


---
Related: See external market.


---
An organization founded in 1944 to oversee exchange arrangements of
member countries and to lend foreign currency reserves to members with short-term balance of payment
problems.


---
A division of the CME established in 1972 for trading financial
futures. Related: Chicago Mercantile Exchange (CME).


---
London International Financial Futures Exchange (LIFFE)
A London exchange where Eurodollar futures
as well as futures-style options are traded.


---

London International Financial Futures Exchange (LIFFE)
London exchange where Eurodollar futures as well as futures-style options are traded.


---
Multinational corporation
A firm that operates in more than one country.


---
National Futures Association (NFA)
The futures industry self regulatory organization established in 1982.


---
National market
Related: internal market


---
Nationalization
A government takeover of a private company.


---
Savings and Loan association
national- or state-chartered institution that accepts savings deposits and
invests the bulk of the funds thus received in mortgages.


---
Savings deposits
Accounts that pay interest, typically at below-market interest rates, that do not have a
specific maturity, and that usually can be withdrawn upon demand.


---
SIMEX (Singapore International Monetary Exchange)
A leading futures and options exchange in Singapore.


---
international Fisher effect
Theory that real interest rates in all countries should be equal, with differences in nominal rates reflecting differences in expected inflation.


---
Dissaving
Negative saving, a situation in which spending exceeds disposable income.


---
Gross National Product
Total output of final goods and services produced by a country's citizens during a year.


---

International Monetary Fund (IMF)
Organization originally established to manage the postwar fixed exchange rate system.


---
International Reserves
See foreign exchange reserves.


---
National Debt
The debt owed by the government as a result of earlier borrowing to finance budget deficits. That part of the debt not held by the central bank is the publically held national debt.


---
National Income
GDP with some adjustments to remove items that do not make it into anyone's hands as income, such as indirect taxes and depreciation. Loosely speaking, it is interpreted as being equal to GDP.


---
National Income and Product Accounts
The national accounting system that records economic activity such as GDP and related measures.


---
National Output
GDP.


---
Net National Product
GNP minus depreciation.


---
Private Saving
That part of disposable income not spent on consumption.


---
Publicly Held National Debt
See national debt.


---
Savings Incentive Match Plan for Employees (SIMPLE)
An IRA set up by an employer with no other retirement plan and employing fewer than 100 employees,
into which they can contribute up to $9,000 per year (as of 2004).


---
Registered Retirement Savings Plan (Canada)
Commonly referred to as an RRSP, this is a tax sheltered and tax deferred savings plan recognized by the Federal and Provincial tax authorities, whereby deposits are fully tax deductable in the year of deposit and fully taxable in the year of receipt. The ability to defer taxes on RRSP earnings allows one to save much faster than is ordinarily possible. The new rules which apply to RRSP's are that the holder of such a plan must convert it into income by the end of the year in which the holder turns age 69. The choices for conversion are to simply cash it in an pay full tax in the year of receipt, convert it to a RRIF and take a varying stream of income, paying tax on the amount received annually until the income is exhausted, or converting it into an annuity with guaranteed payments for a chosen number of years, again paying tax each year on moneys received.
If you are currently 69 years of age, you may still contribute to your own RRSP until December 31st of this year and realize a tax deduction on this year's income. You must also, however, make provisions before December 31st of the year for converting your RRSP into either a RRIF or an annuity, otherwise, the full balance of your RRSP becomes taxable on January 1 of the following year. If you are older than age 69, still have earned income, and have a younger spouse, you may continue to contribute to a spousal RRSP until that spouse reaches 69 years of age. Contributions would be based on your own contribution level and are deducted from your taxable income.


---
Spousal Registered Retirement Savings Plan
This is an RRSP owned by the spouse of the person contributing to it. The contributor can direct up to 100% of eligible RRSP deposits into a spousal RRSP each and every year. Contributing to a spouses RRSP reduces the amount one can contribute to one's own RRSP, however, if the spouse is a lower income earner, it is an excellent way in which to split income for lower taxation in retirement years.


---
Canada Savings Bonds
A bond issued each year by the federal government. These bonds can be cashed in at any time for their full face value.


---
international fund
A mutual fund that can invest in securities issued anywhere outside of Canada.


---
RRSP (Registered Retirement Savings Plan) (Canada)
A savings plan registered with Revenue Canada, which allows you to set aside a portion of your earned income now for use in the future. When you contribute to your RRSP, you are eligible to claim a tax deduction. However, cashing RRSPs at a later date will result in the payment of tax.


---
savings funds
Mutual funds that seek to preserve capital. This type of fund invests primarily in short-term securities with an average term to maturity of one year or less, or in the case of money market funds, 90 days or less.


---
Non-Smoker Discount
In October 1996 it was announced in the international news that scientists had finally located the link between cigarette smoking and lung cancer. In the early 1980's, some Canadian Life Insurance Companies had already started recognizing that non-smokers had a better life expectancy than smokers so commenced offering premium discounts for life insurance to new applicants who have been non-smokers for at least 12 months before applying for coverage. Today, most life insurance companies offer these discounts.
savings to non-smokers can be up to 50% of regular premium depending on age and insurance company. Most life insurance companies offering non-smoker rates insist that the person applying for coverage have abstained from any form of tobacco or marijuana for at least twelve months, some companies insist on longer periods, up to 15 years.
Tobacco use is generally considered to be cigarettes, cigarillos, cigars, pipes, chewing tobacco, nicorette gum, snuff, marijuana and nicotine patches. In addition to these, if anyone tests positive to cotinine, a by-product of nicotine, they are also considered a smoker. There are some insurance companies which allow moderate or occasional use of cigars, cigarillos or pipes as acceptable for non-smoker status. Experienced brokers are aware of how to locate these insurance companies and save you money.
Special care should be taken by applicants for coverage who qualify for non-smoker rates by virtue of having ceased a smoking habit for the required period before application, but for some reason, fall back into the smoking habit some time after obtaining coverage. While contractually, the insurance company is still bound to a non-smoking rate, the facts of the applicant's smoking hiatus may become vague over the subsequent years of the resumed habit and at time of death claim, the insurance company may decide to contest the original non-smoking declaration. The consequence is not simply a need to back pay the difference between non-smoker and smoker rates but in reality the possibility of denial of death claim. It is therefore, important to advise the servicing broker as well as the insurance company of the change in smoking habits to make certain that sufficient evidence is documented to track the non-smoking period.


---
Related to : financial, finance, business, accounting, payroll, inventory, investment, money, inventory control, stock trading, financial advisor, tax advisor, credit.