Definition of Restrictive covenants

Restrictive covenants
Provisions that place constraints on the operations of borrowers, such as restrictions on
working capital, fixed assets, future borrowing, and payment of dividend.


---
Related Terms:
Provisions in a bond indenture or preferred stock agreement that require the bond or preferred
stock issuer to take certain specified actions (affirmative covenants) or to refrain from taking certain specified
actions (negative covenants).


---
Promise usually made in a contract whereby a party to the contract promises to do or not to do specified things.


---
A promise made related to financial conditions or events. Often a promise not to allow certain balance sheet items or ratios to fall below an agreed level. Usually found in loan documents, as a protection mechanism.


---
Express stipulations included in loan agreements that are designed to monitor
corporate performance and restrict corporate acts, affording added protection to the lender.


---
Loan covenants designed to limit a corporate borrower's behavior
in favor of the lender.


---
Loan covenants expressing minimum and maximum financial measures
that must be met by a borrower.


---
capital rationing that under certain circumstances can be violated or even viewed
as made up of targets rather than absolute constraints.


---

The option of terminating an investment earlier than originally planned.


---
A bond on which interest accrues, but is not paid to the investor during the time of accrual.
The amount of accrued interest is added to the remaining principal of the bond and is paid at maturity.


---
A merger or consolidation in which an acquirer purchases the selling firm's assets.


---
A merger or consolidation in which an acquirer purchases the acquiree's stock.


---
This doctrine says that a nation is sovereign within its own borders and its domestic
actions may not be questioned in the courts of another nation.


---
Amounts in excess of the par value or stated value that have been paid by the public to acquire stock in the company; synonymous with capital in excess of par.


---
Any payment received from investors for stock that exceeds
the par value of the stock.


---
Difference between issue price and par value of stock. Also called capital surplus.


---
Adjustable rate preferred stock (ARPS)
Publicly traded issues that may be collateralized by mortgages and MBSs.


---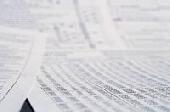 Adjusted Cash Flow Provided by Continuing Operations
Cash flow provided by operating
activities adjusted to provide a more recurring, sustainable measure. Adjustments to reported cash
provided by operating activities are made to remove such nonrecurring cash items as: the operating
component of discontinued operations, income taxes on items classified as investing or financing activities, income tax benefits from nonqualified employee stock options, the cash effects of purchases and sales of trading securities for nonfinancial firms, capitalized expenditures, and other nonrecurring cash inflows and outflows.


---
Affirmative covenant
A bond covenant that specifies certain actions the firm must take.


---
Aggressive Capitalization Policies
capitalizing and reporting as assets significant portions of
expenditures, the realization of which require unduly optimistic assumptions.


---
Aggressive Cost Capitalization
Cost capitalization that stretches the flexibility within generally
accepted accounting principles beyond its intended limits, resulting in reporting as assets
items that more reasonably should have been expensed. The purpose of this activity is likely to
alter financial results and financial position in order to create a potentially misleading impression
of a firm's business performance or financial position.


---
Allocation base A measure of activity or volume such as labour
hours, machine hours or volume of production
used to apportion overheads to products and
services.


---
Allowance for doubtful accounts
A contra account related to accounts receivable that represents the amounts that the company expects will not be collected.


---
Allowance for Doubtful Accounts
An estimate of the uncollectible portion of accounts receivable
that is subtracted from the gross amount of accounts receivable to arrive at the estimated collectible
amount.


---
American Stock Exchange (AMEX)
The second-largest stock exchange in the United States. It trades
mostly in small-to medium-sized companies.


---
Antidilution Provisions
A clause in a shareholders agreement preventing a company from issuing additional shares, without allowing the current shareholders the opportunity to participate in the offering to avoid dilution of their percentage ownership.


---
Antifraud Provisions
Specific sections and rules of the 1933 Act and 1934 Act that are
designed to reduce fraud and deceit in financial filings made with the SEC. The antifraud Provisions
are Section 17(a) of the 1933 Act and Section 10(b) and Rule 10b-5 of the 1934 Act.


---
Assets
A firm's productive resources.


---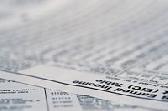 ASSETS
Anything of value that a company owns.


---
Assets
things that the business owns.


---
Assets
Items owned by the company or expenses that have been paid for but have not been used up.


---
Assets requirements
A common element of a financial plan that describes projected capital spending and the
proposed uses of net working capital.


---
Auction rate preferred stock (ARPS)
Floating rate preferred stock, the dividend on which is adjusted every
seven weeks through a Dutch auction.


---
authorized share capital
Maximum number of shares that the company is permitted to issue, as specified in the firm's articles of incorporation.


---
Automatic Benefits Payment
Automatic payment of moneys derived from a benefit.


---
Average cost of capital
A firm's required payout to the bondholders and to the stockholders expressed as a
percentage of capital contributed to the firm. Average cost of capital is computed by dividing the total
required cost of capital by the total amount of contributed capital.


---
Balance of payments
A statistical compilation formulated by a sovereign nation of all economic transactions
between residents of that nation and residents of all other nations during a stipulated period of time, usually a
calendar year.


---
Balance of Payments
The difference between the demand for and supply of a country's currency on the foreign exchange market.


---
Balance of Payments Accounts
A statement of a country's transactions with other countries.


---
Bearer bond
bonds that are not registered on the books of the issuer. such bonds are held in physical form by
the owner, who receives interest payments by physically detaching coupons from the bond certificate and
delivering them to the paying agent.


---
Beta equation (Stocks)
The beta of a stock is determined as follows:
[(n) (sum of (xy)) ]-[(sum of x) (sum of y)]
[(n) (sum of (xx)) ]-[(sum of x) (sum of x)]
where: n = # of observations (24-60 months)
x = rate of return for the S&P 500 Index
y = rate of return for the stock


---
Bond
bonds are debt and are issued for a period of more than one year. The U.S. government, local
governments, water districts, companies and many other types of institutions sell bonds. When an investor
buys bonds, he or she is lending money. The seller of the bond agrees to repay the principal amount of the
loan at a specified time. Interest-bearing bonds pay interest periodically.


---
BOND
A long-term, interest-bearing promissory note that companies may use to borrow money for periods of time such as five, ten, or twenty years.


---
Bond
A long-term debt instrument in which the issuer (borrower) is
obligated to pay the investor (lender) a specified amount of
money, usually at specific intervals, and to repay the principal
amount of the loan at maturity. The periodic payments are based
on the rate of interest agreed upon at the time the instrument is
sold.


---
bond
Security that obligates the issuer to make specified payments
to the bondholder.


---
Bond
A financial asset taking the form of a Promise by a borrower to repay a specified amount (the bond's face value) on a maturity date and to make fixed periodic interest payments.


---
Bond
usually a fixed interest security under which the issuer contracts to pay the lender a fixed principal amount at a stated date in the future, and a series of interest payments, either semi-annually or annually. Interest payments may vary through the life of bond.


---
bond
A debt security issued by a government or company. You receive regular interest payments at specified rates while you hold the bond and you receive the face value when it matures. Short-term bonds mature in less than five years; medium-term bonds mature in six to ten years; and long-term bonds mature in eleven years or greater.


---
Bond
fixed interest security issued by a corporation or government, having a specific maturity date.


---
Bond agreement
A contract for privately placed debt.


---
Bond covenant
A contractual provision in a bond indenture. A positive covenant requires certain actions, and
a negative covenant limits certain actions.


---
Bond-equivalent basis
The method used for computing the bond-equivalent yield.


---
Bond equivalent yield
bond yield calculated on an annual percentage rate method. Differs from annual
effective yield.


---
Bond-equivalent yield
The annualized yield to maturity computed by doubling the semiannual yield.


---
Bond Equivalent Yield
bond yield calculated on an annual percentage rate method


---
Bond indenture
The contract that sets forth the Promises of a corporate bond issuer and the rights of
investors.


---
Bond indexing
Designing a portfolio so that its performance will match the performance of some bond index.


---
Bond points
A conventional unit of measure for bond prices set at $10 and equivalent to 1% of the $100 face
value of the bond. A price of 80 means that the bond is selling at 80% of its face, or par value.


---
Bond value
With respect to convertible bonds, the value the security would have if it were not convertible
apart from the conversion option.


---
BONDPAR
A system that monitors and evaluates the performance of a fixed-income portfolio , as well as the
individual securities held in the portfolio. bondPAR decomposes the return into those elements beyond the
manager's control--such as the interest rate environment and client-imposed duration policy constraints--and
those that the management process contributes to, such as interest rate management, sector/quality allocations,
and individual bond selection.


---
Bonds payable
Amounts owed by the company that have been formalized by a legal document called a bond.


---
BOOK VALUE OF COMMON STOCK
The theoretical amount per share that each stockholder would receive if a company's assets were sold on the balance sheet's date. Book value equals:
(stockholders' equity) / (Common stock shares outstanding)


---
Brady bonds
bonds issued by emerging countries under a debt reduction plan.


---
Break-even lease payment
The lease payment at which a party to a prospective lease is indifferent between
entering and not entering into the lease arrangement.


---
Break-even payment rate
The prepayment rate of a MBS coupon that will produce the same CFY as that of
a predetermined benchmark MBS coupon. Used to identify for coupons higher than the benchmark coupon
the prepayment rate that will produce the same CFY as that of the benchmark coupon; and for coupons lower
than the benchmark coupon the lowest prepayment rate that will do so.


---
Bretton Woods Agreement
An agreement signed by the original United Nations members in 1944 that
established the International Monetary Fund (IMF) and the post-World War II international monetary system
of fixed exchange rates.


---
Builder buydown loan
A mortgage loan on newly developed property that the builder subsidizes during the
early years of the development. The builder uses cash to buy down the mortgage rate to a lower level than the
prevailing market loan rate for some period of time. The typical buydown is 3% of the interest-rate amount
for the first year, 2% for the second year, and 1% for the third year (also referred to as a 3-2-1 buydown).


---
Bull-bear bond
bond whose principal repayment is linked to the price of another security. The bonds are
issued in two tranches: in the first tranche repayment increases with the price of the other security, and in the
second tranche repayment decreases with the price of the other security.


---
Bulldog bond
Foreign bond issue made in London.


---
Bulldog market
The foreign market in the United Kingdom.


---
Bullet contract
A guaranteed investment contract purchased with a single (one-shot) premium. Related:
Window contract.


---
Buy/Sell Agreement
This is an agreement entered into by the owners of a business to define the conditions under which the interests of each shareholder will be bought and sold. The agreement sets the value of each shareholders interest and stipulates what happens when one of the owners wishes to dispose of his/her interest during his/her lifetime as well as disposal of interest upon death or disability. Life insurance, critical illness coverage and disability insurance are major considerations to help fund this type of agreement.


---
Buydowns
Mortgages in which monthly payments consist of principal and interest, with portions of these
payments during the early period of the loan being provided by a third party to reduce the borrower's monthly
payments.


---
Callable bond
A bond that allows the issuer to buy back the bond at a
predetermined price at specified future dates. The bond contains an embedded
call option; i.e., the holder has sold a call option to the issuer. See Puttable
bond.


---
callable bond
bond that may be repurchased by the issuer before maturity at specified call price.


---
Canada Savings Bonds
A bond issued each year by the federal government. These bonds can be cashed in at any time for their full face value.


---
Capital
Money invested in a firm.


---
CAPITAL
The money, raised by selling stock or bonds or taking out loans, that you use to start, operate, and grow a business.


---
Capital
The shareholders' investment in the business; the difference between the assets and liabilities
of a business.


---
capital
A very broad term rooted in economic theory and referring to
money and other assets that are invested in a business or other venture
for the general purpose of earning a profit, or a return on the investment.
Generally speaking, the sources of capital for a business are
divided between debt and equity. Debt, as you know, is borrowed money
on which interest is paid. Equity is the broad term for the ownership
capital invested in a business and is most often called owners' equity.
Owners' equity arises from two quite different sources: (1) money or
other assets invested in the business by its owners and (2) profit earned
by the business that is retained and not distributed to its owners (called
retained earnings).


---
Capital
The investment by a company's owners in a business, plus the impact of any
accumulated gains or losses.


---
Capital
a) Physical capital: buildings, equipment, and any materials used to produce other goods and services in the future rather than being consumed today.
b) Financial capital: funds available for acquiring real capital.
c) Human capital: the value of the education and experience that make people more productive.


---
Capital
Expenditures Purchases of productive long-lived assets, in particular, items of property,
plant, and equipment.


---
Capital
Any asset or stock of assets, financial or physical, capable of producing income.


---
Capital account
Net result of public and private international investment and lending activities.


---
Capital Account
That part of the balance of payments accounts that records demands for and supplies of a currency arising from purchases or sales of assets.


---
Capital allocation
decision Allocation of invested funds between risk-free assets versus the risky portfolio.


---
capital asset
an asset used to generate revenues or cost savings
by providing production, distribution, or service capabilities
for more than one year


---
Capital asset
A fixed asset, something that is expected to have long-term usage within
a company, and which exceeds a minimum dollar amount (known as the capitalization
limit, or cap limit).


---
Capital asset pricing model (CAPM)
An economic theory that describes the relationship between risk and
expected return, and serves as a model for the pricing of risky securities. The CAPM asserts that the only risk
that is priced by rational investors is systematic risk, because that risk cannot be eliminated by diversification.
The CAPM says that the expected return of a security or a portfolio is equal to the rate on a risk-free security
plus a risk premium.


---
Capital Asset Pricing Model (CAPM)
A model for estimating equilibrium rates of return and values of
assets in financial markets; uses beta as a measure of asset risk
relative to market risk


---
capital asset pricing model (CAPM)
Theory of the relationship between risk and return which states that the expected risk
premium on any security equals its beta times the market risk premium.


---
Capital budget
A firm's set of planned capital expenditures.


---
capital budget
management's plan for investments in longterm
property, plant, and equipment


---
capital budget
List of planned investment projects.


---
Capital budgeting
The process of choosing the firm's long-term capital assets.


---
capital budgeting
Refers generally to analysis procedures for ranking
investments, given a limited amount of total capital that has to be allocated
among the various capital investment opportunities of a business.
The term sometimes is used interchangeably with the analysis techniques
themselves, such as calculating present value, net present value,
and the internal rate of return of investments.


---
Capital Budgeting
The process of ranking and selecting investment alternatives and
capital expenditures


---
capital budgeting
a process of evaluating an entity's proposed
long-range projects or courses of future activity for
the purpose of allocating limited resources to desirable
projects


---
Capital budgeting
The series of steps one follows when justifying the decision to purchase
an asset, usually including an analysis of costs and related benefits, which
should include a discounted cash flow analysis of the stream of all future cash flows
resulting from the purchase of the asset.


---
capital budgeting decision
Decision as to which real assets the firm should acquire.


---
Capital Consumption Allowance
See depreciation.


---
Capital Cost Allowance (CCA)
The annual depreciation expense allowed by the Canadian Income Tax Act.


---
Capital employed
The total of debt and equity, i.e. the total funds in the business.


---
Capital expenditures
Amount used during a particular period to acquire or improve long-term assets such as
property, plant or equipment.


---
capital expenditures
Refers to investments by a business in long-term
operating assets, including land and buildings, heavy machinery and
equipment, vehicles, tools, and other economic resources used in the
operations of a business. The term capital is used to emphasize that
these are relatively large amounts and that a business has to raise capital
for these expenditures from debt and equity sources.


---
Capital flight
The transfer of capital abroad in response to fears of political risk.


---
Related to : financial, finance, business, accounting, payroll, inventory, investment, money, inventory control, stock trading, financial advisor, tax advisor, credit.