Definition of net asset value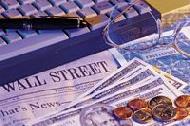 net asset value
The value of all the holdings of a mutual fund, less the fund's liabilities.


---
Related Terms:
The value of a fund's investments. For a mutual fund, the net asset value per share
usually represents the fund's market price, subject to a possible sales or redemption charge. For a closed end
fund, the market price may vary significantly from the net asset value.


---
An investment company that sells shares like any other corporation and usually does not
redeem its shares. A publicly traded fund sold on stock exchanges or over the counter that may trade above or
below its net asset value. Related: Open-end fund.


---
A closed-end fund regulated by the Investment Company Act of 1940. These funds have a
fixed number of shares which are traded on the secondary markets similarly to corporate stocks. The market
price may exceed the net asset value per share, in which case it is considered at a "premium." When the
market price falls below the NAV/share, it is at a "discount." Many closed-end funds are of a specialized
nature, with the portfolio representing a particular industry, country, etc. These funds are usually listed on US
and foreign exchanges.


---
A mutual fund that invests only in short term securities, such as bankers' acceptances,
commercial paper, repurchase agreements and government bills. The net asset value per share is maintained at
$1. 00. Such funds are not federally insured, although the portfolio may consist of guaranteed securities
and/or the fund may have private insurance protection.


---
The fee charged by a mutual fund when purchasing shares, usually payable as a commission to
marketing agent, such as a financial advisor, who is thus compensated for his assistance to a purchaser. It
represents the difference, if any, between the share purchase price and the share net asset value.


---
Money invested in a portfolio whose composition is fixed for the life of the fund.
Shares in a unit trust are called redeemable trust certificates, and they are sold at a premium above net asset value.


---
Same as PV, but usually includes a subtraction for an initial cash outlay.


---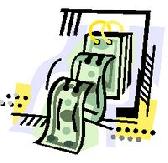 the value in today's dollars of cash flows that occur in different time periods.
present value factor equal to the formula 1/(1 - r)n, where n is the number of years from the valuation date to the cash flow and r is the discount rate.
For business valuation, n should usually be midyear, i.e., n = 0.5, 1.5, . . .


---
A merger or consolidation in which an acquirer purchases the selling firm's assets.


---
The net present value analysis of an asset if financed solely by equity
(present value of un-levered cash flows), plus the present value of any financing decisions (levered cash
flows). In other words, the various tax shields provided by the deductibility of interest and the benefits of
other investment tax credits are calculated separately. This analysis is often used for highly leveraged
transactions such as a leverage buy-out.


---
Any possession that has value in an exchange.


---
The ratio of total assets to stockholder equity.


---
Also called surplus management, the task of managing funds of a financial
institution to accomplish the two goals of a financial institution:
1) to earn an adequate return on funds invested, and
2) to maintain a comfortable surplus of assets beyond liabilities.


---
Ratios that measure how effectively the firm is managing its assets.


---
The decision regarding how an institution's funds should be distributed among the
major classes of assets in which it may invest.


---
Asset-backed security
A security that is collateralized by loans, leases, receivables, or installment contracts
on personal property, not real estate.


---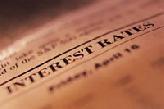 Asset-based financing
Methods of financing in which lenders and equity investors look principally to the
cash flow from a particular asset or set of assets for a return on, and the return of, their financing.


---
Asset classes
Categories of assets, such as stocks, bonds, real estate and foreign securities.


---
Asset-coverage test
A bond indenture restriction that permits additional borrowing on if the ratio of assets to
debt does not fall below a specified minimum.


---
Asset for asset swap
Creditors exchange the debt of one defaulting borrower for the debt of another
defaulting borrower.


---
Asset pricing model
A model for determining the required rate of return on an asset.


---
Asset substitution
A firm's investing in assets that are riskier than those that the debtholders expected.


---
Asset substitution problem
Arises when the stockholders substitute riskier assets for the firm's existing
assets and expropriate value from the debtholders.


---
Asset swap
An interest rate swap used to alter the cash flow characteristics of an institution's assets so as to
provide a better match with its iabilities.


---
Asset turnover
The ratio of net sales to total assets.


---
Asset pricing model
A model, such as the Capital asset Pricing Model (CAPM), that determines the required
rate of return on a particular asset.


---
Assets
A firm's productive resources.


---
Assets requirements
A common element of a financial plan that describes projected capital spending and the
proposed uses of net working capital.


---
Bond value
With respect to convertible bonds, the value the security would have if it were not convertible
apart from the conversion option.


---
Book value
A company's book value is its total assets minus intangible assets and liabilities, such as debt. A
company's book value might be more or less than its market value.


---
Book value per share
The ratio of stockholder equity to the average number of common shares. Book value
per share should not be thought of as an indicator of economic worth, since it reflects accounting valuation
(and not necessarily market valuation).


---
Capital asset pricing model (CAPM)
An economic theory that describes the relationship between risk and
expected return, and serves as a model for the pricing of risky securities. The CAPM asserts that the only risk
that is priced by rational investors is systematic risk, because that risk cannot be eliminated by diversification.
The CAPM says that the expected return of a security or a portfolio is equal to the rate on a risk-free security
plus a risk premium.


---
Carrying value
Book value.


---
Cash-surrender value
An amount the insurance company will pay if the policyholder ends a whole life
insurance policy.


---
Conversion value
Also called parity value, the value of a convertible security if it is converted immediately.


---
Current assets
value of cash, accounts receivable, inventories, marketable securities and other assets that
could be converted to cash in less than 1 year.


---
Dynamic asset allocation
An asset allocation strategy in which the asset mix is mechanistically shifted in
response to -changing market conditions, as in a portfolio insurance strategy, for example.


---
European Monetary System (EMS)
An exchange arrangement formed in 1979 that involves the currencies
of European Union member countries.


---
Exchange of assets
Acquisition of another company by purchase of its assets in exchange for cash or stock.


---
Exercise value
The amount of advantage over a current market transaction provided by an in-the-money
option.


---
Expected value
The weighted average of a probability distribution.


---
Expected value of perfect information
The expected value if the future uncertain outcomes could be known
minus the expected value with no additional information.


---
Exposure netting
Offsetting exposures in one currency with exposures in the same or another currency,
where exchange rates are expected to move in such a way that losses or gains on the first exposed position
should be offset by gains or losses on the second currency exposure.


---
Extraordinary positive value
A positive net present value.


---
Face value
See: Par value.


---
Financial assets
Claims on real assets.


---
Firm's net value of debt
Total firm value minus total firm debt.


---
Fixed asset
Long-lived property owned by a firm that is used by a firm in the production of its income.
Tangible fixed assets include real estate, plant, and equipment. Intangible fixed assets include patents,
trademarks, and customer recognition.


---
Fixed asset turnover ratio
The ratio of sales to fixed assets.


---
Future value
The amount of cash at a specified date in the future that is equivalent in value to a specified
sum today.


---
Intangible asset
A legal claim to some future benefit, typically a claim to future cash. Goodwill, intellectual
property, patents, copyrights, and trademarks are examples of intangible assets.


---
International Monetary Fund
An organization founded in 1944 to oversee exchange arrangements of
member countries and to lend foreign currency reserves to members with short-term balance of payment
problems.


---
International Monetary Market (IMM)
A division of the CME established in 1972 for trading financial
futures. Related: Chicago Mercantile Exchange (CME).


---
Intrinsic value of an option
The amount by which an option is in-the-money. An option which is not in-themoney
has no intrinsic value. Related: in-the-money.


---
Intrinsic value of a firm
The present value of a firm's expected future net cash flows discounted by the
required rate of return.


---
Investment value
Related:straight value.


---
Liquid asset
asset that is easily and cheaply turned into cash - notably cash itself and short-term securities.


---
Liquidation value
net amount that could be realized by selling the assets of a firm after paying the debt.


---
Loan value
The amount a policyholder may borrow against a whole life insurance policy at the interest rate
specified in the policy.


---
Long-term assets
value of property, equipment and other capital assets minus the depreciation. This is an
entry in the bookkeeping records of a company, usually on a "cost" basis and thus does not necessarily reflect
the market value of the assets.


---
Limitation on asset dispositions
A bond covenant that restricts in some way a firm's ability to sell major assets.


---
Market value
1) The price at which a security is trading and could presumably be purchased or sold.
2) The value investors believe a firm is worth; calculated by multiplying the number of shares outstanding by the
current market price of a firm's shares.


---
Market value ratios
Ratios that relate the market price of the firm's common stock to selected financial
statement items.


---
Market value-weighted index
An index of a group of securities computed by calculating a weighted average
of the returns on each security in the index, with the weights proportional to outstanding market value.


---
Maturity value
Related: par value.


---
Monetary gold
Gold held by governmental authorities as a financial asset.


---
Monetary policy
Actions taken by the Board of Governors of the Federal Reserve System to influence the
money supply or interest rates.


---
Monetary / non-monetary method
Under this translation method, monetary items (e.g. cash, accounts
payable and receivable, and long-term debt) are translated at the current rate while non-monetary items (e.g.
inventory, fixed assets, and long-term investments) are translated at historical rates.


---
Net adjusted present value
The adjusted present value minus the initial cost of an investment.


---
Net advantage of refunding
The net present value of the savings from a refunding.


---
Net advantage to leasing
The net present value of entering into a lease financing arrangement rather than
borrowing the necessary funds and buying the asset.


---
Net advantage to merging
The difference in total post- and pre-merger market value minus the cost of the merger.


---
Net assets
The difference between total assets on the one hand and current liabilities and noncapitalized longterm
liabilities on the other hand.


---
Net benefit to leverage factor
A linear approximation of a factor, T*, that enables one to operationalize the
total impact of leverage on firm value in the capital market imperfections view of capital structure.


---
Net book value
The current book value of an asset or liability; that is, its original book value net of any
accounting adjustments such as depreciation.


---
Net cash balance
Beginning cash balance plus cash receipts minus cash disbursements.


---
Net change
This is the difference between a day's last trade and the previous day's last trade.


---
Net errors and omissions
In balance of payments accounting, net errors and omissions record the statistical
discrepancies that arise in gathering balance of payments data.


---
Net financing cost
Also called the cost of carry or, simply, carry, the difference between the cost of financing
the purchase of an asset and the asset's cash yield. Positive carry means that the yield earned is greater than
the financing cost; negative carry means that the financing cost exceeds the yield earned.


---
Net float
Sum of disbursement float and collection float.


---
Net income
The company's total earnings, reflecting revenues adjusted for costs of doing business,
depreciation, interest, taxes and other expenses.


---
Net investment
Gross, or total, investment minus depreciation.


---
Net lease
A lease arrangement under which the lessee is responsible for all property taxes, maintenance
expenses, insurance, and other costs associated with keeping the asset in good working condition.


---
Net operating losses
Losses that a firm can take advantage of to reduce taxes.


---
Net operating margin
The ratio of net operating income to net sales.


---
Net period
The period of time between the end of the discount period and the date payment is due.


---
Net present value (NPV)
The present value of the expected future cash flows minus the cost.


---
Net present value of growth opportunities
A model valuing a firm in which net present value of new
investment opportunities is explicitly examined.


---
Net present value of future investments
The present value of the total sum of NPVs expected to result from
all of the firm's future investments.


---
Net present value rule
An investment is worth making if it has a positive NPV. Projects with negative NPVs
should be rejected.


---
Net profit margin
net income divided by sales; the amount of each sales dollar left over after all expenses
have been paid.


---
Net salvage value
The after-tax net cash flow for terminating the project.


---
Net working capital
Current assets minus current liabilities. Often simply referred to as working capital.


---
Net worth
Common stockholders' equity which consists of common stock, surplus, and retained earnings.


---
Netting
Reducing transfers of funds between subsidiaries or separate companies to a net amount.


---
Netting out
To get or bring in as a net; to clear as profit.


---
Non-reproducible assets
A tangible asset with unique physical properties, like a parcel of land, a mine, or a
work of art.


---
Original face value
The principal amount of the mortgage as of its issue date.


---
Other current assets
value of non-cash assets, including prepaid expenses and accounts receivable, due
within 1 year.


---
Related to : financial, finance, business, accounting, payroll, inventory, investment, money, inventory control, stock trading, financial advisor, tax advisor, credit.