Definition of maquiladora

maquiladora
a business (typically U.S.-owned on the Mexican
side of the United States-Mexico border) that exists
under a special trade agreement in which foreign companies
import materials into Mexico duty-free for assembly,
then export the goods back out of Mexico, and only pay
duty on the value added to inventory in the process


---
Related Terms:
A method for dividing inventory into classifications,
either by transaction volume or cost. typically, category A includes that 20% of
inventory involving 60% of all costs or transactions, while category B includes
the next 20% of inventory involving 20% of all costs or transactions, and category
C includes the remaining 60% of inventory involving 20% of all costs or
transactions.


---
The sum of all the interest options in your policy, including interest.


---
Money owed to suppliers.


---
Amounts a company owes to creditors.


---
Amounts owed by the company for goods and services that have been received, but have not yet been paid for. Usually Accounts payable involves the receipt of an invoice from the company providing the services or goods.


---
Short-term, non-interest-bearing liabilities of a business
that arise in the course of its activities and operations from purchases on
credit. A business buys many things on credit, whereby the purchase
cost of goods and services are not paid for immediately. This liability
account records the amounts owed for credit purchases that will be paid
in the short run, which generally means about one month.


---
Acurrent liability on the balance sheet, representing short-term obligations
to pay suppliers.


---

Amounts due to vendors for purchases on open account, that is, not evidenced
by a signed note.


---
The number of days it would take to pay the ending balance
in accounts payable at the average rate of cost of goods sold per day. Calculated by dividing
accounts payable by cost of goods sold per day, which is cost of goods sold divided by 365.


---
Expenses that have to be recorded in order for the financial statements to be accurate. Accrued expenses usually do not involve the receipt of an invoice from the company providing the goods or services.


---
The account that records the short-term, noninterest-
bearing liabilities of a business that accumulate over time, such
as vacation pay owed to employees. This liability is different than
accounts payable, which is the liability account for bills that have been
received by a business from purchases on credit.


---
An amount of money invested plus the interest earned on that money.


---
The net present value analysis of an asset if financed solely by equity
(present value of un-levered cash flows), plus the present value of any financing decisions (levered cash
flows). In other words, the various tax shields provided by the deductibility of interest and the benefits of
other investment tax credits are calculated separately. This analysis is often used for highly leveraged
transactions such as a leverage buy-out.


---
An arrangement whereby a security issue is canceled if the underwriter is unable
to re-sell the entire issue.


---
a method of allocating joint cost to joint products using a
simulated net realizable value at the split-off point; approximated
value is computed as final sales price minus
incremental separate costs


---
Arbitrage-free option-pricing models
Yield curve option-pricing models.


---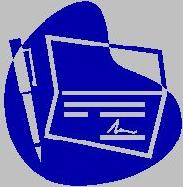 Asset-Backed Securities
Bond or note secured by assets of company.


---
Asset-backed security
A security that is collateralized by loans, leases, receivables, or installment contracts
on personal property, not real estate.


---
Automatic Benefits Payment
Automatic payment of moneys derived from a benefit.


---
Average-Cost Inventory Method
The inventory cost-flow assumption that assigns the average
cost of beginning inventory and inventory purchases during a period to cost of goods sold and
ending inventory.


---
Average inventory
The beginning inventory for a period, plus the amount at the end of
the period, divided by two. It is most commonly used in situations in which just
using the period-end inventory yields highly variable results, due to constant and
large changes in the inventory level.


---
Back fee
The fee paid on the extension date if the buyer wishes to continue the option.


---
Back flush
The subsequent subtraction from inventory records of those parts used
to assemble a product, based on the number of finished goods produced.


---
Back office
Brokerage house clerical operations that support, but do not include, the trading of stocks and
other securities. Includes all written confirmation and settlement of trades, record keeping and regulatory
compliance.
back-end loan fund
A mutual fund that charges investors a fee to sell (redeem) shares, often ranging from
4% to 6%. Some back-end load funds impose a full commission if the shares are redeemed within a
designated time, such as one year. The commission decreases the longer the investor holds the shares. The
formal name for the back-end load is the contingent deferred sales charge, or CDSC.


---
Back To Back Annuity
This term refers to the simultaneous issue of a life annuity with a non-guaranteed period and a guaranteed life insurance policy [usually whole life or term to 100]. The face value of the life insurance would be the same amount that was used to purchase the annuity. This combination of life annuity providing the highest payout of all types of annuities, along with a guaranteed life insurance policy allowed an uninsurable person to convert his/her RRSP into the best choice of annuity and guarantee that upon his/her death, the full value of the annuity would be paid tax free through the life insurance policy to his family members. However, in the early 1990's, the Federal tax authorities put a stop to the issuing of standard life rates to rated or uninsurable applicants. Insuring a life annuity in this manner is still an excellent way to provide guaranteed tax free funds to family members but the application for the annuity and the application for the life insurance are separate transactions and today, most likely conducted through two different insurance companies so that there is no suspicion of preferential treatment given to the life insurance application.


---
Back-to-back financing
An intercompany loan channeled through a bank.


---
Back-to-back loan
A loan in which two companies in separate countries borrow each other's currency for a
specific time period and repay the other's currency at an agreed upon maturity.


---

Back-up
1) When bond yields and prices fall, the market is said to back-up.
2) When an investor swaps out of one security into another of shorter current maturity he is said to back up.


---
Backdating
A procedure for making the effective date of a policy earlier than the application date. backdating is often used to make the age of the consumer at policy issue lower than it actually was in order to get a lower premium.


---
backflush costing
a streamlined cost accounting method that speeds up, simplifies, and reduces accounting effort in an environment that minimizes inventory balances, requires
few allocations, uses standard costs, and has minimal variances
from standard


---
Backwardation
A market condition in which futures prices are lower in the distant delivery months than in
the nearest delivery month. This situation may occur in when the costs of storing the product until eventual
delivery are effectively subtracted from the price today. The opposite of contango.


---
Balance of Merchandise Trade
The difference between exports and imports of goods.


---
Balance of payments
A statistical compilation formulated by a sovereign nation of all economic transactions
between residents of that nation and residents of all other nations during a stipulated period of time, usually a
calendar year.


---
Balance of Payments
The difference between the demand for and supply of a country's currency on the foreign exchange market.


---
Balance of Payments Accounts
A statement of a country's transactions with other countries.


---
Balance of trade
Net flow of goods (exports minus imports) between countries.


---
Balance of Trade
See balance of merchandise trade.


---
Basic business strategies
Key strategies a firm intends to pursue in carrying out its business plan.


---
Basket trades
Related: Program trades.


---
Benefit Value
The amount of cash payable on a benefit.


---
Bill of materials
A listing of all the materials and quantities that go to make up a completed product.


---
bill of materials
a document that contains information about
the product materials components and their specifications
(including quality and quantities needed)


---
Bill of materials
An itemization of the parts and subassemblies required to create a
product, frequently including assumed scrap rates that will arise as part of the production
process.


---
Bill of materials (BOM)
A listing of all parts and subassemblies required to produce one
unit of a finished product, including the required number of units of each part
and subassembly.


---
Blanket inventory lien
A secured loan that gives the lender a lien against all the borrower's inventories.


---
Block trade
A large trading order, defined on the New York Stock Exchange as an order that consists of
10,000 shares of a given stock or a total market value of $200,000 or more.


---
Bond agreement
A contract for privately placed debt.


---
Bond value
With respect to convertible bonds, the value the security would have if it were not convertible
apart from the conversion option.


---
Bonds payable
Amounts owed by the company that have been formalized by a legal document called a bond.


---
Book inventory
The amount of money invested in inventory, as per a company's
accounting records. It is comprised of the beginning inventory balance, plus the
cost of any receipts, less the cost of sold or scrapped inventory. It may be significantly
different from the actual on-hand inventory, if the two are not periodically
reconciled.


---
Book value
A company's book value is its total assets minus intangible assets and liabilities, such as debt. A
company's book value might be more or less than its market value.


---
BOOK VALUE
An asset's cost basis minus accumulated depreciation.


---
Book Value
The value of an asset as carried on the balance sheet of a
company. In reference to the value of a company, it is the net worth
(equity) of the company.


---
Book value
An asset's original cost, less any depreciation that has been subsequently incurred.


---
book value
Net worth of the firm's assets or liabilities according
to the balance sheet.


---
book value and book value per share
Generally speaking, these terms
refer to the balance sheet value of an asset (or less often of a liability) or
the balance sheet value of owners' equity per share. Either term emphasizes
that the amount recorded in the accounts or on the books of a business
is the value being used. The total of the amounts reported for
owners' equity in its balance sheet is divided by the number of stock
shares of a corporation to determine the book value per share of its capital
stock.


---
BOOK VALUE OF COMMON STOCK
The theoretical amount per share that each stockholder would receive if a company's assets were sold on the balance sheet's date. Book value equals:
(Stockholders' equity) / (Common stock shares outstanding)


---
Book value per share
The ratio of stockholder equity to the average number of common shares. Book value
per share should not be thought of as an indicator of economic worth, since it reflects accounting valuation
(and not necessarily market valuation).


---
Book Value per Share
The book value of a company divided by the number of shares
outstanding


---
Borrower fallout
In the mortgage pipeline, the risk that prospective borrowers of loans committed to be
closed will elect to withdraw from the contract.


---
Break-even lease payment
The lease payment at which a party to a prospective lease is indifferent between
entering and not entering into the lease arrangement.


---
Break-even payment rate
The prepayment rate of a MBS coupon that will produce the same CFY as that of
a predetermined benchmark MBS coupon. Used to identify for coupons higher than the benchmark coupon
the prepayment rate that will produce the same CFY as that of the benchmark coupon; and for coupons lower
than the benchmark coupon the lowest prepayment rate that will do so.


---
Breakout
A rise in a security's price above a resistance level (commonly its previous high price) or drop
below a level of support (commonly the former lowest price.) A breakout is taken to signify a continuing
move in the same direction. Can be used by technical analysts as a buy or sell indicator.


---
Breeder bill of materials
A bill of material that accounts for the generation and
cost implications of byproducts as a result of manufacturing the parent item.


---
Bretton Woods Agreement
An agreement signed by the original United Nations members in 1944 that
established the International Monetary Fund (IMF) and the post-World War II international monetary system
of fixed exchange rates.


---
Business cycle
Repetitive cycles of economic expansion and recession.


---
Business Cycle
Fluctuations of GDP around its long-run trend, consisting of recession, trough, expansion, and peak.


---
Business Expansion Investment
The use of capital to create more money through the addition of fixed assets or through income producing vehicles.


---
Business failure
A business that has terminated with a loss to creditors.


---
business intelligence (BI) system
a formal process for gathering and analyzing information and producing intelligence to meet decision making needs; requires information about
internal processes as well as knowledge, technologies, and competitors


---
business process reengineering (BPR)
the process of combining information technology to create new and more effective
business processes to lower costs, eliminate unnecessary
work, upgrade customer service, and increase
speed to market


---
Business risk
The risk that the cash flow of an issuer will be impaired because of adverse economic
conditions, making it difficult for the issuer to meet its operating expenses.


---
business-value-added activity
an activity that is necessary for the operation of the business but for which a customer would not want to pay


---
Buy-back
Another term for a repo.


---
Buy/Sell Agreement
This is an agreement entered into by the owners of a business to define the conditions under which the interests of each shareholder will be bought and sold. The agreement sets the value of each shareholders interest and stipulates what happens when one of the owners wishes to dispose of his/her interest during his/her lifetime as well as disposal of interest upon death or disability. Life insurance, critical illness coverage and disability insurance are major considerations to help fund this type of agreement.


---
Buy-side analyst
A financial analyst employed by a non-brokerage firm, typically one of the larger money
management firms that purchase securities on their own accounts.


---
Buyout
Purchase of a controlling interest (or percent of shares) of a company's stock. A leveraged buy-out is
done with borrowed money.


---
CAPITAL IN EXCESS OF PAR VALUE
What a company collected when it sold stock for more than the par value per share.


---
Carrying value
Book value.


---
Cash deficiency agreement
An agreement to invest cash in a project to the extent required to cover any cash
deficiency the project may experience.


---
Cash-surrender value
An amount the insurance company will pay if the policyholder ends a whole life
insurance policy.


---
Cash Surrender Value
This is the amount available to the owner of a life insurance policy upon voluntary termination of the policy before it becomes payable by the death of the life insured. This does not apply to term insurance but only to those policies which have reduced paid up values and cash surrender values. A cash surrender in lieu of death benefit usually has tax implications.


---
Cash Surrender Value
Benefit that entitles a policy owner to an amount of money upon cancellation of a policy.


---
Cash value added (CVA)
A method of investment appraisal that calculates the ratio of the net present value of an
investment to the initial capital investment.


---
Cashout
Refers to a situation where a firm runs out of cash and cannot readily sell marketable securities.


---
charge-back system
a system using transfer prices; see transfer
price


---
Clearing House Automated Payments System (CHAPS)
A computerized clearing system for sterling funds
that began operations in 1984. It includes 14 member banks, nearly 450 participating banks, and is one of the
clearing companies within the structure of the Association for payment Clearing Services (APACS).


---
Clearing House Interbank Payments System (CHIPS)
An international wire transfer system for high-value
payments operated by a group of major banks.


---
Commercial Business Loan (Credit Insurance)
An agreement between a creditor and a borrower, where the creditor has loaned an amount to the borrower for business purposes.


---
Completion undertaking
An undertaking either (1) to complete a project such that it meets certain specified
performance criteria on or before a certain specified date or (2) to repay project debt if the completion test
cannot be met.


---
Concession agreement
An understanding between a company and the host government that specifies the
rules under which the company can operate locally.


---
Conditional Sale Agreement
An agreement entered into between a conditional buyer and a conditional seller setting out the terms under which goods change hands.


---
Confidentiality Agreement
A legal document whereby the one party, usually the prospective investor, pledges to keep strictly confidential, and return on request, any and all information provided by the entrepreneur seeking funding.


---
contingent pay
compensation that is dependent on the
achievement of some performance objective


---
Controlled foreign corporation (CFC)
A foreign corporation whose voting stock is more than 50% owned
by U.S. stockholders, each of whom owns at least 10% of the voting power.


---
Conversion value
Also called parity value, the value of a convertible security if it is converted immediately.


---
Corporate processing float
The time that elapses between receipt of payment from a customer and the
depositing of the customer's check in the firm's bank account; the time required to process customer
payments.


---
cost-benefit analysis the analytical process of comparing the
relative costs and benefits that result from a specific course
of action (such as providing information or investing in a
project)


---
cost of goods manufactured (CGM)
the total cost of the
goods completed and transferred to Finished goods inventory
during the period


---
Cost of goods sold
The cost of merchandise that a company sold this year. For manufacturing companies, the cost of raw
materials, components, labor and other things that went into producing an item.


---
Related to : financial, finance, business, accounting, payroll, inventory, investment, money, inventory control, stock trading, financial advisor, tax advisor, credit.