Definition of Back-up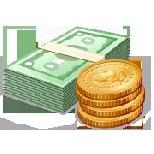 Back-up
1) When bond yields and prices fall, the market is said to back-up.
2) When an investor swaps out of one security into another of shorter current maturity he is said to back up.


---
Related Terms:
the period after an announcement of a takeover bid in which stock prices typically rise until a merger or acquisition is made (or until it falls through).


---
the period before a formal announcement of a takeover bid in which one or more bidders are either preparing to make an announcement or speculating that someone else will.

---
A security that is collateralized by loans, leases, receivables, or installment contracts
on personal property, not real estate.


---
The fee paid on the extension date if the buyer wishes to continue the option.


---
Brokerage house clerical operations that support, but do not include, the trading of stocks and
other securities. Includes all written confirmation and settlement of trades, record keeping and regulatory
compliance.
back-end loan fund
A mutual fund that charges investors a fee to sell (redeem) shares, often ranging from
4% to 6%. Some back-end load funds impose a full commission if the shares are redeemed within a
designated time, such as one year. The commission decreases the longer the investor holds the shares. The
formal name for the back-end load is the contingent deferred sales charge, or CDSC.


---
An intercompany loan channeled through a bank.


---
A loan in which two companies in separate countries borrow each other's currency for a
specific time period and repay the other's currency at an agreed upon maturity.


---

A market condition in which futures prices are lower in the distant delivery months than in
the nearest delivery month. This situation may occur in when the costs of storing the product until eventual
delivery are effectively subtracted from the price today. The opposite of contango.


---
State of being unable to pay debts. Thus, the ownership of the firm's assets is transferred from
the stockholders to the bondholders.


---
The argument that expected indirect and direct bankruptcy costs offset the other
benefits from leverage so that the optimal amount of leverage is less than 100% debt finaning.


---
The risk that a firm will be unable to meet its debt obligations. Also referred to as default or insolvency risk.


---
The argument that expected bankruptcy costs preclude firms from being financed entirely
with debt.


---
A management style that de-emphasizes the significance of economic
and market cycles, focusing instead on the analysis of individual stocks.


---
Another term for a repo.


---
The periodic interest payment made to the bondholders during the life of the bond.


---
Coupon equivalent yield
True interest cost expressed on the basis of a 365-day year.


---
Coupon payments
A bond's interest payments.


---
Coupon rate
In bonds, notes or other fixed income securities, the stated percentage rate of interest, usually
paid twice a year.


---
Current coupon
A bond selling at or close to par, that is, a bond with a coupon close to the yields currently
offered on new bonds of a similar maturity and credit risk.


---
Current-coupon issues
Related: Benchmark issues


---
Discounted payback period rule
An investment decision rule in which the cash flows are discounted at an
interest rate and the payback rule is applied on these discounted cash flows.


---
Dividend clawback
With respect to a project financing, an arrangement under which the sponsors of a project
agree to contribute as equity any prior dividends received from the project to the extent necessary to cover
any cash deficiencies.


---
Dupont system of financial control
Highlights the fact that return on assets (ROA) can be expressed in terms
of the profit margin and asset turnover.


---
Evening up
Buying or selling to offset an existing market position.


---
Floating supply
The amount of securities believed to be available for immediate purchase, that is, in the
hands of dealers and investors wanting to sell.


---
Full coupon bond
A bond with a coupon equal to the going market rate, thereby, the bond is selling at par.


---
Give up
The loss in yield that occurs when a block of bonds is swapped for another block of lower-coupon
bonds. Can also be referred to as "after-tax give up" when the implications of the profit or loss on taxes are
considered.


---
Group of five (G5/G-5)
The five leading countries (France, Germany, Japan, United Kingdom, and the U.S.) that
meet periodically to achieve some cooperative effort on international economic issues. When currency issues
are discussed, the monetary authorities of these nations hold the meeting.


---
Group of seven (G7/G-7)
The G-5 countries plus Canada and Italy.


---
Group rotation manager
A top-down manager who infers the phases of the business cycle and allocates
assets accordingly.


---
High-coupon bond refunding
Refunding of a high-coupon bond with a new, lower coupon bond.


---
Legal bankruptcy
A legal proceeding for liquidating or reorganizing a business.


---
Level-coupon bond
Bond with a stream of coupon payments that are the same throughout the life of the bond.


---
Limitation on sale-and-leaseback
A bond covenant that restricts in some way a firm's ability to enter into
sale and lease-back transactions.


---
Lock-up CDs
CDs that are issued with the tacit understanding that the buyer will not trade the certificate.
Quite often, the issuing bank will insist that the certificate be safekept by it to ensure that the understanding is
honored by the buyer.


---
Long coupons
1) Bonds or notes with a long current maturity.
2) A bond on which one of the coupon periods, usually the first, is longer than the other periods or the standard period.


---
Lookback option
An option that allows the buyer to choose as the option strike price any price of the
underlying asset that has occurred during the life of the option. If a call, the buyer will choose the minimal
price, whereas if a put, the buyer will choose the maximum price. This option will always be in the money.


---
Low-coupon bond refunding
Refunding of a low coupon bond with a new, higher coupon bond.


---
Long coupons
1) Bonds or notes with a long current maturity.
2) A bond on which one of the coupon
periods, usually the first, is longer than the other periods or the standard period.


---
Money supply
M1-A: Currency plus demand deposits
M1-B: M1-A plus other checkable deposits.
M2: M1-B plus overnight repos, money market funds, savings, and small (less than $100M) time deposits.
M3: M-2 plus large time deposits and term repos.
L: M-3 plus other liquid assets.


---
Mortgage-Backed Securities Clearing Corporation
A wholly owned subsidiary of the Midwest Stock
Exchange that operates a clearing service for the comparison, netting, and margining of agency-guaranteed
MBSs transacted for forward delivery.


---
Mortgage-backed securities
Securities backed by a pool of mortgage loans.


---
Normal backwardation theory
Holds that the futures price will be bid down to a level below the expected
spot price.


---
Pass-through coupon rate
The interest rate paid on a securitized pool of assets, which is less than the rate
paid on the underlying loans by an amount equal to the servicing and guaranteeing fees.


---
Payback
The length of time it takes to recover the initial cost of a project, without regard to the time value of money.


---
Pay-up
The loss of cash resulting from a swap into higher price bonds or the need/willingness of a bank or
other borrower to pay a higher rate of interest to get funds.


---
Pickup
The gain in yield that occurs when a block of bonds is swapped for another block of higher-coupon bonds.


---
Plowback rate
Related: retention rate.


---
Prepackaged bankruptcy
A bankruptcy in which a debtor and its creditors pre-negotiate a plan or
reorganization and then file it along with the bankruptcy petition.


---
Pure yield pickup swap
Moving to higher yield bonds.


---
Raw material supply agreement
As used in connection with project financing, an agreement to furnish a
specified amount per period of a specified raw material.


---
Sale and lease-back
Sale of an existing asset to a financial institution that then leases it back to the user.
Related: lease.


---
Selling group
All banks involved in selling or marketing a new issue of stock or bonds


---
Step-up
To increase, as in step up the tax basis of an asset.


---
Step-up bond
A bond that pays a lower coupon rate for an initial period which then increases to a higher
coupon rate. Related: Deferred-interest bond, Payment-in-kind bond


---
Stripped mortgage-backed securities (SMBSs)
Securities that redistribute the cash flows from the
underlying generic MBS collateral into the principal and interest components of the MBS to enhance their use
in meeting special needs of investors.


---
Supermajority
Provision in a company's charter requiring a majority of, say, 80% of shareholders to approve
certain changes, such as a merger.


---
Supply shock
n event that influences production capacity and costs in an economy.


---
Support level
A price level below which it is supposedly difficult for a security or market to fall.


---
Swap buy-back
The sale of an interest rate swap by one counterparty to the other, effectively ending the swap.


---
Take-up fee
A fee paid to an underwriter in connection with an underwritten rights offering or an
underwritten forced conversion as compensation for each share of common stock he underwriter obtains and
must resell upon the exercise of rights or conversion of bonds.


---
Tax clawback agreement
An agreement to contribute as equity to a project the value of all previously
realized project-related tax benefits not already clawed back to the extent required to cover any cash
deficiency of the project.


---
Upstairs market
A network of trading desks for the major brokerage firms and institutional investors that
communicate with each other by means of electronic display systems and telephones to facilitate block trades
and program trades.


---
Uptick
A term used to describe a transaction that took place at a higher price than the preceding transaction
involving the same security.


---
Uptick trade
Related:Tick-test rules


---
Visible supply
New muni bond issues scheduled to come to market within the next 30 days.


---
Weighted average coupon
The weighted average of the gross interest rate of the mortgages underlying the
pool as of the pool issue date, with the balance of each mortgage used as the weighting factor.


---
Zero coupon bond
Such a debt security pays an investor no interest. It is sold at a discount to its face price
and matures in one year or longer.


---
Zero uptick
Related: tick-test rules.


---
Zero-coupon bond
A bond in which no periodic coupon is paid over the life of the contract. Instead, both the
principal and the interest are paid at the maturity date.


---
Feedback
The retrospective process of measuring performance, comparing it with plan and taking corrective action.


---
Mark-up
The amount added to a lower figure to reach a higher figure, expressed as a percentage of the
lower figure, e.g. cost is marked up by a percentage to cover the desired profit to determine a selling price.


---
Payback
A method of investment appraisal that calculates the number of years taken for the cash flows from an investment to cover the initial capital outlay.


---
Set-up
The time required to make ready a machine or process for production, e.g. changing equipment
settings.


---
Office supplies
The cost of the supplies used in running an office.


---
Coupon / Coupons
The periodic interest payment(s) made by the issuer of a bond
(debt security). Calculated by multiplying the face value of the
security by the coupon rate.


---
Coupon Rate
The rate of interest paid on a debt security. Generally stated on an
annual basis, even if the payments are made at some other
interval.


---
Payback Period
The number of years necessary for the net cash flows of an
investment to equal the initial cash outlay


---
Zero-coupon Bond
A security that makes no interest payments; it is sold at a discount
at issue and then repaid at face value at maturity

---
backflush costing
a streamlined cost accounting method that speeds up, simplifies, and reduces accounting effort in an environment that minimizes inventory balances, requires
few allocations, uses standard costs, and has minimal variances
from standard


---
charge-back system
a system using transfer prices; see transfer
price


---
equivalent units of production (EUP)
an approximation of the number of whole units of output that could have been
produced during a period from the actual effort expended
during that period; used in process costing systems to assign
costs to production


---
Foreign Corrupt Practices Act (FCPA)
a law passed by U.S. Congress in 1977 that makes it illegal for a U.S. company to engage in various "questionable" foreign payments and
makes it mandatory for a U.S. company to maintain accurate
accounting records and a reasonable system of internal
control


---
payback period
the time it takes an investor to recoup an
original investment through cash flows from a project


---
setup cost
the direct or indirect cost of getting equipment
ready for each new production run


---
supply-chain management
the cooperative strategic planning,
controlling, and problem solving by a company and
its vendors and customers to conduct efficient and effective
transfers of goods and services within the supply chain


---
Coupon
Detachable certificate attached to a bond that shows the amount of
interest payable at regular intervals, usually semi-annually.Originally
coupons were actually attached to the bonds and had to be cut off or "clipped"
to redeem them and receive the interest payment.


---
Coupon dates
The dates when the coupons are paid. Typically a bond pays
coupons annually or semi-annually.


---
Coupon rate
The nominal interest rate that the issuer promises to pay the
buyer of a bond.


---
Zero curve, zero-coupon yield curve
A yield curve for zero-coupon bonds;
zero rates versus maturity dates. Since the maturity and duration (Macaulay
duration) are identical for zeros, the zero curve is a pure depiction of supply/
demand conditions for loanable funds across a continuum of durations and
maturities. Also known as spot curve or spot yield curve.


---
Zero-coupon bond, or Zero
A bond that, instead of carrying a coupon, is sold
at a discount from its face value, pays no interest during its life, and pays the
principal only at maturity.

---
Loss carryback
The offsetting of a current year loss against the reported taxable
income of previous years.


---
Markup
An increase in the cost of a product to arrive at its selling price.


---
Payback method
A capital budgeting analysis method that calculates the amount of
time it will take to recoup the investment in a capital asset, with no regard for the
time cost of money.


---
Setup cost
The cluster of one-time costs incurred whenever a production batch is run,
which includes the cost to configure a machine for new production and all batchrelated
paperwork.


---
bankruptcy
The reorganization or liquidation of a firm that cannot pay its debts.


---
coupon
The interest payments paid to the bondholder.


---
coupon rate
Annual interest payment as a percentage of face value.


---
payback period
Time until cash flows recover the initial investment of the project.


---
Related to : financial, finance, business, accounting, payroll, inventory, investment, money, inventory control, stock trading, financial advisor, tax advisor, credit.