Definition of Listed stocks

Listed stocks
stocks that are traded on an exchange.


---
Listed stocks
stocks that are traded on an exchange.


---
Related Terms:
The process of completing an order to buy or sell securities. Once a trade is executed, it is reported
by a Confirmation Report; settlement (payment and transfer of ownership) occurs in the U.S. between 1
(mutual funds) and 5 (stocks) days after an order is executed. Settlement times for exchange listed stocks are
in the process of being reduced to three days in the U. S.


---
The beta of a stock is determined as follows:
[(n) (sum of (xy)) ]-[(sum of x) (sum of y)]
[(n) (sum of (xx)) ]-[(sum of x) (sum of x)]
where: n = # of observations (24-60 months)
x = rate of return for the S&P 500 Index
y = rate of return for the stock


---
Inventories owned by a company, but located on the premises
of its agents or distributors.


---
The informal and frequently unauthorized retention of excess inventory on the shop floor, which is used as buffer safety stock.


---
Indicated yield represents annual dividends divided by current stock price.


---
Low-cost, high-usage inventory items stored near the shop floor,
which the production staff can use at will without a requisition and which are
expensed at the time of receipt, rather than being accounted for through a formal
inventory database.


---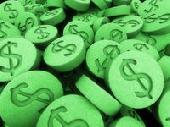 A leverageable account in which stocks can be purchased for a combination of
cash and a loan. The loan in the margin account is collateralized by the stock and, if the value of the stock
drops sufficiently, the owner will be asked to either put in more cash, or sell a portion of the stock. Margin
rules are federally regulated, but margin requirements and interest may vary among broker/dealers.


---
The percentage of the assets that were spent to run a mutual fund (as of the last annual
statement). This includes expenses such as management and advisory fees, overhead costs and 12b-1
(distribution and advertising ) fees. The expense ratio does not include brokerage costs for trading the
portfolio, although these are reported as a percentage of assets to the SEC by the funds in a Statement of
Additional Information (SAI). the SAI is available to shareholders on request. Neither the expense ratio or the
SAI includes the transaction costs of spreads, normally incurred in unlisted securities and foreign stocks.
These two costs can add significantly to the reported expenses of a fund. The expense ratio is often termed an
Operating Expense Ratio (OER).


---
A closed-end fund regulated by the Investment Company Act of 1940. These funds have a
fixed number of shares which are traded on the secondary markets similarly to corporate stocks. The market
price may exceed the net asset value per share, in which case it is considered at a "premium." When the
market price falls below the NAV/share, it is at a "discount." Many closed-end funds are of a specialized
nature, with the portfolio representing a particular industry, country, etc. These funds are usually listed on US
and foreign exchanges.


---
A decentralized market (as opposed to an exchange market) where
geographically dispersed dealers are linked together by telephones and computer screens. The market is for
securities not listed on a stock or bond exchange. The NASDAQ market is an OTC market for U.S. stocks.


---
Particular place on the floor of an exchange where transactions in stocks listed on the exchange occur.


---
On an exchange, the member firm that is designated as the market maker (or dealer for a listed
common stock). Only one specialist can be designated for a given stock, but dealers may be specialists for
several stocks. In contrast, there can be multiple market makers in the OTC market.


---
Related to : financial, finance, business, accounting, payroll, inventory, investment, money, inventory control, stock trading, financial advisor, tax advisor, credit.