Definition of Dividends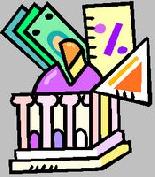 Dividends
Amounts paid to the owners of a company that represent a share of the income of the company.


---
Dividends
Profits paid out to shareholders by a corporation.


---
Related Terms:
Amount of cash paid to shareholders expressed as dollars per share.


---
dividends paid for the past 12 months divided by the number of common shares
outstanding, as reported by a company. The number of shares often is determined by a weighted average of
shares outstanding over the reporting term.


---
A dividend that is paid in addition to a firm's "regular" quarterly dividend.


---
Dividend increases send good news about cash flow and earnings. Dividend cuts send bad news.


---
to that of common stock. Preferred stock typically does not carry the right to vote.


---
Legislation under which interest, dividends, or capital gains earned on assets you transfer to your spouse will be treated as your own for tax purposes. Interest or dividends relating to property transferred to children under 18 also will be attributed back to you. The exception to this rule is that capital gains relating to property transferred to children under 18 will not be attributed back to you.


---

Ownership shares issued by a business corporation. A business
corporation may issue more than one class of capital stock shares.
One class may give voting privileges in the election of the directors of the
corporation while the other class does not. One class (called preferred
stock) may entitle a certain amount of dividends per share before cash
dividends can be paid on the other class (usually called common stock).
Stock shares may have a minimum value at which they have to be issued
(called the par value), or stock shares can be issued for any amount
(called no-par stock). Stock shares may be traded on public markets such
as the New York Stock Exchange or over the Nasdaq network. There are
about 10,000 stocks traded on public markets (although estimates vary
on this number). In this regard, I find it very interesting that there are
more than 8,000 mutual funds that invest in stocks.


---
A company that pays out all earnings per share to stockholders as dividends. Or, a company or
division of a company that generates a steady and significant amount of free cash flow.


---
In investments, it represents earnings before depreciation , amortization and non-cash charges.
Sometimes called cash earnings. Cash flow from operations (called funds from operations ) by real estate and
other investment trusts is important because it indicates the ability to pay dividends.


---
In investments, NET INCOME plus DEPRECIATION and other noncash charges. In this sense, it is synonymous with CASH EARNINGS. Investors focus on cash flow from operations because of their concern with a firm's ability to pay dividends.


---
The number of times that financial obligations (for interest, principal payments,
preferred stock dividends, and rental payments) are covered by earnings before interest, taxes, rental
payments, and depreciation.


---
Cash flow from operations minus preferred stock dividends, divided by the
number of common shares outstanding.


---
A section on the cash-flow statement that shows how much cash a company raised by selling stocks or bonds this year and how much was paid out for cash dividends and other finance-related obligations.


---
Are equity instruments that take no security against assets, have no fixed terms of repayment and pay no fixed dividends.


---
That part of the capital stock of a corporation that carries voting rights and represents
the last claim on assets and dividends.


---

Conflict between bondholders and stockholders
These two groups may have interests in a corporation that
conflict. Sources of conflict include dividends, distortion of investment, and underinvestment. Protective
covenants work to resolve these conflicts.


---
constant-growth dividend discount model
Version of the dividend discount model in which dividends grow at a constant rate.


---
Constant-growth model
Also called the Gordon-Shapiro model, an application of the dividend discount
model which assumes (1) a fixed growth rate for future dividends and (2) a single discount rate.


---
Contribution Principle
This is the principle which specifies the factors that must be taken into account when calculating dividends. At Canada Life, the key factors are: interest earnings, mortality, and operating expense.


---
Cumulative dividend feature
A requirement that any missed preferred or preference stock dividends be paid
in full before any common dividend payment is made.


---
Cumulative preferred stock
Preferred stock whose dividends accrue, should the issuer not make timely
dividend payments. Related: non-cumulative preferred stock.


---
Current Account
That part of the balance of payments accounts that records demands for and supplies of a currency arising from activities that affect current income, namely imports, exports, investment income payments such as interest and dividends, and transfers such as gifts, pensions, and foreign aid.


---
Date of record
Date on which holders of record in a firm's stock ledger are designated as the recipients of
either dividends or stock rights.


---
Discounted dividend model (DDM)
A formula to estimate the intrinsic value of a firm by figuring the
present value of all expected future dividends.


---
Discretionary cash flow
Cash flow that is available after the funding of all positive NPV capital investment
projects; it is available for paying cash dividends, repurchasing common stock, retiring debt, and so on.


---
Distributions
Payments from fund or corporate cash flow. May include dividends from earnings, capital
gains from sale of portfolio holdings and return of capital. Fund distributions can be made by check or by
investing in additional shares. Funds are required to distribute capital gains (if any) to shareholders at least
once per year. Some Corporations offer Dividend Reinvestment Plans (DRP).


---

Dividend
As the term dividend relates to a corporation's earnings, a dividend is an amount paid per share from a corporation's after tax profits. Depending on the type of share, it may or may not have the right to earn any dividends and corporations may reduce or even suspend dividend payments if they are not doing well. Some dividends are paid in the form of additional shares of the corporation. dividends paid by Canadian corporations qualify for the dividend tax credit and are taxed at lower rates than other income.
As the term dividend relates to a life insurance policy, it means that if that policy is "participating", the policy owner is entitled to participate in an equitable distribution of the surplus earnings of the insurance company which issued the policy. Surpluses arise primarily from three sources:
1) the difference between anticipated and actual operating expenses,
2) the difference between anticipated and actual claims experience, and
3) interest earned on investments over and above the rate required to maintain policy reserves. Having regard to the source of the surplus, the "dividend" so paid can be considered, in part at least, as a refund of part of the premium paid by the policy owner.
Life insurance policy owners of participating policies usually have four and sometimes five dividend options from which to choose:
1) take the dividend in cash,
2) apply the dividend to reduce current premiums,
3) leave the dividends on deposit with the insurance company to accumulate at interest like a savings plan,
4) use the dividends to purchase paid-up whole life insurance to mature at the same time as the original policy,
5) use the dividends to purchase one year term insurance equal to the guaranteed cash value at the end of the policy year, with any portion of the dividend not required for this purpose being applied under one of the other dividend options.
NOTE: It is suggested here that if you have a participating whole life policy and at the time of purchase received a "dividend projection" of incredible future savings, ask for a current projection. Life insurance company's surpluses are not what they used to be.


---
Dividend
Unlike dividends which are paid to company shareholders, participating insurance policy dividends are not based on the company's overall profits. Rather, they are determined by grouping policies by type and country of issue and looking at how each class contributes to the company's earnings and surplus.


---
Dividend clawback
With respect to a project financing, an arrangement under which the sponsors of a project
agree to contribute as equity any prior dividends received from the project to the extent necessary to cover
any cash deficiencies.


---
dividend discount model
Computation of today's stock price which states that share value equals the present value of all expected future dividends.


---
dividend growth method
a method of computing the cost
of common stock equity that indicates the rate of return
that common shareholders expect to earn in the form of
dividends on a company's common stock


---
Dividend growth model
A model wherein dividends are assumed to be at a constant rate in perpetuity.


---
Dividend income
Income that a company receives in the form of dividends on stock in other companies that it holds.


---
Dividend limitation
A bond covenant that restricts in some way the firm's ability to pay cash dividends.


---
Dividend payout ratio
Percentage of earnings paid out as dividends.


---
dividend payout ratio
Computed by dividing cash dividends for the year
by the net income for the year. It's simply the percent of net income distributed
as cash dividends for the year.


---
dividend payout ratio
Percentage of earnings paid out as dividends.


---
Dividend policy
An established guide for the firm to determine the amount of money it will pay as dividends.


---
Dividend Policy
This policy governs Canada Life's actions regarding distribution of dividends to policyholders. It's goal is to achieve a dividend distribution that is equitable and timely, and which gives full recognition of the need to ensure the ongoing solidity of the company. It also specifies that distribution to individual policyholders must be equitable between dividend classes and policyholder generations, and among policyholders within any class.


---
Dividend reinvestment plan (DRP)
Automatic reinvestment of shareholder dividends in more shares of a
company's stock, often without commissions. Some plans provide for the purchase of additional shares at a
discount to market price. Dividend reinvestment plans allow shareholders to accumulate stock over the Long
term using dollar cost averaging. The DRP is usually administered by the company without charges to the
holder.


---
Dividend rights
A shareholders' rights to receive per-share dividends identical to those other shareholders receive.


---
dividend yield ratio
Cash dividends paid by a business over the most
recent 12 months (called the trailing 12 months) divided by the current
market price per share of the stock. This ratio is reported in the daily
stock trading tables in the Wall Street Journal and other major newspapers.


---
Dividend yield (Stocks)
Indicated yield represents annual dividends divided by current stock price.


---
Double-tax agreement
Agreement between two countries that taxes paid abroad can be offset against
domestic taxes levied on foreign dividends.


---
financing activities
One of the three classes of cash flows reported in the
statement of cash flows. This class includes borrowing money and paying
debt, raising money from shareowners and the return of money to
them, and dividends paid from profit.


---
Floating-rate preferred
Preferred stock paying dividends that vary with short-term interest rates.


---
floating-rate security
Security paying dividends or interest that vary with short-term interest rates.


---
growth rate
an estimate of the increase expected in dividends
(or in market value) per share of stock


---
Holder-of-record date
The date on which holders of record in a firm's stock ledger are designated as the
recipients of either dividends or stock rights. Also called date of record.


---
Indicated dividend
Total amount of dividends that would be paid on a share of stock over the next 12 months
if each dividend were the same amount as the most recent dividend. Usually represent by the letter "e" in
stock tables.


---
internally generated funds
Cash reinvested in the firm; depreciation plus earnings not paid out as dividends.


---
Linter's observations
John Lintner's work (1956) suggested that dividend policy is related to a target level of
dividends and the speed of adjustment of change in dividends.


---
Non-participating Policy
A type of insurance policy or annuity in which the owner does not receive dividends.


---
Paid-Up Additions
A type of insurance policy or annuity in which the owner receives dividends, typically increases the death.


---
Participating Policy
A policy offers the potential of sharing in the success of an insurance company through the receipt of dividends.


---
Payout ratio
Generally, the proportion of earnings paid out to the common stockholders as cash dividends.
More specifically, the firm's cash dividend divided by the firm's earnings in the same reporting period.


---
payout ratio
Fraction of earnings paid out as dividends.


---
Preferred Shares
Are equity instruments that take no security against assets, have flexible terms of repayment and pay fixed or floating dividends.


---
preferred stock
Stock that takes priority over common stock in regard to dividends.


---
Premium Offset
After premiums have been paid for a number of years, further annual premiums may be paid by the current dividends and the surrender of some of the paid-up additions which have built up in the policy. In effect, the policy can begin to pay for itself. Whether a policy becomes eligible for premium offset, the date on which it becomes eligible and whether it remains eligible once premium offset begins, will all depend on how the dividend scale changes over the years. Since dividends are not guaranteed, premium offset cannot be guaranteed either.


---
Present Value (PV)
Are equity instruments that take no security against assets, have flexible terms of repayment and pay fixed or floating dividends.


---
Repurchase of stock
Device to pay cash to firm's shareholders that provides more preferable tax treatment
for shareholders than dividends. Treasury stock is the name given to previously issued stock that has been
repurchased by the firm. A repurchase is achieved through either a dutch auction, open market, or tender offer.


---
Residual dividend approach
An approach that suggests that a firm pay dividends if and only if acceptable
investment opportunities for those funds are currently unavailable.


---
Retained earnings
Accounting earnings that are retained by the firm for reinvestment in its operations;
earnings that are not paid out as dividends.


---
RETAINED EARNINGS
Profits a company plowed back into the business over the years. Last January's retained earnings, plus the net income or profit that a company made this year (which is calculated on the income statement), minus dividends paid out, equals the retained earnings balance on the balance sheet date.


---
retained earnings
Earnings not paid out as dividends.


---
Retained Earnings
Net profits kept to accumulate in a business after dividends are paid.


---
Retained profits
The amount of profit after deducting interest, taxation and dividends that is retained by the business.


---
Series
Options: All option contracts of the same class that also have the same unit of trade, expiration date,
and exercise price. Stocks: shares which have common characteristics, such as rights to ownership and voting,
dividends, par value, etc. In the case of many foreign shares, one series may be owned only by citizens of the
country in which the stock is registered.


---
Split-rate tax system
A tax system that taxes retained earnings at a higher rate than earnings that are
distributed as dividends.


---
Statement Retained Earnings
One of the basic financial statements; it takes the beginning balance of retained earnings and adds net income, then subtracts dividends. The Statement of Retained Earnings is prepared for a specified period of time.


---
Stock
Units of ownership, also called shares, in a public corporation. Owners of such units, called shareholders, share in the earnings of the company through dividends. The price of a stock is determined by supply and demand in the stock market.


---
Stock dividend
Payment of a corporate dividend in the form of stock rather than cash. The stock dividend
may be additional shares in the company, or it may be shares in a subsidiary being spun off to shareholders.
Stock dividends are often used to conserve cash needed to operate the business. Unlike a cash dividend, stock
dividends are not taxed until sold.


---
stockholders' equity, statement of changes in
Although often considered
a financial statement, this is more in the nature of a supporting schedule
that summarizes in one place various changes in the owners' equity
accounts of a business during the period—including the issuance and
retirement of capital stock shares, cash dividends, and other transactions
affecting owners' equity. This statement (schedule) is very helpful
when a business has more than one class of stock shares outstanding
and when a variety of events occurred during the year that changed its
owners' equity accounts.


---
Tax differential view ( of dividend policy)
The view that shareholders prefer capital gains over dividends,
and hence low payout ratios, because capital gains are effectively taxed at lower rates than dividends.


---
Traditional view (of dividend policy)
An argument that "within reason," investors prefer large dividends to
smaller dividends because the dividend is sure but future capital gains are uncertain.


---
Vanishing Premium
This term relates to participating whole life insurance and the use of the dividend to reduce or completely eliminate the need for future premiums. In the 1980's life insurance company's profits from investment were exceedingly high compared to historical experience. It became common for a salesperson to show new prospective clients how quickly his or her insurance company's dividends would cover the future cost of future premiums. In some cases more emphasis was put on the value of future dividends than on the fact that future dividends were not guaranteed and could only be projected based on current earnings. Many life insurance buyers have since learned that the dividends they expected in the 80's no longer exist in the 90's and they are continuing to dig into their pockets to pay insurance premiums.


---
Withholding tax
A tax levied by a country of source on income paid, usually on dividends remitted to the
home country of the firm operating in a foreign country. Tax levied on dividends paid abroad.


---
Yield
The percentage rate of return paid on a stock in the form of dividends, or the effective rate of interest
paid on a bond or note.


---
Related to : financial, finance, business, accounting, payroll, inventory, investment, money, inventory control, stock trading, financial advisor, tax advisor, credit.