Definition of Derivative markets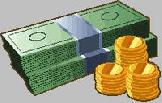 Derivative markets
markets for derivative instruments.


---
Related Terms:
Also called spot markets, these are markets that involve the immediate delivery of a security
or instrument.
Related: derivative markets.


---
markets in which the prevailing price is determined through the free interaction of
prospective buyers and sellers, as on the floor of the stock exchange.


---
markets for long-term financing.


---
A financial instrument that is based on some underlying asset.
For example, an option is a derivative instrument based on the right to buy or
sell an underlying instrument.


---
Contracts such as options and futures whose price is derived from the price of the
underlying financial asset.


---
A financial security, such as an option, or future, whose value is derived in part from the
value and characteristics of another security, the underlying security.


---
Financial markets in which security prices rapidly reflect all relevant information about asset values.


---

The hypothesis that securities are typically in equilibrium--that they are fairly priced in the sense that the price reflects all publicly available information on the security.


---
The financial markets of developing economies.


---
markets in which financial assets are traded.


---
markets in which each transaction is separately negotiated between buyer and seller (i.e.
an investor and a dealer).


---
markets in which no trader has the power to change the price of
goods or services. Perfect capital markets are characterized by the following conditions: 1) trading is costless,
and access to the financial markets is free, 2) information about borrowing and lending opportunities is freely
available, 3) there are many traders, and no single trader can have a significant impact on market prices.


---
security's risk-free interest rate.


---
Related: cash markets


---
Persons who take positions in securities and their derivatives with the objective of making profits.
Traders can make markets by trading the flow. When they do that, their objective is to earn the bid/ask spread.
Traders can also be of the sort who take proprietary positions whereby they seek to profit from the directional
movement of prices or spread positions.


---
Related to : financial, finance, business, accounting, payroll, inventory, investment, money, inventory control, stock trading, financial advisor, tax advisor, credit.