Definition of Derivative instruments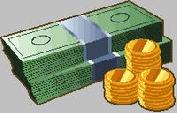 Derivative instruments
Contracts such as options and futures whose price is derived from the price of the
underlying financial asset.


---
Related Terms:
Markets for derivative instruments.


---
Variations of mortgage instruments such as adjustable-rate and variablerate
mortgages, graduated-payment mortgages, reverse-annuity mortgages, and several seldom-used
variations.


---
A financial instrument that is based on some underlying asset.
For example, an option is a derivative instrument based on the right to buy or
sell an underlying instrument.


---
A financial security, such as an option, or future, whose value is derived in part from the
value and characteristics of another security, the underlying security.


---
This is a generic term that refers to the many different forms of financing a business may use. For example - loans, shares, and bonds are all considered financing instruments.


---
Assets that pay a fixed-dollar amount, such as bonds and preferred stock.


---
Financial securities, such as money market instruments or capital market insturments.


---

security's risk-free interest rate.


---
Terms that refer to the combination of
capital sources that a business has tapped for investing in its assets—in
particular, the mix of its interest-bearing debt and its owners' equity. In a
more sweeping sense, the terms also include appendages and other features
of the basic debt and equity instruments of a business. Such things
as stock options, stock warrants, and convertible features of preferred
stock and notes payable are included in the more inclusive sense of the
terms, as well as any debt-based and equity-based financial derivatives
issued by the business.


---
Customized hybrid instruments created by blending an underlying price on a cash instrument with
the price of a derivative instrument.


---
Related to : financial, finance, business, accounting, payroll, inventory, investment, money, inventory control, stock trading, financial advisor, tax advisor, credit.