Definition of Bankruptcy

Bankruptcy
State of being unable to pay debts. Thus, the ownership of the firm's assets is transferred from
the stockholders to the bondholders.


---
bankruptcy
The reorganization or liquidation of a firm that cannot pay its debts.


---
Related Terms:
The argument that expected indirect and direct bankruptcy costs offset the other
benefits from leverage so that the optimal amount of leverage is less than 100% debt finaning.


---
The risk that a firm will be unable to meet its debt obligations. Also referred to as default or insolvency risk.


---
The argument that expected bankruptcy costs preclude firms from being financed entirely
with debt.


---
A legal proceeding for liquidating or reorganizing a business.


---
A bankruptcy in which a debtor and its creditors pre-negotiate a plan or
reorganization and then file it along with the bankruptcy petition.


---
Rule in bankruptcy proceedings whereby senior creditors are required to be paid in full
before junior creditors receive any payment.


---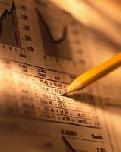 The sum of cash, accounts receivable, and short-term marketable
investments (if any) is divided by
total current liabilities to compute this ratio. Suppose that the short-term
creditors were to pounce on a business and not agree to roll over the
debts owed to them by the business. In this rather extreme scenario, the
acid test ratio reveals whether its cash and near-cash assets are enough
to pay its short-term current liabilities. This ratio is an extreme test that
is not likely to be imposed on a business unless it is in financial straits.
This ratio is quite relevant when a business is in a liquidation situation
or bankruptcy proceedings.


---
The restricting of liability holders from collection efforts of collateral seizure, which is
automatically imposed when a firm files for bankruptcy under Chapter 11.


---
The view that issuing debt is generally valuable but that the firm's
optimal choice of capital structure is a dynamic process that involves the other views of capital structure (net
corporate/personal tax, agency cost, bankruptcy cost, and pecking order), which result from considerations of
asymmetric information, asymmetric taxes, and transaction costs.


---
The risk that a foreign debtor will be unable to pay its debts because of business events,
such as bankruptcy.


---
Costs arising from bankruptcy or distorted business decisions before bankruptcy.


---
The ability of the bankruptcy court to confirm a plan of reorganization over the objections of
some classes of creditors.


---
The creditor proof status of such things as life insurance, non-registered life insurance investments, life insurance RRSPs and life insurance RRIFs make these attractive products for high net worth individuals, professionals and business owners who may have creditor concerns. Under most circumstances the creditor proof rules of the different provincial insurance acts take priority over the federal bankruptcy rules.
The provincial insurance acts protect life insurance products which have a family class beneficiary. Family class beneficiaries include the spouse, parent, child or grandchild of the life insured, except in Quebec, where creditor protection rules apply to spouse, ascendants and descendants of the insured. Investments sold by other financial institutions do not offer the same security should the holder go bankrupt. There are also circumstances under which the creditor proof protections do not hold for life insurance products. Federal bankruptcy law disallows the protection for any transfers made within one year of bankruptcy. In addition, should it be found that a person shifted money to an insurance company fund in bad faith for the specific purpose of avoiding creditors, these funds will not be creditor proof.


---
A firm that is continuing to operate under Chapter 11 bankruptcy process.


---
New debt obtained by a firm during the Chapter 11 bankruptcy process.


---

Fair-and-equitable test
A set of requirements for a plan of reorganization to be approved by the bankruptcy court.


---
Financial distress
Events preceding and including bankruptcy, such as violation of loan contracts.


---
Insolvency risk
The risk that a firm will be unable to satisfy its debts. Also known as bankruptcy risk.


---
Plan for reorganization
A plan for reorganizing a firm during the Chapter 11 bankruptcy process.


---
Receiver
A bankruptcy practitioner appointed by secured creditors in the United Kingdom to oversee the
repayment of debts.


---
Senior debt
Debt that, in the event of bankruptcy, must be repaid before subordinated debt receives any payment.


---
Seniority
The order of repayment. In the event of bankruptcy, senior debt must be repaid before subordinated
debt is repaid.


---
Static theory of capital structure
Theory that the firm's capital structure is determined by a trade-off of the
value of tax shields against the costs of bankruptcy.


---
Subordinated debt
Debt over which senior debt takes priority. In the event of bankruptcy, subordinated
debtholders receive payment only after senior debt claims are paid in full.


---
subordinated debt
Debt that may be repaid in bankruptcy only after senior debt is paid.


---
workout
Agreement between a company and its creditors establishing the steps the company must take to avoid bankruptcy.


---
Z score
Statistical measure that quantifies the distance (measured in standard deviations) a data point is from
the mean of a data set. Separately, z score is the output from a credit-strength test that gauges the likelihood of
bankruptcy.


---
Related to : financial, finance, business, accounting, payroll, inventory, investment, money, inventory control, stock trading, financial advisor, tax advisor, credit.