Definition of SKU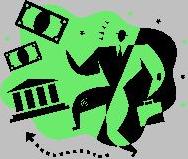 SKU
Acronym for Stock Keeping Unit, which is an item used at a single location.


---
Related Terms:
The ability to safely stack multiple layers of the same sku on top of
each other.


---
The process of satisfying stakeholders in the organization that managers have acted in the best interests of the stakeholders, a result of the stewardship function of managers, which takes place through accounting.


---
Cumulative gains or losses reported in shareholders'
equity that arise from changes in the fair value of available-for-sale securities, from the
effects of changes in foreign-currency exchange rates on consolidated foreign-currency financial
statements, certain gains and losses on financial derivatives, and from adjustments for underfunded
pension plans.


---
A merger or consolidation in which an acquirer purchases the acquiree's Stock.


---
Publicly traded issues that may be collateralized by mortgages and MBSs.


---
the systematic assignment of an amount to a recipient
set of categories annuity a series of equal cash flows (either positive or negative) per period


---
The process of storing costs in one account and shifting them to other
accounts, based on some relevant measure of activity.


---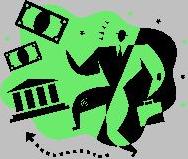 hours, machine hours or volume of production
used to apportion overheads to products and
services.


---
The second-largest Stock exchange in the United States. It trades
mostly in small-to medium-sized companies.


---
a method of allocating joint cost to joint products using a
simulated net realizable value at the split-off point; approximated
value is computed as final sales price minus
incremental separate costs


---
Dollar deposits held in Singapore or other Asian centers.


---
The decision regarding how an institution's funds should be distributed among the
major classes of assets in which it may invest.


---
Also called surplus management, the task of managing funds of a financial
institution to accomplish the two goals of a financial institution:
1) to earn an adequate return on funds invested, and
2) to maintain a comfortable surplus of assets beyond liabilities.


---
Floating rate preferred Stock, the dividend on which is adjusted every
seven weeks through a Dutch auction.


---
Checks deposited by a company that have not yet been cleared.


---
availability float
Checks already deposited that have not yet been cleared.


---

balancing item
Variable that adjusts to maintain the consistency
of a financial plan. Also called plug.


---
Base probability of loss
The probability of not achieving a portfolio expected return.


---
Beta equation (Stocks)
The beta of a Stock is determined as follows:
[(n) (sum of (xy)) ]-[(sum of x) (sum of y)]
[(n) (sum of (xx)) ]-[(sum of x) (sum of x)]
where: n = # of observations (24-60 months)
x = rate of return for the S&P 500 Index
y = rate of return for the Stock


---
Blow-off top
A steep and rapid increase in price followed by a steep and rapid drop. This is an indicator seen
in charts and used in technical analysis of Stock price and market trends.


---
BOOK VALUE OF COMMON STOCK
The theoretical amount per share that each Stockholder would receive if a company's assets were sold on the balance sheet's date. Book value equals:
(Stockholders' equity) / (Common Stock shares outstanding)


---
Capital allocation
decision Allocation of invested funds between risk-free assets versus the risky portfolio.


---
capital stock
Ownership shares issued by a business corporation. A business
corporation may issue more than one class of capital Stock shares.
One class may give voting privileges in the election of the directors of the
corporation while the other class does not. One class (called preferred
Stock) may entitle a certain amount of dividends per share before cash
dividends can be paid on the other class (usually called common Stock).
Stock shares may have a minimum value at which they have to be issued
(called the par value), or Stock shares can be issued for any amount
(called no-par Stock). Stock shares may be traded on public markets such
as the New York Stock Exchange or over the Nasdaq network. There are
about 10,000 Stocks traded on public markets (although estimates vary
on this number). In this regard, I find it very interesting that there are
more than 8,000 mutual funds that invest in Stocks.


---
Capital Stock
The total amount of plant, equipment, and other physical capital.


---
Cash-equivalent items
Temporary investments of currently excess cash in short-term, high-quality
investment media such as treasury bills and Banker's Acceptances.


---
Cash Flow Provided or Used from Financing Activities
Cash receipts and payments involving
liability and Stockholders' equity items, including obtaining cash from creditors and repaying
the amounts borrowed and obtaining capital from owners and providing them with a return on,
and a return of, their investments.


---
Cash Flow Provided or Used from Investing Activities
Cash receipts and payments involving
long-term assets, including making and collecting loans and acquiring and disposing of
investments and productive long-lived assets.


---

Common stock
These are securities that represent equity ownership in a company. Common shares let an
investor vote on such matters as the election of directors. They also give the holder a share in a company's
profits via dividend payments or the capital appreciation of the security.


---
Common stock
Shares of ownership sold to the public.


---
Common Stock
A financial security that represents an ownership claim on the
assets and earnings of a company. This claim is valid after the
claims of the debt providers and preferred Stockholders have been
satisfied.


---
common stock
Ownership shares in a publicly held corporation.


---
Common Stock
That part of the capital Stock of a corporation that carries voting rights and represents
the last claim on assets and dividends.


---
Common stock equivalent
A convertible security that is traded like an equity issue because the optioned
common Stock is trading high.


---
Common stock market
The market for trading equities, not including preferred Stock.


---
Common stock/other equity
Value of outstanding common shares at par, plus accumulated retained
earnings. Also called shareholders' equity.


---
Common stock ratios
Ratios that are designed to measure the relative claims of Stockholders to earnings
(cash flow per share), and equity (book value per share) of a firm.


---
Conflict between bondholders and stockholders
These two groups may have interests in a corporation that
conflict. Sources of conflict include dividends, distortion of investment, and underinvestment. Protective
covenants work to resolve these conflicts.


---
Consigned stocks
Inventories owned by a company, but located on the premises
of its agents or distributors.


---
Contingent Liability
An obligation that is dependent on the occurrence or nonoccurrence of
one or more future events to confirm the existence of an obligation, the amount owed, the payee,
or the date payable.


---
Contingent pension liability
Under ERISA, the firm is liable to the plan participants for up to 39% of the net
worth of the firm.


---
Convertible exchangeable preferred stock
Convertible preferred Stock that may be exchanged, at the
issuer's option, into convertible bonds that have the same conversion features as the convertible preferred
Stock.


---
Convertible preferred stock
Preferred Stock that can be converted into common Stock at the option of the holder.


---
cost allocation
the assignment, using some reasonable basis,
of any indirect cost to one or more cost objects


---
Cost of Common Stock
The rate of return required by the investors in the common Stock of
the company. A component of the cost of capital.


---
Cost of Preferred Stock
The rate of return required by the investors in the preferred Stock of
a company. A component of the cost of capital.


---
Counterpart items
In the balance of payments, counterpart items are analogous to unrequited transfers in the
current account. They arise because the double-entry system in balance of payments accounting and refer to
adjustments in reserves owing to monetization or demonetization of gold, allocation or cancellation of SDRs,
and revaluation of the various components of total reserves.


---
Cumulative preferred stock
Preferred Stock whose dividends accrue, should the issuer not make timely
dividend payments. Related: non-cumulative preferred Stock.


---
Cumulative probability distribution
A function that shows the probability that the random variable will
attain a value less than or equal to each value that the random variable can take on.


---
Current liability
This is typically the accounts payable, short-term notes payable, and
accrued expense accounts on the balance sheet, or any other liabilities that are
expected to be liquidated within a short time interval.


---
defective unit
a Unit that has been rejected at a control inspection
point for failure to meet appropriate standards of
quality or designated product specifications; can be economically
reworked and sold through normal distribution channels


---
Deferred Tax Liability
Future tax obligation that results from the origination of a temporary
difference that causes pretax book income to exceed taxable income.


---
Departmental stocks
The informal and frequently unauthorized retention of excess inventory on the shop floor, which is used as buffer safety Stock.


---
design for manufacturability (DFM)
a process that is part of the project management of a new product; concerned with finding optimal solutions to minimizing product failures
and other adversities in the delivery of a new product
to customers


---
Direct stock-purchase programs
The purchase by investors of securities directly from the issuer.


---
Disability
Inability to work due to injury or sickness.


---
Disability Insurance
Insurance that pays you an ongoing income if you become disabled and are unable to pursue employment or business activities. There are limits to how much you can receive based on your pre-disability earnings. Rates will vary based on occupational duties and length of time in a particular industry. This kind of coverage has a waiting period before you can begin collecting benefits, usually 30, 60 or 90 days. The benefit paying period also varies from 2 years to age 65. A short waiting period will cost more that a longer waiting period. As well, a long benefit paying period will cost more than a short benefit paying period.


---
Disability Insurance (Credit Insurance)
Group Insurance designed to cover monthly obligations due to a borrower being unable to work due to sickness or injury.


---
Dividend yield (Stocks)
Indicated yield represents annual dividends divided by current Stock price.


---
DLOM (discount for lack of marketability)
an amount or percentage deducted from an equity interest to reflect lack of marketability.


---
Doctrine of sovereign immunity
Doctrine that says a nation may not be tried in the courts of another country
without its consent.


---
Dynamic asset allocation
An asset allocation strategy in which the asset mix is mechanistically shifted in
response to -changing market conditions, as in a portfolio insurance strategy, for example.


---
Earnings per share of common stock
How much profit a company made on each share of common Stock this year.


---
Employee stock fund
A firm-sponsored program that enables employees to purchase shares of the firm's
common Stock on a preferential basis.


---
Employee stock ownership plan (ESOP)
A company contributes to a trust fund that buys Stock on behalf of
employees.


---
Employee Stock Ownership Plan (ESOP)
a profit-sharing compensation program in which investments are made in
the securities of the employer


---
Employee Stock Ownership Plan (ESOP)
A fund containing company Stock and owned by employees, paid for by ongoing contributions by the employer.


---
equivalent units of production (EUP)
an approximation of the number of whole Units of output that could have been
produced during a period from the actual effort expended
during that period; used in process costing systems to assign
costs to production


---
European Currency Unit (ECU)
An index of foreign exchange consisting of about 10 European currencies,
originally devised in 1979.


---
Evidence of Insurability
Evidence submitted to Canada Life that is used to determine whether an individual is eligible for the insurance coverage the individual has applied for.


---
Exchange of stock
Acquisition of another company by purchase of its Stock in exchange for cash or shares.


---
Extraordinary item
A transaction that rarely occurs, and which is unusual, such as
expropriation of company property by a foreign government. It is reported as a separate
line item on the income statement.


---
Fixed-location storage
An inventory storage technique under which permanent
locations are assigned to at least some inventory items.


---
Floor stocks
Low-cost, high-usage inventory items stored near the shop floor,
which the production staff can use at will without a requisition and which are
expensed at the time of receipt, rather than being accounted for through a formal
inventory database.


---
Forward looking multiple
A truncated expression for a P/E ratio that is based on forward (expected)
earnings rather than on trailing earnings.


---
Future investment opportunities
The options to identify additional, more valuable investment opportUnities
in the future that result from a current opportUnity or operation.


---
Futures contract multiple
A constant, set by an exchange, which when multiplied by the futures price gives
the dollar value of a Stock index futures contract.


---
Growth opportunity
OpportUnity to invest in profitable projects.


---
Growth stock
Common Stock of a company that has an opportUnity to invest money and earn more than the
opportUnity cost of capital.


---
Health Insurance Portability and Accountability Act of 1996 (HIPAA)
A federal Act expanding upon many of the insurance reforms created by
COBRA. In particular, it ensures that small businesses will have access to
health insurance, despite the special health status of any employees.


---
Heavenly Parachute Stock Option
A nonqualified Stock option that allows a deceased option holder's estate up to three years in which to exercise his or her
options.


---
Incentive Stock Option
An option to purchase company Stock that is not taxable
to the employee at the time it is granted nor at the time when the employee
eventually exercises the option to buy Stock.


---
Income stock
Common Stock with a high dividend yield and few profitable investment opportUnities.


---
Item master file
A file containing all item-specific information about a component,
such as its weight, cubic volume, and Unit of measure.


---
Item number
A number uniquely identifying a product or component.


---
Letter stock
Privately placed common Stock, so-called because the SEC requires a letter from the purchaser
stating that the Stock is not intended for resale.


---
Liability
A financial obligation, or the cash outlay that must be made at a specific time to satisfy the
contractual terms of such an obligation.


---
Liability
A dollar amount of obligation payable to another entity.


---
Liability
A probable future sacrifice of economic benefits arising from present obligations of
a particular entity to transfer assets or provide services to other entities in the future as a result of
past transactions or events.


---
Liability funding strategies
Investment strategies that select assets so that cash flows will equal or exceed
the client's obligations.


---
Liability swap
An interest rate swap used to alter the cash flow characteristics of an institution's liabilities so
as to provide a better match with its assets.


---
Limited liability
Limitation of possible loss to what has already been invested.


---
limited liability
The owners of the corporation are not personally responsible for its obligations.


---
limited liability company
an organizational form that is a hybrid of the corporate and partnership organizational
forms and used to limit the personal liability of the owners;
it is typically used by small professional (such as accounting) firms


---
Limited-liability instrument
A security, such as a call option, in which the owner can only lose his initial
investment.


---
Limited-liability instrument
A security, such as a call option, in which the owner can only lose his initial investment.


---
limited liability partnership
an organizational form that is a hybrid of the corporate and partnership organizational
forms and used to limit the personal liability of the owners;
it is typically used by large professional (such as accounting) firms


---
Line item
Generic types of assets, liabilities, income or expense that are common to all businesses and
used as the basis of financial reporting, e.g. rent, salaries, advertising etc.


---
Listed stocks
Stocks that are traded on an exchange.


---
Listed stocks
Stocks that are traded on an exchange.


---
Make-to-stock
A production scheduling system under which products are completed
before the receipt of customer orders, which are filled from Stock.


---
Margin account (Stocks)
A leverageable account in which Stocks can be purchased for a combination of
cash and a loan. The loan in the margin account is collateralized by the Stock and, if the value of the Stock
drops sufficiently, the owner will be asked to either put in more cash, or sell a portion of the Stock. Margin
rules are federally regulated, but margin requirements and interest may vary among broker/dealers.


---
Related to : financial, finance, business, accounting, payroll, inventory, investment, money, inventory control, stock trading, financial advisor, tax advisor, credit.