Definition of Seniority

Seniority
The order of repayment. In the event of bankruptcy, senior debt must be repaid before subordinated
debt is repaid.


---
Related Terms:
State of being unable to pay debts. Thus, the ownership of the firm's assets is transferred from
the stockholders to the bondholders.


---
The argument that expected indirect and direct bankruptcy costs offset the other
benefits from leverage so that the optimal amount of leverage is less than 100% debt finaning.


---
The risk that a firm will be unable to meet its debt obligations. Also referred to as default or insolvency risk.


---
The argument that expected bankruptcy costs preclude firms from being financed entirely
with debt.


---
The ratio of net income before taxes to net sales.


---
A conditional trading order that indicates a security may be purchased only at the designated
price or lower.
Related: Sell limit order.


---
Refers to the volatility of returns on international investments caused by events associated
with a particular country as opposed to events associated solely with a particular economic or financial agent.


---

An order to buy or sell stock that automatically expires if it can't be executed on the day it is entered.


---
Indicator of financial leverage. Compares assets provided by creditors to assets provided
by shareholders. Determined by dividing long-term debt by common stockholder equity.


---
Money borrowed.


---
Ability to borrow. The amount a firm can borrow up to the point where the firm value no
longer increases.


---
The amount of borrowing that leasing displaces. Firms that do a lot of leasing will be
forced to cut back on borrowing.


---
An asset requiring fixed dollar payments, such as a government or corporate bond.


---
The amplification of the return earned on equity when an investment or firm is financed
partially with borrowed money.


---
A bond covenant that restricts in some way the firm's ability to incur additional indebtedness.


---
Debt market
The market for trading debt instruments.


---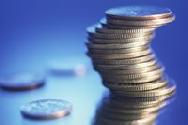 Debt ratio
Total debt divided by total assets.


---
Debt relief
Reducing the principal and/or interest payments on LDC loans.


---
Debt securities
IOUs created through loan-type transactions - commercial paper, bank CDs, bills, bonds, and
other instruments.


---
Debt service
Interest payment plus repayments of principal to creditors, that is, retirement of debt.


---
Debt service parity approach
An analysis wherein the alternatives under consideration will provide the firm
with the exact same schedule of after-tax debt payments (including both interest and principal).


---
Debt-service coverage ratio
Earnings before interest and income taxes plus one-third rental charges, divided
by interest expense plus one-third rental charges plus the quantity of principal repayments divided by one
minus the tax rate.


---
Debt swap
A set of transactions (also called a debt-equity swap) in which a firm buys a country's dollar bank
debt at a discount and swaps this debt with the central bank for local currency that it can use to acquire local
equity.


---
Debtor in possession
A firm that is continuing to operate under Chapter 11 bankruptcy process.


---
Debtor-in-possession financing
New debt obtained by a firm during the Chapter 11 bankruptcy process.


---
Earnings before interest and taxes (EBIT)
A financial measure defined as revenues less cost of goods sold
and selling, general, and administrative expenses. In other words, operating and non-operating profit before
the deduction of interest and income taxes.


---
Economic order quantity (EOQ)
The order quantity that minimizes total inventory costs.


---

Event risk
The risk that the ability of an issuer to make interest and principal payments will change because
of rare, discontinuous, and very large, unanticipated changes in the market environment such as (1) a natural
or industrial accident or some regulatory change or (2) a takeover or corporate restructuring.


---
Event study
A statistical study that examines how the release of information affects prices at a particular time.


---
Events of default
Contractually specified events that allow lenders to demand immediate repayment of a debt.


---
FHA prepayment experience
The percentage of loans in a pool of mortgages outstanding at the origination
anniversary, based on annual statistical historic survival rates for FHA-insured mortgages.


---
Fill or kill order
A trading order that is canceled unless executed within a designated time period.
Related: open order.


---
Firm's net value of debt
Total firm value minus total firm debt.


---
Funded debt
debt maturing after more than one year.


---
Interest rate on debt
The firm's cost of debt capital.


---
Junior debt (subordinate debt)
debt whose holders have a claim on the firm's assets only after senior
debtholder's claims have been satisfied. subordinated debt.


---
Lag response of prepayments
There is typically a lag of about three months between the time the weighted
average coupon of an MBS pool has crossed the threshold for refinancing and an acceleration in prepayment
speed is observed.


---
Legal bankruptcy
A legal proceeding for liquidating or reorganizing a business.


---
Limit order
An order to buy a stock at or below a specified price or to sell a stock at or above a specified
price. For instance, you could tell a broker "Buy me 100 shares of XYZ Corp at $8 or less" or to "sell 100
shares of XYZ at $10 or better." The customer specifies a price and the order can be executed only if the
market reaches or betters that price. A conditional trading order designed to avoid the danger of adverse
unexpected price changes.


---
Limit order book
A record of unexecuted limit orders that is maintained by the specialist. These orders are
treated equally with other orders in terms of priority of execution.


---
Long-term debt
An obligation having a maturity of more than one year from the date it was issued. Also
called funded debt.


---
Long-term debt/capitalization
Indicator of financial leverage. Shows long-term debt as a proportion of the
capital available. Determined by dividing long-term debt by the sum of long-term debt, preferred stock and
common stockholder equity.


---
Long-term debt ratio
The ratio of long-term debt to total capitalization.


---
Long-term debt to equity ratio
A capitalization ratio comparing long-term debt to shareholders' equity.


---
Market order
This is an order to immediately buy or sell a security at the current trading price.


---
Negotiable order of withdrawal (NOW)
Demand deposits that pay interest.


---
Open (good-til-cancelled) order
An individual investor can place an order to buy or sell a security. That
open order stays active until it is completed or the investor cancels it.


---
Original issue discount debt (OID debt)
debt that is initially offered at a price below par.


---
Pecking-order view (of capital structure)
The argument that external financing transaction costs, especially
those associated with the problem of adverse selection, create a dynamic environment in which firms have a
preference, or pecking-order of preferred sources of financing, when all else is equal. Internally generated
funds are the most preferred, new debt is next, debt-equity hybrids are next, and new equity is the least
preferred source.


---
Prepackaged bankruptcy
A bankruptcy in which a debtor and its creditors pre-negotiate a plan or
reorganization and then file it along with the bankruptcy petition.


---
Prepayment speed
Also called speed, the estimated rate at which mortgagors pay off their loans ahead of
schedule, critical in assessing the value of mortgage pass-through securities.


---
Prepayments
Payments made in excess of scheduled mortgage principal repayments.


---
Secured debt
debt that, in the event of default, has first claim on specified assets.


---
Sell limit order
Conditional trading order that indicates that a, security may be sold at the designated price or
higher. Related: buy limit order.


---
Senior debt
debt that, in the event of bankruptcy, must be repaid before subordinated debt receives any payment.


---
Stop-loss order
An order to sell a stock when the price falls to a specified level.


---
Stop order (or stop)
An order to buy or sell at the market when a definite price is reached, either above (on a
buy) or below (on a sell) the price that prevailed when the order was given.


---
Stop-limit order
A stop order that designates a price limit. In contrast to the stop order, which becomes a
market order once the stop is reached, the stop-limit order becomes a limit order once the stop is reached.


---
Structured debt
debt that has been customized for the buyer, often by incorporating unusual options.


---
Subordinated debenture bond
An unsecured bond that ranks after secured debt, after debenture bonds, and
often after some general creditors in its claim on assets and earnings. Related: Debenture bond, mortgage
bond, collateral trust bonds.


---
Subordinated debt
debt over which senior debt takes priority. In the event of bankruptcy, subordinated
debtholders receive payment only after senior debt claims are paid in full.


---
Total debt to equity ratio
A capitalization ratio comparing current liabilities plus long-term debt to
shareholders' equity.


---
Trade debt
Accounts payable.


---
Unfunded debt
debt maturing within one year (short-term debt). See: funded debt.


---
Unsecured debt
debt that does not identify specific assets that can be taken over by the debtholder in case of default.


---
Zero prepayment
assumption The assumption of payment of scheduled principal and interest with no payments.


---
RATIO OF DEBT TO STOCKHOLDERS' EQUITY
A ratio that shows which group—creditors or stockholders—has the biggest stake in or the most control of a company:
(Total liabilities) / (Stockholders' equity)


---
Debt
Borrowings from financiers.


---
Debtors
Sales to customers who have bought goods or services on credit but who have not yet paid their debt.


---
Earnings before interest and taxes (EBIT)
The operating profit before deducting interest and tax.


---
Earnings before interest, taxes, depreciation and amortization (EBITDA)
The operating profit before deducting interest, tax, depreciation and amortization.


---
Prepayment
A payment made in advance of when it is treated as an expense for profit purposes.


---
Profit before interest and taxes (PBIT)
See EBIT.


---
Bad debts
The amount of accounts receivable that is not expected to be collected.


---
Prepaid expenses
Expenses that have been paid for but have not yet been used up; examples are prepaid insurance and prepaid rent.


---
bad debts
Refers to accounts receivable from credit sales to customers
that a business will not be able to collect (or not collect in full). In hindsight,
the business shouldn't have extended credit to these particular
customers. Since these amounts owed to the business will not be collected,
they are written off. The accounts receivable asset account is
decreased by the estimated amount of uncollectible receivables, and the
bad debts expense account is increased this amount. These write-offs
can be done by the direct write-off method, which means that no
expense is recorded until specific accounts receivable are identified as
uncollectible. Or the allowance method can be used, which is based on
an estimated percent of bad debts from credit sales during the period.
Under this method, a contra asset account is created (called allowance
for bad debts) and the balance of this account is deducted from the
accounts receivable asset account.


---
debt-to-equity ratio
A widely used financial statement ratio to assess the
overall debt load of a business and its capital structure, it equals total liabilities
divided by total owners' equity. Both numbers for this ratio are
taken from a business's latest balance sheet. There is no standard, or
generally agreed on, maximum ratio, such as 1:1 or 2:1. Every industry
is different in this regard. Some businesses, such as financial institutions,
have very high debt-to-equity ratios. In contrast, many businesses
use very little debt relative to their owners' equity.


---
earnings before interest and income tax (EBIT)
A measure of profit that
equals sales revenue for the period minus cost-of-goods-sold expense
and all operating expenses—but before deducting interest and income
tax expenses. It is a measure of the operating profit of a business before
considering the cost of its debt capital and income tax.


---
Cost of Debt
The cost of debt (bonds, loans, etc.) that a company is charged for
borrowing funds. A component of the cost of capital.


---
Debt Ratio
The percentage of debt that is used in the total capitalization of a
company. It is calculated by dividing the total book value of the
debt by the book value of all assets.


---
Total Debt to Total Assets Ratio
See debt ratio


---
economic order quantity (EOQ)
an estimate of the number
of units per order that will be the least costly and provide
the optimal balance between the costs of ordering
and the costs of carrying inventory


---
engineering change order (ECO)
a business mandate that changes the way in which a product is manufactured or a
service is performed by modifying the design, parts,
process, or even quality of the product or service


---
job order cost sheet
a source document that provides virtually
all the financial information about a particular job;
the set of all job order cost sheets for uncompleted jobs
composes the Work in Process Inventory subsidiary ledger


---
job order costing system
a system of product costing used
by an entity that provides limited quantities of products or
services unique to a customer's needs; focus of recordkeeping
is on individual jobs


---
open purchase ordering
a process by which a single purchase
order that expires at a set or determinable future
date is prepared to authorize a supplier to provide a large
quantity of one or more specified items on an as-requested
basis by the customer


---
ordering cost
the variable cost associated with preparing,
receiving, and paying for an order


---
order point
the level of inventory that triggers the placement
of an order for additional units; it is determined based
on usage, lead time, and safety stock


---
prevention cost
a cost incurred to improve quality by preventing
defects from occurring


---
special order decision
a situation in which management must determine a sales price to charge for manufacturing or service jobs outside the company's normal production/service market


---
Allowance for bad debts
An offset to the accounts receivable balance, against which
bad debts are charged. The presence of this allowance allows one to avoid severe
changes in the period-to-period bad debt expense by expensing a steady amount to
the allowance account in every period, rather than writing off large bad debts to
expense on an infrequent basis.


---
Bad debt
An account receivable that cannot be collected.


---
Debt
Funds owed to another entity.


---
Long-term debt
A debt for which payments will be required for a period of more than
one year into the future.


---
Prepaid expense
An expenditure that is paid for in one accounting period, but which
will not be entirely consumed until a future period. Consequently, it is carried on the
balance sheet as an asset until it is consumed.


---
bankruptcy
The reorganization or liquidation of a firm that cannot pay its debts.


---
economic order quantity
order size that minimizes total inventory costs.


---
funded debt
debt with more than 1 year remaining to maturity.


---
MM's proposition I (debt irrelevance proposition)
The value of a firm is unaffected by its capital structure.


---
Related to : financial, finance, business, accounting, payroll, inventory, investment, money, inventory control, stock trading, financial advisor, tax advisor, credit.