Definition of Potential Output or Potential GDP

Potential Output or Potential GDP
output produced when the economy is operating at its natural rate of unemployment.


---
Related Terms:
The level of output produced by the economy when operating at the natural rate of unemployment.


---
See gross domestic product.


---
Price index used to deflate nominal gdp to real gdp by dividing nominal gdp by the gdp deflator.


---
The market value of goods and services produced over time including the
income of foreign corporations and foreign residents working in the U.S., but excluding the income of U.S.
residents and corporations overseas.


---
a number (prefaced as a multiplier
to an unknown variable) that indicates the rate at which each
decision variable uses up (or depletes) the scarce resource


---
Tables that indicate how much each industry requires of the production of each other
industry in order to produce each dollar of its own output.


---
gdp.


---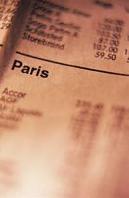 The difference between full employment output and current output.


---
gdp expressed in base-year dollars, calculated by dividing nominal gdp by a price index.


---
Related to : financial, finance, business, accounting, payroll, inventory, investment, money, inventory control, stock trading, financial advisor, tax advisor, credit.