Definition of periodic compensation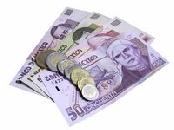 periodic compensation
a pay plan based on the time spent on the task rather than the work accomplished


---
Related Terms:
All forms of pay given to an employee in exchange for services rendered.


---
a company committee comprised mainly of members of the board of directors; is responsible
for establishing compensation packages for top management
and setting general compensation policies and guidelines


---
a foundation for the compensation plan that addresses the role compensation should play in the organization


---
pay related to current performance
that will be received at a later time, typically after retirement


---
A physical inventory count taken on a repetitive basis.


---
An inventory system in which the balance in the Inventory account is adjusted for the units sold only at the end of the period.


---
a generalization formula invented by Abrams that is the present value of regular but noncontiguous cash flows that have constant growth to perpetuity.


---

Employer-paid insurance that provides their employees with wage compensation if they are injured on the job.

---
Historically, damages paid out during settlement of personal physical injury cases were distributed in the form of a lump-sum cash payment to the plaintiff. This windfall was intended to provide for a lifetime of medical and income needs. The claimant or his/her family was then forced into the position of becoming the manager of a large sum of money.
In an effort to create a more financially stable arrangement for the claimant, the Structured Settlement was developed. A Structured Settlement is an alternative to a lump sum cash payment in the resolution of personal physical injury, wrongful death, or workers' compensation cases. The settlement usually consists of two components: an up-front cash payment to provide for immediate needs and a series of future periodic payments which are funded by the defendant's purchase of one or more annuity policies. Those payors make payments directly to the claimant. In the unfortunate event of the claimant's death, a guaranteed portion of the settlement may be directed to a beneficiary or his/her estate.
A Structured Settlement is a guaranteed source of funds paid to the claimant or his/her family on a tax-free basis.


---
Related to : financial, finance, business, accounting, payroll, inventory, investment, money, inventory control, stock trading, financial advisor, tax advisor, credit.