Definition of Monetary gold

Monetary gold
gold held by governmental authorities as a financial asset.


---
Related Terms:
An exchange arrangement formed in 1979 that involves the currencies
of European Union member countries.


---
A system of fixing exchange rates adopted in the Bretton Woods agreement. It
involved the U.S. pegging the dollar to gold and other countries pegging their currencies to the dollar.


---
An international monetary system in which currencies are defined in terms of their gold
content and payment imbalances between countries are settled in gold. It was in effect from about 1870-1914.


---
A fixed exchange rate system in which a currency is directly convertible into gold.


---
Compensation paid to top-level management by a target firm if a takeover occurs.


---
a benefits package that is triggered by the
termination of a manager's employment


---
An organization founded in 1944 to oversee exchange arrangements of
member countries and to lend foreign currency reserves to members with short-term balance of payment
problems.


---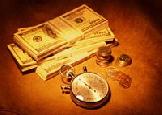 Organization originally established to manage the postwar fixed exchange rate system.


---
A division of the CME established in 1972 for trading financial
futures. Related: Chicago Mercantile Exchange (CME).


---
Any measure of the economy's money supply.


---
See money base.


---
Under this translation method, monetary items (e.g. cash, accounts
payable and receivable, and long-term debt) are translated at the current rate while non-monetary items (e.g.
inventory, fixed assets, and long-term investments) are translated at historical rates.


---
Actions taken by the Board of Governors of the Federal Reserve System to influence the
money supply or interest rates.


---
Actions taken by the central bank to change the supply of money and the interest rate and thereby affect economic activity.


---
A leading futures and options exchange in Singapore.


---
Official reserves
Holdings of gold and foreign currencies by official monetary institutions.


---

Smithsonian agreement
A revision to the Bretton Woods international monetary system which was signed at
the Smithsonian Institution in Washington, D.C., U.S.A., in December 1971. Included were a new set of par
values, widened bands to +/- 2.25% of par, and an increase in the official value of gold to US$38.00 per ounce.


---
Related to : financial, finance, business, accounting, payroll, inventory, investment, money, inventory control, stock trading, financial advisor, tax advisor, credit.