Definition of Dollar price of a bond

Dollar price of a bond
Percentage of face value at which a bond is quoted.


---
Related Terms:
A bond on which interest accrues, but is not paid to the investor during the time of accrual.
The amount of accrued interest is added to the remaining principal of the bond and is paid at maturity.


---
The price at which a willing buyer and a willing unrelated seller would freely agree to
transact.


---
A dealer's price to sell a security; also called the offer price.


---
Gives the lessee the option to purchase the asset at a price below fair market
value when the lease expires.


---
price expressed in terms of yield to maturity or annual rate of return.


---
bonds that are not registered on the books of the issuer. Such bonds are held in physical form by
the owner, who receives interest payments by physically detaching coupons from the bond certificate and
delivering them to the paying agent.


---
This is the quoted bid, or the highest price an investor is willing to pay to buy a security. Practically
speaking, this is the available price at which an investor can sell shares of stock. Related: Ask , offer.


---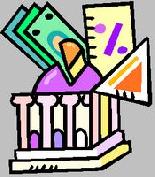 bonds are debt and are issued for a period of more than one year. The U.S. government, local
governments, water districts, companies and many other types of institutions sell bonds. When an investor
buys bonds, he or she is lending money. The seller of the bond agrees to repay the principal amount of the
loan at a specified time. Interest-bearing bonds pay interest periodically.


---
A contract for privately placed debt.


---
A contractual provision in a bond indenture. A positive covenant requires certain actions, and
a negative covenant limits certain actions.


---
bond yield calculated on an annual percentage rate method. Differs from annual
effective yield.


---
The contract that sets forth the promises of a corporate bond issuer and the rights of
investors.


---
Designing a portfolio so that its performance will match the performance of some bond index.


---
A conventional unit of measure for bond prices set at $10 and equivalent to 1% of the $100 face
value of the bond. A price of 80 means that the bond is selling at 80% of its face, or par value.


---
With respect to convertible bonds, the value the security would have if it were not convertible
apart from the conversion option.


---
Bond-equivalent basis
The method used for computing the bond-equivalent yield.


---

Bond-equivalent yield
The annualized yield to maturity computed by doubling the semiannual yield.


---
BONDPAR
A system that monitors and evaluates the performance of a fixed-income portfolio , as well as the
individual securities held in the portfolio. bondPAR decomposes the return into those elements beyond the
manager's control--such as the interest rate environment and client-imposed duration policy constraints--and
those that the management process contributes to, such as interest rate management, sector/quality allocations,
and individual bond selection.


---
Brady bonds
bonds issued by emerging countries under a debt reduction plan.


---
Bull-bear bond
bond whose principal repayment is linked to the price of another security. The bonds are
issued in two tranches: in the first tranche repayment increases with the price of the other security, and in the
second tranche repayment decreases with the price of the other security.


---
Bulldog bond
Foreign bond issue made in London.


---
Call price
The price, specified at issuance, at which the issuer of a bond may retire part of the bond at a
specified call date.


---
Call price
The price for which a bond can be repaid before maturity under a call provision.


---
Clean price
bond price excluding accrued interest.


---
Collateral trust bonds
A bond in which the issuer (often a holding company) grants investors a lien on
stocks, notes, bonds, or other financial asset as security. Compare mortgage bond.


---
Completion bonding
Insurance that a construction contract will be successfully completed.


---
Conflict between bondholders and stockholders
These two groups may have interests in a corporation that
conflict. Sources of conflict include dividends, distortion of investment, and underinvestment. Protective
covenants work to resolve these conflicts.


---

Consumer Price Index (CPI)
The CPI, as it is called, measures the prices of consumer goods and services and is a
measure of the pace of U.S. inflation. The U.S.Department of Labor publishes the CPI very month.


---
Conversion parity price
Related:Market conversion price


---
Convertible price
The contractually specified price per share at which a convertible security can be
converted into shares of common stock.


---
Convertible bonds
bonds that can be converted into common stock at the option of the holder.


---
Convertible eurobond
A eurobond that can be converted into another asset, often through exercise of
attached warrants.


---
Corporate bonds
Debt obligations issued by corporations.


---
Cushion bonds
High-coupon bonds that sell at only at a moderate premium because they are callable at a
price below that at which a comparable non-callable bond would sell. Cushion bonds offer considerable
downside protection in a falling market.


---
Debenture bond
An unsecured bond whose holder has the claim of a general creditor on all assets of the
issuer not pledged specifically to secure other debt. Compare subordinated debenture bond, and collateral
trust bonds.


---
Deep-discount bond
A bond issued with a very low coupon or no coupon and selling at a price far below par
value. When the bond has no coupon, it's called a zero coupon bond.


---
Delivery price
The price fixed by the Clearing house at which deliveries on futures are in invoiced; also the
price at which the futures contract is settled when deliveries are made.


---
Devaluation A decrease in the spot price of the currency
---
Dirty price
bond price including accrued interest, i.e., the price paid by the bond buyer.


---
Discount bond
Debt sold for less than its principal value. If a discount bond pays no interest, it is called a
zero coupon bond.


---
Dollar bonds
Municipal revenue bonds for which quotes are given in dollar prices. Not to be confused with
"U.S. dollar" bonds, a common term of reference in the Eurobond market.


---
Dollar duration
The product of modified duration and the initial price.


---
Dollar return
The return realized on a portfolio for any evaluation period, including (1) the change in market
value of the portfolio and (2) any distributions made from the portfolio during that period.


---
Dollar roll
Similar to the reverse repurchase agreement - a simultaneous agreement to sell a security held in a
portfolio with purchase of a similar security at a future date at an agreed-upon price.


---
Dollar safety margin
The dollar equivalent of the safety cushion for a portfolio in a contingent immunization
strategy.


---
Dollar-weighted rate of return
Also called the internal rate of return, the interest rate that will make the
present value of the cash flows from all the subperiods in the evaluation period plus the terminal market value
of the portfolio equal to the initial market value of the portfolio.


---
Effective call price
The strike price in an optional redemption provision plus the accrued interest to the
redemption date.


---
Equilibrium market price of risk
The slope of the capital market line (CML). Since the CML represents the
return offered to compensate for a perceived level of risk, each point on the line is a balanced market
condition, or equilibrium. The slope of the line determines the additional return needed to compensate for a
unit change in risk.


---
Equivalent bond yield
Annual yield on a short-term, non-interest bearing security calculated so as to be
comparable to yields quoted on coupon securities.


---
Eurobond
A bond that is (1) underwritten by an international syndicate, (2) offered at issuance
simultaneously to investors in a number of countries, and (3) issued outside the jurisdiction of any single
country.


---
Eurodollar
This is an American dollar that has been deposited in a European bank or an U.S. bank branch
located in Europe. It got there as a result of payments made to overseas companies for merchandise.


---
Eurodollar bonds
Eurobonds denominated in U.S.dollars.


---
Euroyen bonds
Eurobonds denominated in Japanese yen.


---
Exercise price
The price at which the underlying future or options contract may be bought or sold.


---
Extendable bond
bond whose maturity can be extended at the option of the lender or issuer.


---
Fair market price
Amount at which an asset would change hands between two parties, both having
knowledge of the relevant facts. Also referred to as market price.


---
Fair price
The equilibrium price for futures contracts. Also called the theoretical futures price, which equals
the spot price continuously compounded at the cost of carry rate for some time interval.


---
Fair price provision
See:appraisal rights.


---
Fixed-dollar obligations
Conventional bonds for which the coupon rate is set as a fixed percentage of the par value.


---
Fixed-dollar security
A nonnegotiable debt security that can be redeemed at some fixed price or according to
some schedule of fixed values, e.g., bank deposits and government savings bonds.


---
Fixed price basis
An offering of securities at a fixed price.


---
Fixed-price tender offer
A one-time offer to purchase a stated number of shares at a stated fixed price,
usually a premium to the current market price.


---
Flat price risk
Taking a position either long or short that does not involve spreading.


---
Flat price (also clean price)
The quoted newspaper price of a bond that does not include accrued interest.
The price paid by purchaser is the full price.


---
Flower bond
Government bonds that are acceptable at par in payment of federal estate taxes when owned by
the decedent at the time of death.


---
Foreign bond
A bond issued on the domestic capital market of anther company.


---
Foreign bond market
That portion of the domestic bond market that represents issues floated by foreign
companies to governments.


---
Full coupon bond
A bond with a coupon equal to the going market rate, thereby, the bond is selling at par.


---
Full price
Also called dirty price, the price of a bond including accrued interest. Related: flat price.


---
Futures price
The price at which the parties to a futures contract agree to transact on the settlement date.


---
General obligation bonds
Municipal securities secured by the issuer's pledge of its full faith, credit, and
taxing power.


---
Global bonds
bonds that are designed so as to qualify for immediate trading in any domestic capital market
and in the Euromarket.


---
Government bond
See: Government securities.


---
High-coupon bond refunding
Refunding of a high-coupon bond with a new, lower coupon bond.


---
High price
The highest (intraday) price of a stock over the past 52 weeks, adjusted for any stock splits.


---
High-yield bond
See:junk bond.


---
Income bond
A bond on which the payment of interest is contingent on sufficient earnings. These bonds are
commonly used during the reorganization of a failed or failing business.


---
Indexed bond
bond whose payments are linked to an index, e.g. the consumer price index.


---
Industrial revenue bond (IRB)
bond issued by local government agencies on behalf of corporations.


---
Insured bond
A municipal bond backed both by the credit of the municipal issuer and by commercial
insurance policies.


---
International bonds
A collective term that refers to global bonds, Eurobonds, and foreign bonds.


---
Investment grade bonds
A bond that is assigned a rating in the top four categories by commercial credit
rating companies. For example, S&P classifies investment grade bonds as BBB or higher, and Moodys'
classifies investment grade bonds as Ba or higher. Related: High-yield bond.


---
Invoice price
The price that the buyer of a futures contract must pay the seller when a Treasury bond is delivered.


---
Junk bond
A bond with a speculative credit rating of BB (S&P) or Ba (Moody's) or lower is a junk or high
yield bond. Such bonds offer investors higher yields than bonds of financially sound companies. Two
agencies, Standard & Poors and Moody's investor Services, provide the rating systems for companies' credit.


---
Law of one price
An economic rule stating that a given security must have the same price regardless of the
means by which one goes about creating that security. This implies that if the payoff of a security can be
synthetically created by a package of other securities, the price of the package and the price of the security
whose payoff it replicates must be equal.


---
Level-coupon bond
bond with a stream of coupon payments that are the same throughout the life of the bond.


---
Limit price
Maximum price fluctuation
Limitation on asset dispositions A bond covenant that restricts in some way a firm's ability to sell major
assets.


---
Limited-tax general obligation bond
A general obligation bond that is limited as to revenue sources.


---
Long bonds
bonds with a long current maturity. The "long bond" is the 30-year U.S. government bond.


---
Low-coupon bond refunding
Refunding of a low coupon bond with a new, higher coupon bond.


---
Low price
This is the day's lowest price of a security that has changed hands between a buyer and a seller.


---
Low price-earnings ratio effect
The tendency of portfolios of stocks with a low price-earnings ratio to
outperform portfolios consisting of stocks with a high price-earnings ratio.


---
Limit price
Maximum price fluctuation


---
Long bonds
bonds with a long current maturity. The "long bond" is the 30-year U.S. government bond.


---
Market conversion price
Also called conversion parity price, the price that an investor effectively pays for
common stock by purchasing a convertible security and then exercising the conversion option. This price is
equal to the market price of the convertible security divided by the conversion ratio.


---
Market price of risk
A measure of the extra return, or risk premium, that investors demand to bear risk. The
reward-to-risk ratio of the market portfolio.


---
Market prices
The amount of money that a willing buyer pays to acquire something from a willing seller,
when a buyer and seller are independent and when such an exchange is motivated by only commercial
consideration.


---
Marketplace price efficiency
The degree to which the prices of assets reflect the available marketplace
information. Marketplace price efficiency is sometimes estimated as the difficulty faced by active
management of earning a greater return than passive management would, after adjusting for the risk
associated with a strategy and the transactions costs associated with implementing a strategy.


---
Maximum price fluctuation
The maximum amount the contract price can change, up or down, during one
trading session, as fixed by exchange rules in the contract specification. Related: limit price.


---
Related to : financial, finance, business, accounting, payroll, inventory, investment, money, inventory control, stock trading, financial advisor, tax advisor, credit.