Definition of Bond value

Bond value
With respect to convertible bonds, the value the security would have if it were not convertible
apart from the conversion option.


---
Related Terms:
The sum of all the interest options in your policy, including interest.


---
A bond on which interest accrues, but is not paid to the investor during the time of accrual.
The amount of accrued interest is added to the remaining principal of the bond and is paid at maturity.


---
An amount of money invested plus the interest earned on that money.


---
The net present value analysis of an asset if financed solely by equity
(present value of un-levered cash flows), plus the present value of any financing decisions (levered cash
flows). In other words, the various tax shields provided by the deductibility of interest and the benefits of
other investment tax credits are calculated separately. This analysis is often used for highly leveraged
transactions such as a leverage buy-out.


---
a method of allocating joint cost to joint products using a
simulated net realizable value at the split-off point; approximated
value is computed as final sales price minus
incremental separate costs


---
bonds that are not registered on the books of the issuer. Such bonds are held in physical form by
the owner, who receives interest payments by physically detaching coupons from the bond certificate and
delivering them to the paying agent.


---
The amount of cash payable on a benefit.


---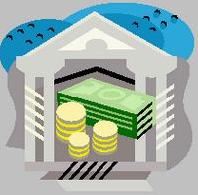 bonds are debt and are issued for a period of more than one year. The U.S. government, local
governments, water districts, companies and many other types of institutions sell bonds. When an investor
buys bonds, he or she is lending money. The seller of the bond agrees to repay the principal amount of the
loan at a specified time. Interest-bearing bonds pay interest periodically.


---
A long-term, interest-bearing promissory note that companies may use to borrow money for periods of time such as five, ten, or twenty years.


---
A long-term debt instrument in which the issuer (borrower) is
obligated to pay the investor (lender) a specified amount of
money, usually at specific intervals, and to repay the principal
amount of the loan at maturity. The periodic payments are based
on the rate of interest agreed upon at the time the instrument is
sold.


---
Security that obligates the issuer to make specified payments
to the bondholder.


---
A financial asset taking the form of a promise by a borrower to repay a specified amount (the bond's face value) on a maturity date and to make fixed periodic interest payments.


---
Usually a fixed interest security under which the issuer contracts to pay the lender a fixed principal amount at a stated date in the future, and a series of interest payments, either semi-annually or annually. Interest payments may vary through the life of bond.


---
A debt security issued by a government or company. You receive regular interest payments at specified rates while you hold the bond and you receive the face value when it matures. Short-term bonds mature in less than five years; medium-term bonds mature in six to ten years; and long-term bonds mature in eleven years or greater.


---
Fixed interest security issued by a corporation or government, having a specific maturity date.


---
Bond agreement
A contract for privately placed debt.


---
Bond covenant
A contractual provision in a bond indenture. A positive covenant requires certain actions, and
a negative covenant limits certain actions.


---
Bond-equivalent basis
The method used for computing the bond-equivalent yield.


---
Bond equivalent yield
bond yield calculated on an annual percentage rate method. Differs from annual
effective yield.


---
Bond-equivalent yield
The annualized yield to maturity computed by doubling the semiannual yield.


---
Bond Equivalent Yield
bond yield calculated on an annual percentage rate method


---
Bond indenture
The contract that sets forth the promises of a corporate bond issuer and the rights of
investors.


---
Bond indexing
Designing a portfolio so that its performance will match the performance of some bond index.


---
Bond points
A conventional unit of measure for bond prices set at $10 and equivalent to 1% of the $100 face
value of the bond. A price of 80 means that the bond is selling at 80% of its face, or par value.


---
BONDPAR
A system that monitors and evaluates the performance of a fixed-income portfolio , as well as the
individual securities held in the portfolio. bondPAR decomposes the return into those elements beyond the
manager's control--such as the interest rate environment and client-imposed duration policy constraints--and
those that the management process contributes to, such as interest rate management, sector/quality allocations,
and individual bond selection.


---
Bonds payable
Amounts owed by the company that have been formalized by a legal document called a bond.


---
Book value
A company's book value is its total assets minus intangible assets and liabilities, such as debt. A
company's book value might be more or less than its market value.


---
BOOK VALUE
An asset's cost basis minus accumulated depreciation.


---
Book Value
The value of an asset as carried on the balance sheet of a
company. In reference to the value of a company, it is the net worth
(equity) of the company.


---
Book value
An asset's original cost, less any depreciation that has been subsequently incurred.


---
book value
Net worth of the firm's assets or liabilities according
to the balance sheet.


---
book value and book value per share
Generally speaking, these terms
refer to the balance sheet value of an asset (or less often of a liability) or
the balance sheet value of owners' equity per share. Either term emphasizes
that the amount recorded in the accounts or on the books of a business
is the value being used. The total of the amounts reported for
owners' equity in its balance sheet is divided by the number of stock
shares of a corporation to determine the book value per share of its capital
stock.


---
BOOK VALUE OF COMMON STOCK
The theoretical amount per share that each stockholder would receive if a company's assets were sold on the balance sheet's date. Book value equals:
(Stockholders' equity) / (Common stock shares outstanding)


---
Book value per share
The ratio of stockholder equity to the average number of common shares. Book value
per share should not be thought of as an indicator of economic worth, since it reflects accounting valuation
(and not necessarily market valuation).


---
Book Value per Share
The book value of a company divided by the number of shares
outstanding


---
Brady bonds
bonds issued by emerging countries under a debt reduction plan.


---
Bull-bear bond
bond whose principal repayment is linked to the price of another security. The bonds are
issued in two tranches: in the first tranche repayment increases with the price of the other security, and in the
second tranche repayment decreases with the price of the other security.


---
Bulldog bond
Foreign bond issue made in London.


---
business-value-added activity
an activity that is necessary for the operation of the business but for which a customer would not want to pay


---
Callable bond
A bond that allows the issuer to buy back the bond at a
predetermined price at specified future dates. The bond contains an embedded
call option; i.e., the holder has sold a call option to the issuer. See Puttable
bond.


---
callable bond
bond that may be repurchased by the issuer before maturity at specified call price.


---
Canada Savings Bonds
A bond issued each year by the federal government. These bonds can be cashed in at any time for their full face value.


---
CAPITAL IN EXCESS OF PAR VALUE
What a company collected when it sold stock for more than the par value per share.


---
Carrying value
Book value.


---
Cash-surrender value
An amount the insurance company will pay if the policyholder ends a whole life
insurance policy.


---
Cash Surrender Value
This is the amount available to the owner of a life insurance policy upon voluntary termination of the policy before it becomes payable by the death of the life insured. This does not apply to term insurance but only to those policies which have reduced paid up values and cash surrender values. A cash surrender in lieu of death benefit usually has tax implications.


---
Cash Surrender Value
Benefit that entitles a policy owner to an amount of money upon cancellation of a policy.


---
Cash value added (CVA)
A method of investment appraisal that calculates the ratio of the net present value of an
investment to the initial capital investment.


---
Collateral trust bonds
A bond in which the issuer (often a holding company) grants investors a lien on
stocks, notes, bonds, or other financial asset as security. Compare mortgage bond.


---
Completion bonding
Insurance that a construction contract will be successfully completed.


---
Conflict between bondholders and stockholders
These two groups may have interests in a corporation that
conflict. Sources of conflict include dividends, distortion of investment, and underinvestment. Protective
covenants work to resolve these conflicts.


---
Conversion value
Also called parity value, the value of a convertible security if it is converted immediately.


---
convertible bond
bond that the holder may exchange for a specified number of shares.


---
Convertible bonds
bonds that can be converted into common stock at the option of the holder.


---
Convertible eurobond
A eurobond that can be converted into another asset, often through exercise of
attached warrants.


---
Corporate bonds
Debt obligations issued by corporations.


---
Coupon Bond
Any bond with a coupon. Contrast with discount bond.


---
Cushion bonds
High-coupon bonds that sell at only at a moderate premium because they are callable at a
price below that at which a comparable non-callable bond would sell. Cushion bonds offer considerable
downside protection in a falling market.


---
Debenture bond
An unsecured bond whose holder has the claim of a general creditor on all assets of the
issuer not pledged specifically to secure other debt. Compare subordinated debenture bond, and collateral
trust bonds.


---
Deep-discount bond
A bond issued with a very low coupon or no coupon and selling at a price far below par
value. When the bond has no coupon, it's called a zero coupon bond.


---
Discount bond
Debt sold for less than its principal value. If a discount bond pays no interest, it is called a
zero coupon bond.


---
Discount Bond
A bond with no coupons, priced below its face value; the return on this bond comes from the difference between its face value and its current price.


---
Dollar bonds
Municipal revenue bonds for which quotes are given in dollar prices. Not to be confused with
"U.S. Dollar" bonds, a common term of reference in the Eurobond market.


---
Dollar price of a bond
Percentage of face value at which a bond is quoted.


---
Economic Value Added (EVA)
Operating profit, adjusted to remove distortions caused by certain accounting rules, less a charge
to cover the cost of capital invested in the business.


---
economic value added (EVA)
a measure of the extent to which income exceeds the dollar cost of capital; calculated
as income minus (invested capital times the cost of capital percentage)


---
economic value added (EVA)
Term used by the consulting firm Stern Stewart for profit remaining after deduction of the cost
of the capital employed.


---
Equivalent bond yield
Annual yield on a short-term, non-interest bearing security calculated so as to be
comparable to yields quoted on coupon securities.


---
Eurobond
A bond that is (1) underwritten by an international syndicate, (2) offered at issuance
simultaneously to investors in a number of countries, and (3) issued outside the jurisdiction of any single
country.


---
Eurobond
A debt security issued in a market other than the home market of
the company issuing the security


---
eurobond
bond that is marketed internationally.


---
Eurodollar bonds
Eurobonds denominated in U.S.dollars.


---
Euroyen bonds
Eurobonds denominated in Japanese yen.


---
Exercise value
The amount of advantage over a current market transaction provided by an in-the-money
option.


---
Exit value
The value that an asset is expected to have at the time it is sold at a predetermined
point in the future.


---
Expected value
The weighted average of a probability distribution.


---
Expected Value
The value of the possible outcomes of a variable weighted by the
probabilities of each outcome


---
Expected value of perfect information
The expected value if the future uncertain outcomes could be known
minus the expected value with no additional information.


---
Extendable bond
bond whose maturity can be extended at the option of the lender or issuer.


---
Extraordinary positive value
A positive net present value.


---
Face value
See: Par value.


---
Face Value
The nominal value of a security. Also called the par value.


---
Face value
The maturity value of a security. Also known as par value,
principal value, or redemption value.


---
face value
Payment at the maturity of the bond. Also called par value or maturity value.


---
Face Value
The payoff value of a bond upon maturity. Also called par value. See principal.


---
Face Value
The nominal value which appears on the face of a document recording an entitlement, generally an amount of money that has to be repaid on the maturity of a debt instrument.


---
Fair market value
The price that an asset or service will fetch on the open market.


---
Fair Market Value
The highest price available, expressed in terms of cash, in an open and unrestricted market between informed, prudent parties acting at arm's length and under no compulsion to transact.


---
Fair Value
The amount at which an asset could be purchased or sold or a liability incurred or
settled in a current transaction between willing and informed parties. When a quoted market price
is available, fair value is the product of the number of units in question times that market price.
That product also is referred to as the item's market value. For traded securities, the terms fair
value and market value are synonymous. When no quoted market price is available for the item
in question, fair value must be estimated.


---
Firm's net value of debt
Total firm value minus total firm debt.


---
Flower bond
Government bonds that are acceptable at par in payment of federal estate taxes when owned by
the decedent at the time of death.


---
Foreign bond
A bond issued on the domestic capital market of anther company.


---
Foreign bond market
That portion of the domestic bond market that represents issues floated by foreign
companies to governments.


---
Full coupon bond
A bond with a coupon equal to the going market rate, thereby, the bond is selling at par.


---
Future value
The amount of cash at a specified date in the future that is equivalent in value to a specified
sum today.


---
Future Value
The amount a given payment, or series of payments, will be worth
at the end of a specified time period, if invested at a given rate


---
future value
the amount to which one or more sums of
money invested at a specified interest rate will grow over
a specified number of time periods


---
Future value
The value that a sum of money (the present value) earning
compound interest will have in the future.


---
future value
Amount to which an investment will grow after earning interest.


---
Related to : financial, finance, business, accounting, payroll, inventory, investment, money, inventory control, stock trading, financial advisor, tax advisor, credit.