Definition of Depository Trust Company (DTC)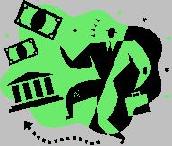 Depository Trust Company (DTC)
dtc is a user-owned securities depository which accepts deposits of
eligible securities for custody, executes book-entry deliveries and records book-entry pledges of securities in
its custody, and provides for withdrawals of securities from its custody.


---
Related Terms:
Large and creditworthy company.


---
A bond in which the issuer (often a holding company) grants investors a lien on
stocks, notes, bonds, or other financial asset as security. Compare mortgage bond.


---
Related: Unsystematic risk


---
Arrangement whereby the shareholders of a project receive output free of
charge but agree to pay all operating and financing charges of the project.


---
Indenture.


---
Check made out directly by a local bank to a particular firm or person.


---
The transfer of funds between bank accounts through the Automated
Clearing House (ACH) system.


---

Certificates issued by a trust that was formed to purchase an asset and lease it
to a lessee. When the last of the certificates has been repaid, title of ownership of the asset reverts to the
lessee.


---
A mechanism of issuing MBS wherein the mortgages' collateral is deposited with a trustee
under a custodial or trust agreement.


---
A corporation that owns enough voting stock in another firm to control management and
operations by influencing or electing its board of directors.


---
Loan made by one unit of a corporation to another unit of the same corporation.


---
Transaction carried out between two units of the same corporation.


---
A receipt issued by a bank as evidence of ownership of one or more
shares of the underlying stock of a foreign corporation that the bank holds in trust. The advantage of the IDR
structure is that the corporation does not have to comply with all the regulatory issuing requirements of the
foreign country where the stock is to be traded. The U.S. version of the IDR is the American depository
Receipt (ADR).


---
A closed-end fund regulated by the Investment company Act of 1940. These funds have a
fixed number of shares which are traded on the secondary markets similarly to corporate stocks. The market
price may exceed the net asset value per share, in which case it is considered at a "premium." When the
market price falls below the NAV/share, it is at a "discount." Many closed-end funds are of a specialized
nature, with the portfolio representing a particular industry, country, etc. These funds are usually listed on US
and foreign exchanges.


---
A book-entry depository for GNMA securities. The depository was initially operated by
MBSCC and is currently in the process of becoming a separately incorporated, participant-owned, limitedpurpose
trust company organized under the State of New York Banking Law.


---
Personal trust
An interest in an asset held by a trustee for the benefit of another person.


---
REIT (real estate investment trust)
Real estate investment trust, which is similar to a closed-end mutual
fund. REITs invest in real estate or loans secured by real estate and issue shares in such investments.


---
Term trust
A closed-end fund that has a fixed termination or maturity date.


---
Trust deed
Agreement between trustee and borrower setting out terms of bond.


---
Trust receipt
Receipt for goods that are to be held in trust for the lender.


---
Unit investment trust
Money invested in a portfolio whose composition is fixed for the life of the fund.
Shares in a unit trust are called redeemable trust certificates, and they are sold at a premium above net asset value.


---
Companyspecific Risk
See asset-specific risk


---
limited liability company
an organizational form that is a hybrid of the corporate and partnership organizational
forms and used to limit the personal liability of the owners;
it is typically used by small professional (such as accounting) firms


---
service company
an individual or firm engaged in a high or moderate degree of conversion that results in service output


---
Parent company
A company that retains control over one or more other companies.


---
Subsidiary company
A company that is controlled by another company through ownership
of the majority of its voting stock.


---
company cost of capital
Expected rate of return demanded by investors in a company, determined by the average risk of the company's assets and operations.


---
Company Acquisitions
Assets acquired to create money. May include plant, machinery and equipment, shares of another company etc.


---
Finance Company
company engaged in making loans to individuals or businesses. Unlike a bank, it does not receive deposits from the public.


---
Insurance Company
A firm licensed to sell insurance to the public.


---
Trust Company
Organization usually combined with a commercial bank, which is engaged as a trustee for individuals or businesses in the administration of trust funds, estates, custodial arrangements, stock transfer and registration, and other related services.


---
Related to : financial, finance, business, accounting, payroll, inventory, investment, money, inventory control, stock trading, financial advisor, tax advisor, credit.