Definition of Circle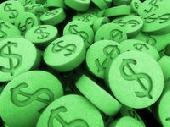 Circle
Underwriters, actual or potential, often seek out and "circle" investor interest in a new issue before
final pricing. The customer circled basically made a commitment to purchase the issue if it comes at an
agreed-upon price. In the latter case, if the price is other than that stipulated, the customer supposedly has first
offer at the actual price.


---
Related Terms:
The accumulated coupon interest earned but not yet paid to the seller of a bond by the
buyer (unless the bond is in default).


---
The amount of interest accumulated on a debt security between
interest paying dates


---
The amount of interest owing but not paid.


---
Cumulative gains or losses reported in shareholders'
equity that arise from changes in the fair value of available-for-sale securities, from the
effects of changes in foreign-currency exchange rates on consolidated foreign-currency financial
statements, certain gains and losses on financial derivatives, and from adjustments for underfunded
pension plans.


---
The actual expenditure made to acquire an asset, which includes the supplierinvoiced
expense, plus the costs to deliver and set up the asset.


---
a valuation method that uses actual direct
material, direct labor, and overhead charges in determining
the cost of Work in Process Inventory


---
The physical commodity underlying a futures contract. Cash commodity, physical.


---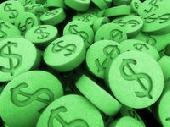 IRS rules used to allocate income on export sales to a foreign sales corporation.


---
A promise to sell an asset before the seller has lined up purchase of the asset. This
seller can offset risk by purchasing a futures contract to fix the sales price.


---
Swap in which the principal or national amount rises (falls) as interest rates
rise (decline).


---
Yield curve option-pricing models.


---
An alternative model to the capital asset pricing model developed by
Stephen Ross and based purely on arbitrage arguments.


---
The price at which a willing buyer and a willing unrelated seller would freely agree to
transact.


---
A dealer's price to sell a security; also called the offer price.


---
A model for determining the required rate of return on an asset.


---
Asset pricing model
A model, such as the Capital Asset pricing Model (CAPM), that determines the required
rate of return on a particular asset.


---

Bargain-purchase-price option
Gives the lessee the option to purchase the asset at a price below fair market
value when the lease expires.


---
Base interest rate
Related: Benchmark interest rate.


---
Basis price
price expressed in terms of yield to maturity or annual rate of return.


---
Before-tax profit margin
The ratio of net income before taxes to net sales.


---
Bellwether issues
Related:Benchmark issues.


---
Benchmark interest rate
Also called the base interest rate, it is the minimum interest rate investors will
demand for investing in a non-Treasury security. It is also tied to the yield to maturity offered on a
comparable-maturity Treasury security that was most recently issued ("on-the-run").


---
Benchmark issues
Also called on-the-run or current coupon issues or bellwether issues. In the secondary
market, it's the most recently auctioned Treasury issues for each maturity.


---
Best-interests-of-creditors test
The requirement that a claim holder voting against a plan of reorganization
must receive at least as much as he would have if the debtor were liquidated.


---
Bid price
This is the quoted bid, or the highest price an investor is willing to pay to buy a security. Practically
speaking, this is the available price at which an investor can sell shares of stock. Related: Ask , offer.


---
Binomial option pricing model
An option pricing model in which the underlying asset can take on only two
possible, discrete values in the next time period for each value that it can take on in the preceding time period.


---
Black-Scholes option-pricing model
A model for pricing call options based on arbitrage arguments that uses
the stock price, the exercise price, the risk-free interest rate, the time to expiration, and the standard deviation
of the stock return.


---

Borrower fallout
In the mortgage pipeline, the risk that prospective borrowers of loans committed to be
closed will elect to withdraw from the contract.


---
Breakout
A rise in a security's price above a resistance level (commonly its previous high price) or drop
below a level of support (commonly the former lowest price.) A breakout is taken to signify a continuing
move in the same direction. Can be used by technical analysts as a buy or sell indicator.


---
Buyout
purchase of a controlling interest (or percent of shares) of a company's stock. A leveraged buy-out is
done with borrowed money.


---
Call price
The price, specified at issuance, at which the issuer of a bond may retire part of the bond at a
specified call date.


---
Call price
The price for which a bond can be repaid before maturity under a call provision.


---
Capital asset pricing model (CAPM)
An economic theory that describes the relationship between risk and
expected return, and serves as a model for the pricing of risky securities. The CAPM asserts that the only risk
that is priced by rational investors is systematic risk, because that risk cannot be eliminated by diversification.
The CAPM says that the expected return of a security or a portfolio is equal to the rate on a risk-free security
plus a risk premium.


---
Capital Asset Pricing Model (CAPM)
A model for estimating equilibrium rates of return and values of
assets in financial markets; uses beta as a measure of asset risk
relative to market risk


---
capital asset pricing model (CAPM)
Theory of the relationship between risk and return which states that the expected risk
premium on any security equals its beta times the market risk premium.


---
Capitalized interest
interest that is not immediately expensed, but rather is considered as an asset and is then
amortized through the income statement over time.


---
Capitalized Interest
interest incurred during the construction period on monies invested in
assets under construction that is added to the cost of the assets.


---
Cash flow after interest and taxes
Net income plus depreciation.


---
Cash offer
A public equity issue that is sold to all interested investors.


---
Cashout
Refers to a situation where a firm runs out of cash and cannot readily sell marketable securities.


---
Cheapest to deliver issue
The acceptable Treasury security with the highest implied repo rate; the rate that a
seller of a futures contract can earn by buying an issue and then delivering it at the settlement date.


---
Clean price
Bond price excluding accrued interest.


---
Closing purchase
A transaction in which the purchaser's intention is to reduce or eliminate a short position in
a stock, or in a given series of options.


---
Commitment
A trader is said to have a commitment when he assumes the obligation to accept or make
delivery on a futures contract. Related: Open interest


---
Commitment fee
A fee paid to a commercial bank in return for its legal commitment to lend funds that have
not yet been advanced.


---
Common stock/other equity
Value of outstanding common shares at par, plus accumulated retained
earnings. Also called shareholders' equity.


---
Competitive offering
An offering of securities through competitive bidding.


---
Compound interest
interest paid on previously earned interest as well as on the principal.


---
Compound Interest
interest paid on principal and on interest earned in previous
periods


---
compound interest
a method of determining interest in which interest that was earned in prior periods is added to the original investment so that, in each successive period, interest is earned on both principal and interest


---
compound interest
interest earned on interest.


---
Compound Interest
interest earned on an investment at periodic intervals and added to principal and previous interest earned. Each time new interest earned is calculated it is on a combined total of principal and previous interest earned. Essentially, interest is paid on top of interest.


---
Consumer Price Index (CPI)
The CPI, as it is called, measures the prices of consumer goods and services and is a
measure of the pace of U.S. inflation. The U.S.Department of Labor publishes the CPI very month.


---
Consumer Price Index (CPI)
An index calculated by tracking the cost of a typical bundle of consumer goods and services over time. It is commonly used to measure inflation.


---
Conversion parity price
Related:Market conversion price


---
Convertible price
The contractually specified price per share at which a convertible security can be
converted into shares of common stock.


---
Cost-plus pricing
A method of pricing in which a mark-up is added to the total product/service cost.


---
Coupon
The periodic interest payment made to the bondholders during the life of the bond.


---
Coupon
Detachable certificate attached to a bond that shows the amount of
interest payable at regular intervals, usually semi-annually.Originally
coupons were actually attached to the bonds and had to be cut off or "clipped"
to redeem them and receive the interest payment.


---
coupon
The interest payments paid to the bondholder.


---
Coupon
The annual interest payment associated with a bond.


---
Coupon Bond
Any bond with a coupon. Contrast with discount bond.


---
Coupon / Coupons
The periodic interest payment(s) made by the issuer of a bond
(debt security). Calculated by multiplying the face value of the
security by the coupon rate.


---
Coupon dates
The dates when the coupons are paid. Typically a bond pays
coupons annually or semi-annually.


---
Coupon equivalent yield
True interest cost expressed on the basis of a 365-day year.


---
Coupon payments
A bond's interest payments.


---
Coupon rate
In bonds, notes or other fixed income securities, the stated percentage rate of interest, usually
paid twice a year.


---
Coupon Rate
The rate of interest paid on a debt security. Generally stated on an
annual basis, even if the payments are made at some other
interval.


---
Coupon rate
The nominal interest rate that the issuer promises to pay the
buyer of a bond.


---
coupon rate
Annual interest payment as a percentage of face value.


---
Covered interest arbitrage
A portfolio manager invests dollars in an instrument denominated in a foreign
currency and hedges his resulting foreign exchange risk by selling the proceeds of the investment forward for
dollars.


---
Crowding Out
Decreases in aggregate demand which accompany an expansionary fiscal policy, dampening the impact of that policy.


---
Current coupon
A bond selling at or close to par, that is, a bond with a coupon close to the yields currently
offered on new bonds of a similar maturity and credit risk.


---
Current-coupon issues
Related: Benchmark issues


---
Current issue
In Treasury securities, the most recently auctioned issue. Trading is more active in current
issues than in off-the-run issues.


---
Customary payout ratios
A range of payout ratios that is typical based on an analysis of comparable firms.


---
Daily Interest Accumulation
Account in which interest is accrued daily and credited to the account at the end of a specified time.


---
Days' sales outstanding
Average collection period.


---
Delivery price
The price fixed by the Clearing house at which deliveries on futures are in invoiced; also the
price at which the futures contract is settled when deliveries are made.


---
Devaluation A decrease in the spot price of the currency
---
Direct stock-purchase programs
The purchase by investors of securities directly from the issuer.


---
Dirty price
Bond price including accrued interest, i.e., the price paid by the bond buyer.


---
Dividend payout ratio
Percentage of earnings paid out as dividends.


---
dividend payout ratio
Computed by dividing cash dividends for the year
by the net income for the year. It's simply the percent of net income distributed
as cash dividends for the year.


---
dividend payout ratio
Percentage of earnings paid out as dividends.


---
Dollar price of a bond
Percentage of face value at which a bond is quoted.


---
Down-and-out option
Barrier option that expires if asset price hits a barrier.


---
Dual-currency issues
Eurobonds that pay coupon interest in one currency but pay the principal in a different
currency.


---
dual pricing arrangement
a transfer pricing system that allows
a selling division to record the transfer of goods or
services at one price (e.g., a market or negotiated market
price) and a buying division to record the transfer at another
price (e.g., a cost-based amount)


---
Dual syndicate equity offering
An international equity placement where the offering is split into two
tranches - domestic and foreign - and each tranche is handled by a separate lead manager.


---
Dupont system of financial control
Highlights the fact that return on assets (ROA) can be expressed in terms
of the profit margin and asset turnover.


---
earnings before interest and income tax (EBIT)
A measure of profit that
equals sales revenue for the period minus cost-of-goods-sold expense
and all operating expenses—but before deducting interest and income
tax expenses. It is a measure of the operating profit of a business before
considering the cost of its debt capital and income tax.


---
Earnings before interest and taxes (EBIT)
A financial measure defined as revenues less cost of goods sold
and selling, general, and administrative expenses. In other words, operating and non-operating profit before
the deduction of interest and income taxes.


---
Earnings before interest and taxes (EBIT)
The operating profit before deducting interest and tax.


---
Earnings before interest, taxes, depreciation and amortization (EBITDA)
The operating profit before deducting interest, tax, depreciation and amortization.


---
Earnings Before Interest, Taxes, Depreciation, and Amortization (EBITDA)
An earningsbased measure that, for many, serves as a surrogate for cash flow. actually consists of working
capital provided by operations before interest and taxes.


---
EBBS - Earnings before the bad stuff
An acronym attributed to a member of the Securities and
Exchange Commission staff. The reference is to earnings that have been heavily adjusted to
remove a wide range of nonrecurring, nonoperating, and noncash items.


---
EBDDT - Earnings before depreciation and deferred taxes
This measure is used principally by
firms in the real estate industry, with the exception of real estate investment trusts, which typically
do not pay taxes.


---
Effective annual interest rate
An annual measure of the time value of money that fully reflects the effects of
compounding.


---
Related to : financial, finance, business, accounting, payroll, inventory, investment, money, inventory control, stock trading, financial advisor, tax advisor, credit.