Definition of Basket options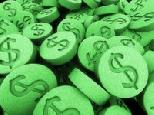 Basket options
Packages that involve the exchange of more than two currencies against a base currency at
expiration. The basket option buyer purchases the right, but not the obligation, to receive designated
currencies in exchange for a base currency, either at the prevailing spot market rate or at a prearranged rate of
exchange. A basket option is generally used by multinational corporations with multicurrency cash flows
since it is generally cheaper to buy an option on a basket of currencies than to buy individual options on each
of the currencies that make up the basket.


---
Related Terms:
Contracts with trigger points that, when crossed, automatically generate buying or selling of
other options. These are very exotic options.


---
Related: Program trades.


---
The value of a portfolio of specific amounts of individual currencies, used as the basis for
setting the market value of another currency. It is also referred to as a currency cocktail.


---
Over-the-counter options, such as those offered by government and mortgage-backed
securities dealers.


---
The options available to the seller of an interest rate futures contract, including the quality
option, the timing option, and the wild card option. Delivery options make the buyer uncertain of which
Treasury Bond will be delivered or when it will be delivered.


---
Securities that give the holder the right to buy or sell a specified number of shares of stock, at
a specified price for a certain (limited) time period. Typically one option equals 100 shares of stock.


---
The amount of cash an uncovered (naked) option writer is required to
deposit and maintain to cover his daily position valuation and reasonably foreseeable intra-day price changes.


---
A contract that, in exchange for the option price, gives the option buyer the right, but not
the obligation, to buy (or sell) a financial asset at the exercise price from (or to) the option seller within a
specified time period, or on a specified date (expiration date).


---
A constant, set at $100, which when multiplied by the cash index value gives the
dollar value of the stock index underlying an option. That is, dollar value of the underlying stock index = cash
index value x $100 (the options contract multiple).


---
Interest rate options written on fixed-income securities, as opposed to those written on
interest rate futures contracts.


---
cash or nontaxable benefits


---
options embedded in real assets.


---
A variety of options available to an investor to recover their invested capital and the return on their investment.


---
Related to : financial, finance, business, accounting, payroll, inventory, investment, money, inventory control, stock trading, financial advisor, tax advisor, credit.