Definition of Yankee CD

Yankee CD
cd issued in the domestic market, typically New York, by a branch of a foreign bank.


---
Related Terms:
A bull cd pays its holder a specified percentage of the increase in return on a specified
market index while guaranteeing a minimum rate of return. A bear cd pays the holder a fraction of any fall in
a given market index.


---
Also called a time deposit, this is a certificate issued by a bank or thrift that
indicates a specified sum of money has been deposited. A cd bears a maturity date and a specified interest
rate, and can be issued in any denomination. The duration can be up to five years.


---
A bank deposit that cannot be withdrawn for a specified period of time. See also term deposit.


---
The formal name for the load of a back-end load fund.


---
cds issued by a U.S. bank branch or foreign bank located outside the U.S. Almost all Euro cds
are issued in London.


---
cds that are issued with the tacit understanding that the buyer will not trade the certificate.
Quite often, the issuing bank will insist that the certificate be safekept by it to ensure that the understanding is
honored by the buyer.


---
Organization for Economic Cooperation and Development, consisting of most of the world's developed economies.


---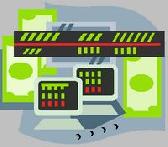 Short-term certificate of deposits that pay interest periodically on roll dates. On each roll
date, the coupon on the cd is adjusted to reflect current market rates.


---
Foreign bonds denominated in US$ issued in the United States by foreign banks and
corporations. These bonds are usually registered with the SEC. For example, bonds issued by originators with
roots in Japan are called Samurai bonds.


---
The foreign market in the United States.


---
Related to : financial, finance, business, accounting, payroll, inventory, investment, money, inventory control, stock trading, financial advisor, tax advisor, credit.