Definition of substitute good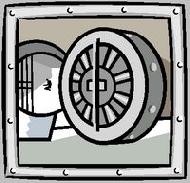 substitute good
an item that can replace another item to satisfy the same wants or needs


---
Related Terms:
the total cost of the
goods completed and transferred to Finished goods Inventory
during the period


---
The cost of merchandise that a company sold this year. For manufacturing companies, the cost of raw
materials, components, labor and other things that went into producing an item.


---
See cost of sales.


---
The cost of the items that were sold during the current period.


---
The accumulated total of all costs used to create a product or service,
which is then sold. These costs fall into the general sub-categories of direct
labor, materials, and overhead.


---
The charge to expense of the direct materials, direct labor, and
allocated overhead costs associated with products sold during a defined accounting
period.


---
goods that have been completed by the manufacturing
process, or purchased in a complete form, but which have not yet been sold to
customers.


---

Completed inventory items ready for shipment to
customers.


---
A delivery in which everything - endorsement, any necessary attached legal papers, etc. - is in
order.


---
Refers to PSA Uniform Practices such as cutoff times on delivery
of securities and notification, allocation, and proper endorsement.


---
Sometimes simply called "GTC", it means an order to buy or sell stock that is good until
you cancel it. Brokerages usually set a limit of 30-60 days, at which the GTC expires if not restated.


---
Whatever measure of the money supply is chosen for application of the monetarist rule will soon begin to misbehave.


---
Excess of the purchase price over the fair market value of the net assets acquired under purchase
accounting.


---
The excess of the price paid to buy another company over the book value of
its assets and the increase in cost of its fixed assets to fair market value.


---
Intangible assets of a firm established by the excess of the price paid for the going concern over the value of its assets.


---
Intermediate Good
A good used in producing another good.


---
Negative goodwill
A term used to describe a situation in which a business combination
results in the fair market value of all assets purchased being more than the purchase
price.


---
Open (good-til-cancelled) order
An individual investor can place an order to buy or sell a security. That
open order stays active until it is completed or the investor cancels it.


---
Realizable Revenue A revenue transaction where assets received in exchange for goods and
services are readily convertible into known amounts of cash or claims to cash.


---
Substitute sale
A method for hedging price risk that utilizes debt-market instruments, such as interest rate
futures, or that involves selling borrowed securities as the primary assets.


---
Non-tradables
Refer to goods and services produced and consumed domestically that are not close
substitutes to import or export goods and services.


---
Related to : financial, finance, business, accounting, payroll, inventory, investment, money, inventory control, stock trading, financial advisor, tax advisor, credit.