Definition of Specific identification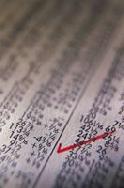 Specific identification
A method of accounting for inventory.


---
Related Terms:
The amount of total risk that can be eliminated by diversification by
creating a portfolio. Also known as company-specific risk or
unsystematic risk.


---
Related: Unsystematic risk


---
See asset-specific risk


---
A unique identification number issued
by the federal government used for payroll purposes to identify the company
when it deals with the Internal Revenue Service.


---
See:diversifiable risk or unsystematic risk.


---
A secret code that you use to access your bank account at a bank machine or at a point of sale (POS) terminal. You may also have a PIN for banking by telephone.


---
An inventory valuation method in which a company values the items in its ending inventory based
on the specific invoices on which they were bought.


---

The market in which dealers reverse in securities they wish to short.


---
See:unique risk.


---
Related to : financial, finance, business, accounting, payroll, inventory, investment, money, inventory control, stock trading, financial advisor, tax advisor, credit.