Definition of Source document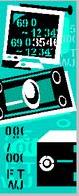 Source document
The document that records a transaction and forms the basis for recording in a business's
accounting system.


---
Related Terms:
A set of accounts that summarize the transactions of a business that have been recorded on source documents.


---
a source document that indicates, for each employee, what jobs were worked on during the day and for what amount of time


---
a source document that provides virtually
all the financial information about a particular job;
the set of all job order cost sheets for uncompleted jobs
composes the Work in Process Inventory subsidiary ledger


---
a source document that indicates
the types and quantities of material to be placed into production
or used in performing a service; it causes materials
and its cost to be released from the Raw Material Inventory
warehouse and sent to Work in Process Inventory


---
Commercial paper backed by normal bank lines plus a letter of credit from a
bank stating that it will pay off the paper at maturity if the borrower does not. Such paper is also referred to as
LOC (letter of credit) paper.


---
Amount of funds generated during the period from operations by sources other than
depreciation or deferred taxes. Part of Free cash flow calculation.


---
a packaged software program that allows a company to
(1) automate and integrate the majority of its business processes,
(2) share common data and practices across the entire enterprise, and
(3) produce and access information in a realtime environment


---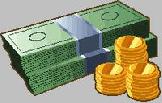 a fully integrated materials requirement planning system that involves
top management and provides a basis for both strategic
and tactical planning


---
a document listing all operations
necessary to produce one unit of product (or perform
a specific service) and the corresponding time allowed
for each operation


---
see operations flow document


---
a resource that is essential to production
activity, but is available only in some limited quantity


---
organizational planning for the deployment of resources to create value for customers and shareholders; key varibles in the process include the management of information and the management of change in response to threats and opportunities


---
An expansion of the material requirements planning concept, with additional computer-based capabilities in the areas of
direct labor and machine capacity planning.


---
A computer system used to manage all company
resources in the receipt, completion, and delivery of customer orders.


---
An integrated, computerized system for planning
all manufacturing resources.


---
Related to : financial, finance, business, accounting, payroll, inventory, investment, money, inventory control, stock trading, financial advisor, tax advisor, credit.