Definition of Policyholder

Policyholder
This is the person who owns a life insurance policy. This is usually the insured person, but it may also be a relative of the insured, a partnership or a corporation. There are instances in marriage breakup (or relationship breakup with dependent children) where appropriate life insurance on the support provider, owned and paid for by the ex-spouse receiving the support is an acceptable method of ensuring future security.


---
Related Terms:
A regular periodic payment made by an insurance company to a policyholder for a specified period
of time.


---
Assuris is a not for profit organization that protects Canadian policyholders in the event that their life insurance company should become insolvent. Their role is to protect policyholders by minimizing loss of benefits and ensuring a quick transfer of their policies to a solvent company where their benefits will continue to be honoured. Assuris is funded by the life insurance industry and endorsed by government. If you are a Canadian citizen or resident, and you purchased a product from a member life insurance company in Canada, you are protected by Assuris.
All life insurance companies authorized to sell in Canada are required, by the federal, provincial and territorial regulators, to become members of Assuris. Members cannot terminate their membership as long as they are licensed to write business in Canada or have any in force business in Canada.
If your life insurance company fails, your policies will be transferred to a solvent company. Assuris guarantees that you will retain at least 85% of the insurance benefits you were promised. Insurance benefits include Death, Health Expense, Monthly Income and Cash Value. Your deposit type products will also be transferred to a solvent company. For these products, Assuris guarantees that you will retain 100% of your Accumulated Value up to $100,000. Deposit type products include accumulation annuities, universal life overflow accounts, premium deposit accounts and dividend deposit accounts. The key to Assuris protection is that it is applied to all benefits of a similar type. If you have more than one policy with the failed company, you will need to add together all similar benefits before applying the Assuris protection. The Assuris website can be found at www.assuris.ca.


---
An amount the insurance company will pay if the policyholder ends a whole life
insurance policy.


---
This policy governs Canada Life's actions regarding distribution of dividends to policyholders. It's goal is to achieve a dividend distribution that is equitable and timely, and which gives full recognition of the need to ensure the ongoing solidity of the company. It also specifies that distribution to individual policyholders must be equitable between dividend classes and policyholder generations, and among policyholders within any class.


---
Life insurance payable to the policyholder, if living on the maturity date stated in the policy, or to a beneficiary if the insured dies before that date. For example, some Term to age 100 policies offer the option of taking the face amount of the policy as a cash payout at age 100 if the policyholder is still alive and paying all required income taxes on the amount received or leaving the policy to pay out upon death whereupon the payout is tax free.


---
Policies which are sold but do not remain in force because the policyholder fails to pay premiums.


---
The amount a policyholder may borrow against a whole life insurance policy at the interest rate
specified in the policy.


---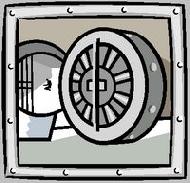 A guaranteed investment contract where the policyholder is not guaranteed a crediting
rate, but instead receives a return based on the actual experience of the portfolio managed by the life company.


---
A pool of assets held by the insurer, to back a specific liability to a policyholder. Segregated Funds flucuate in value depending on the market value of a specific group of assets the company must maintain separately.


---
An insurance policy bought by the sponsor of a pension plan for a single
premium. In return, the insurance company agrees to make lifelong payments to the employee (the
policyholder) when that employee retires.


---
A contract with both insurance and investment components: (1) It pays off a stated
amount upon the death of the insured, and (2) it accumulates a cash value that the policyholder can redeem or
borrow against.


---
Related to : financial, finance, business, accounting, payroll, inventory, investment, money, inventory control, stock trading, financial advisor, tax advisor, credit.