Definition of Opportunistic Behavior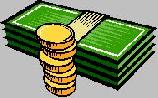 Opportunistic Behavior
Using the flexibility inherent in GAAP to alter earnings so as to achieve desired outcomes.


---
Related Terms:
Capital rationing that under certain circumstances can be violated or even viewed
as made up of targets rather than absolute constraints.


---
The ability to produce a good or service with fewer resources than competitors. See also comparative advantage.


---
Rule in bankruptcy proceedings whereby senior creditors are required to be paid in full
before junior creditors receive any payment.


---
Goods may be returned to the seller by the purchaser without restrictions.


---
A method of costing in which all fixed and variable production costs are charged to products or services Using an allocation base.


---
a cost accumulation and reporting
method that treats the costs of all manufacturing components
(direct material, direct labor, variable overhead, and
fixed overhead) as inventoriable or product costs; it is the
traditional approach to product costing; it must be used for
external financial statements and tax returns


---
A methodology under which all manufacturing costs are assigned
to products, while all non-manufacturing costs are expensed in the current period.


---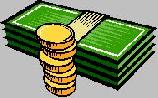 The use of various forms of gimmickry to distort a company's true financial performance in order to achieve a desired result.


---
A characterization used by the Securities and Exchange
Commission to designate earnings management that results in an intentional and material misrepresentation
of results.


---
earnings of a firm as reported on its income statement.


---
Total liabilities exceed total assets. A firm with a negative net worth is insolvent on
the books.


---
The sum of cash, accounts receivable, and short-term marketable
investments (if any) is divided by
total current liabilities to compute this ratio. Suppose that the short-term
creditors were to pounce on a business and not agree to roll over the
debts owed to them by the business. In this rather extreme scenario, the
acid test ratio reveals whether its cash and near-cash assets are enough
to pay its short-term current liabilities. This ratio is an extreme test that
is not likely to be imposed on a business unless it is in financial straits.
This ratio is quite relevant when a business is in a liquidation situation
or bankruptcy proceedings.


---
Net income adjusted to exclude selected nonrecurring and noncash items of reserve, gain, expense, and loss.


---
Variations of mortgage instruments such as adjustable-rate and variablerate
mortgages, graduated-payment mortgages, reverse-annuity mortgages, and several seldom-used
variations.


---
This important ratio equals the net
income for a period (usually one year) divided by the number capital
stock shares issued by a business corporation. This ratio is so important
for publicly owned business corporations that it is included in the daily
stock trading tables published by the Wall Street Journal, the New York
Times, and other major newspapers. Despite being a rather straightforward
concept, there are several technical problems in calculating
earnings per share. Actually, two EPS ratios are needed for many businesses—
basic EPS, which uses the actual number of capital shares outstanding,
and diluted EPS, which takes into account additional shares of
stock that may be issued for stock options granted by a business and
other stock shares that a business is obligated to issue in the future.
Also, many businesses report not one but two net income figures—one
before extraordinary gains and losses were recorded in the period and a
second after deducting these nonrecurring gains and losses. Many business
corporations issue more than one class of capital stock, which
makes the calculation of their earnings per share even more complicated.


---
Basic Earnings Power Ratio
Percentage of earnings relative to total assets; indication of how
effectively assets are used to generate earnings. It is calculated by
dividing earnings before interest and taxes by the book value of all
assets.


---

Canadian Life and Health Insurance Association (CLHIA)
An association of most of the life and health insurance companies in Canada that conducts research and compiles information about the life and health insurance industry in Canada.


---
Comparison universe
The collection of money managers of similar investment style used for assessing
relative performance of a portfolio manager.


---
Consol
A type of bond that has an infinite life but is not issued in the U.S. capital markets.


---
Consolidated Omnibus Budget Reconciliation Act (COBRA)
A federal Act
containing the requirements for offering insurance to departed employees.


---
Consolidation
The combining of two or more firms to form an entirely new entity.


---
Consolidation
A summarization of the financial statements of a parent company and
those of its subsidiaries over which it has voting control of common stock.


---
Consortium banks
A merchant banking subsidiary set up by several banks that may or may not be of the
same nationality. Consortium banks are common in the Euromarket and are active in loan syndication.


---
Core Earnings
A measure of earnings that includes only the results of the primary operating
activities of the firm. It is most common to see the measure used by financial firms.


---
Cost of goods sold
The cost of merchandise that a company sold this year. For manufacturing companies, the cost of raw
materials, components, labor and other things that went into producing an item.


---
Cost of goods sold
See cost of sales.


---
Cost of goods sold
The cost of the items that were sold during the current period.


---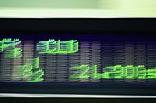 Cost of goods sold
The accumulated total of all costs used to create a product or service,
which is then sold. These costs fall into the general sub-categories of direct
labor, materials, and overhead.


---
Cost of goods sold
The charge to expense of the direct materials, direct labor, and
allocated overhead costs associated with products sold during a defined accounting
period.


---
Cost Plus Estimated Earnings in Excess of Billings
Revenue recognized to date under the percentage-of-completion method in excess of amounts billed. Also known as unbilled accounts
receivable.


---
Crossover rate
The return at which two alternative projects have the same net present value.


---
Deductive reasoning
The use of general fact to provide accurate information about a specific situation.


---
diluted earnings per share (EPS)
This measure of earnings per share
recognizes additional stock shares that may be issued in the future for
stock options and as may be required by other contracts a business has
entered into, such as convertible features in its debt securities and preferred
stock. Both basic earnings per share and, if applicable, diluted
earnings per share are reported by publicly owned business corporations.
Often the two EPS figures are not far apart, but in some cases the
gap is significant. Privately owned businesses do not have to report earnings
per share. See also basic earnings per share.


---
Doctrine of sovereign immunity
Doctrine that says a nation may not be tried in the courts of another country
without its consent.


---
Earnings
Net income for the company during the period.


---
Earnings
In general, refers to a company's total sales less cost of sales and operating expenses, including interest and income tax.


---
earnings before interest and income tax (EBIT)
A measure of profit that
equals sales revenue for the period minus cost-of-goods-sold expense
and all operating expenses—but before deducting interest and income
tax expenses. It is a measure of the operating profit of a business before
considering the cost of its debt capital and income tax.


---
Earnings before interest and taxes (EBIT)
A financial measure defined as revenues less cost of goods sold
and selling, general, and administrative expenses. In other words, operating and non-operating profit before
the deduction of interest and income taxes.


---
Earnings before interest and taxes (EBIT)
The operating profit before deducting interest and tax.


---
Earnings before interest, taxes, depreciation and amortization (EBITDA)
The operating profit before deducting interest, tax, depreciation and amortization.


---
Earnings Before Interest, Taxes, Depreciation, and Amortization (EBITDA)
An earningsbased measure that, for many, serves as a surrogate for cash flow. Actually consists of working
capital provided by operations before interest and taxes.


---
Earnings Management
The active manipulation of earnings toward a predetermined target.
That target may be one set by management, a forecast made by analysts, or an amount that is consistent
with a smoother, more sustainable earnings stream. Often, although not always, earnings
management entails taking steps to reduce and "store" profits during good years for use during
slower years. This more limited form of earnings management is known as income smoothing.


---
Earnings per Share
A measure of the earnings generated by a company on a per
share basis. It is calculated by dividing income available for
distribution to shareholders by the number of common shares
outstanding.


---
Earnings per share (EPS)
EPS, as it is called, is a company's profit divided by its number of outstanding
shares. If a company earned $2 million in one year had 2 million shares of stock outstanding, its EPS would
be $1 per share. The company often uses a weighted average of shares outstanding over the reporting term.


---
earnings per share (EPS)
See basic earnings per share and diluted earnings per share.


---
Earnings per share of common stock
How much profit a company made on each share of common stock this year.


---
Earnings retention ratio
Plowback rate.


---
Earnings surprises
Positive or negative differences from the consensus forecast of earnings by institutions
such as First Call or IBES. Negative earnings surprises generally have a greater adverse affect on stock prices
than the reciprocal positive earnings surprise on stock prices.


---
Earnings yield
The ratio of earnings per share after allowing for tax and interest payments on fixed interest
debt, to the current share price. The inverse of the price/earnings ratio. It's the Total Twelve Months earnings
divided by number of outstanding shares, divided by the recent price, multiplied by 100. The end result is
shown in percentage.


---
EBBS - Earnings before the bad stuff
An acronym attributed to a member of the Securities and
Exchange Commission staff. The reference is to earnings that have been heavily adjusted to
remove a wide range of nonrecurring, nonoperating, and noncash items.


---
EBDDT - Earnings before depreciation and deferred taxes
This measure is used principally by
firms in the real estate industry, with the exception of real estate investment trusts, which typically
do not pay taxes.


---
Economic earnings
The real flow of cash that a firm could pay out forever in the absence of any change in
the firm's productive capacity.


---
Employee stock ownership plan (ESOP)
A company contributes to a trust fund that buys stock on behalf of
employees.


---
Employee Stock Ownership Plan (ESOP)
a profit-sharing compensation program in which investments are made in
the securities of the employer


---
Employee Stock Ownership Plan (ESOP)
A fund containing company stock and owned by employees, paid for by ongoing contributions by the employer.


---
enterprise resource planning (ERP) system
a packaged software program that allows a company to
(1) automate and integrate the majority of its business processes,
(2) share common data and practices across the entire enterprise, and
(3) produce and access information in a realtime environment


---
Enterprise resource planning system
A computer system used to manage all company
resources in the receipt, completion, and delivery of customer orders.


---
feasible solution
a solution to a linear programming problem
that does not violate any problem constraints


---
Flat price (also clean price)
The quoted newspaper price of a bond that does not include accrued interest.
The price paid by purchaser is the full price.


---
Fully diluted earnings per shares
earnings per share expressed as if all outstanding convertible securities
and warrants have been exercised.


---
GAAP
See generally accepted accounting principles.


---
Generally Accepted Accounting Principals (GAAP)
A technical accounting term that encompasses the
conventions, rules, and procedures necessary to define accepted accounting practice at a particular time.


---
generally accepted accounting principles (GAAP)
This important term
refers to the body of authoritative rules for measuring profit and preparing
financial statements that are included in financial reports by a business
to its outside shareowners and lenders. The development of these
guidelines has been evolving for more than 70 years. Congress passed a
law in 1934 that bestowed primary jurisdiction over financial reporting
by publicly owned businesses to the Securities and Exchange Commission
(SEC). But the SEC has largely left the development of GAAP to the
private sector. Presently, the Financial Accounting Standards Board is
the primary (but not the only) authoritative body that makes pronouncements
on GAAP. One caution: GAAP are like a movable feast. New rules
are issued fairly frequently, old rules are amended from time to time,
and some rules established years ago are discarded on occasion. Professional
accountants have a heck of time keeping up with GAAP, that's for
sure. Also, new GAAP rules sometimes have the effect of closing the barn
door after the horse has left. Accounting abuses occur, and only then,
after the damage has been done, are new rules issued to prevent such
abuses in the future.


---
generally accepted accounting principles (GAAP)
Procedures for preparing financial statements.


---
Generally Accepted Accounting Principles (GAAP)
A common set of standards and procedures
for the preparation of general-purpose financial statements that either have been established
by an authoritative accounting rule-making body, such as the Financial Accounting
Standards Board (FASB), or over time have become accepted practice because of their universal
application.


---
Generally Accepted Accounting Principles (GAAP)
GAAP is the term used to describe the underlying rules basis on which financial statements are normally prepared. This is codified in the Handbook of The Canadian Institute of Chartered Accountants.


---
Government National Mortgage Association (Ginnie Mae)
A wholly owned U.S. government corporation
within the Department of HoUsing & Urban Development. Ginnie Mae guarantees the timely payment of
principal and interest on securities issued by approved servicers that are collateralized by FHA-issued, VAguaranteed,
or Farmers Home Administration (FmHA)-guaranteed mortgages.


---
Government sponsored enterprises
Privately owned, publicly chartered entities, such as the Student Loan
Marketing Association, created by Congress to reduce the cost of capital for certain borrowing sectors of the
economy including farmers, homeowners, and students.


---
Housing Start
A new house on which construction has just begun.


---
Inductive reasoning
The attempt to use information about a specific situation to draw a conclusion.


---
Insolvency risk
The risk that a firm will be unable to satisfy its debts. Also known as bankruptcy risk.


---
Insolvent
A firm that is unable to pay debts (liabilities are greater than assets).


---
ISO 14000
a series of international standards that are designed
to support a company's environmental protection
and pollution prevention goals in balance with socioeconomic
needs


---
ISO 9000
a comprehensive series of international quality standards
that define the various design, material procurement,
production, quality-control, and delivery requirements and
procedures necessary to produce quality products and services


---
Labour-Sponsored Venture Funds
Venture capital corporations established by labour unions. They function as other venture capital corporations but are subject to government regulation.


---
Lessor
An entity that leases an asset to another entity.
Letter of comment A communication to the firm from the SEC that suggests changes to its registration
statement.


---
Lessor
An entity that leases an asset to another entity.


---
Lessor
The entity that rents property that it owns to a second party in exchange for a
periodic set of rental payments.


---
Lessor
A person who grants a lease; the owner of the asset.


---
Limitation on merger, consolidation, or sale
A bond covenant that restricts in some way a firm's ability to
merge or consolidate with another firm.


---
Low price-earnings ratio effect
The tendency of portfolios of stocks with a low price-earnings ratio to
outperform portfolios consisting of stocks with a high price-earnings ratio.


---
Manufactured housing securities (MHSs)
Loans on manufactured homes - that is, factory-built or
prefabricated hoUsing, including mobile homes.


---
Manufacturing resource planning
An integrated, computerized system for planning
all manufacturing resources.


---
manufacturing resource planning (MRP II)
a fully integrated materials requirement planning system that involves
top management and provides a basis for both strategic
and tactical planning


---
Manufacturing resource planning (MRP II)
An expansion of the material requirements planning concept, with additional computer-based capabilities in the areas of
direct labor and machine capacity planning.


---
National Futures Association (NFA)
The futures industry self regulatory organization established in 1982.


---
net income (also called the bottom line, earnings, net earnings, and net
operating earnings)
This key figure equals sales revenue for a period
less all expenses for the period; also, any extraordinary gains and losses
for the period are included in this final profit figure. Everything is taken
into account to arrive at net income, which is popularly called the bottom
line. Net income is clearly the single most important number in business
financial reports.


---
Obsolescence
The reduction in utility of an inventory item or fixed asset. If it is an
inventory item, then a reserve is created to reduce the value of the inventory by the
estimated amount of obsolescence. If it is a fixed asset, the depreciation method and
timing will be set to approximate the rate and amount of obsolescence.


---
Obsolete inventory
Parts not used in any current end product.


---
Operating Earnings
A term frequently used to describe earnings after the removal of the
effects of nonrecurring or nonoperating items.


---
Operational Earnings Management
Management actions taken in the effort to create stable
financial performance by acceptable, voluntary business decisions. An example: a special discount
promotion to increase flagging sales near the end of a quarter when targets are not being met.


---
optimal solution
the solution to a linear programming problem
that provides the best answer to the objective function


---
Other sources
Amount of funds generated during the period from operations by sources other than
depreciation or deferred taxes. Part of Free cash flow calculation.


---
outsourcing
the use, by one company, of an external
provider of a service or manufacturer of a component


---
Outsourcing
The process of shifting a function previously performed internally
to a supplier who is responsible to the company for its ongoing operations and
results.


---
outsourcing decision
see make-or-buy decision


---
Overbought/oversold indicator
An indicator that attempts to define when prices have moved too far and too
fast in either direction and thus are vulnerable to reaction.


---
Pension sponsors
Organizations that have established a pension plan.


---
Personal Assets
Assets, the title of which are held personally rather than in the name of some other legal entity.


---
Related to : financial, finance, business, accounting, payroll, inventory, investment, money, inventory control, stock trading, financial advisor, tax advisor, credit.