Definition of issued shares

issued shares
shares that have been issued by the company.


---
Issued shares
The number of shares that the company has sold to the public.


---
Related Terms:
The number of shares that are in the hands of the public. The difference between issued shares and outstanding shares is the shares held as treasury stock.


---
A firm selling some of its own newly issued shares to investors.


---
Securities certificates issued in the U.S. by a transfer agent acting on behalf of the foreign
issuer. The certificates represent claims to foreign equities.


---
Number of shares authorized for issuance by a firm's corporate charter.


---
The number of shares of stock that the company is legally authorized to sell.


---
Are equity instruments that take no security against assets, have no fixed terms of repayment and pay no fixed dividends.


---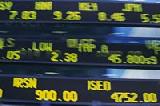 Earnings per share expressed as if all outstanding convertible securities
and warrants have been exercised.


---
Total amount of shares that are in issue. Related: outstanding shares.


---
Percentage of shares held by persons closely related to a company, as
defined by the Securities and exchange commission. Part of these percentages often is included in
Institutional Holdings -- making the combined total of these percentages over 100. There is overlap as
institutions sometimes acquire enough stock to be considered by the SEC to be closely allied to the company.


---
shares that are currently owned by investors.


---
shares that have been issued by the company and are held by investors.


---
shares of stock given to managers on the basis of performance as measured by earnings
per share and similar criteria. A control device used by shareholders to tie management to the self-interest of
shareholders.


---
Preferred shares give investors a fixed dividend from the company's earnings. And more
importantly: preferred shareholders get paid before common shareholders. See: preferred stock.


---
Are equity instruments that take no security against assets, have flexible terms of repayment and pay fixed or floating dividends.


---
Certificates or book entries representing ownership in a corporation or similar entity


---
Unissued stock
Stock that has been authorized for use, but which has not yet been
released for sale to prospective shareholders.


---
American Depositary Receipts (ADRs)
Certificates issued by a U.S. depositary bank, representing foreign
shares held by the bank, usually by a branch or correspondent in the country of issue. One ADR may
represent a portion of a foreign share, one share or a bundle of shares of a foreign corporation. If the ADR's
are "sponsored," the corporation provides financial information and other assistance to the bank and may
subsidize the administration of the ADRs. "Unsponsored" ADRs do not receive such assistance. ADRs carry
the same currency, political and economic risks as the underlying foreign share; the prices of the two, adjusted for the SDR/ordinary ratio, are kept essentially identical by arbitrage. American depositary shares(ADSs) are
a similar form of certification.


---
basic earnings per share (EPS)
This important ratio equals the net
income for a period (usually one year) divided by the number capital
stock shares issued by a business corporation. This ratio is so important
for publicly owned business corporations that it is included in the daily
stock trading tables published by the Wall Street Journal, the New York
Times, and other major newspapers. Despite being a rather straightforward
concept, there are several technical problems in calculating
earnings per share. Actually, two EPS ratios are needed for many businesses—
basic EPS, which uses the actual number of capital shares outstanding,
and diluted EPS, which takes into account additional shares of
stock that may be issued for stock options granted by a business and
other stock shares that a business is obligated to issue in the future.
Also, many businesses report not one but two net income figures—one
before extraordinary gains and losses were recorded in the period and a
second after deducting these nonrecurring gains and losses. Many business
corporations issue more than one class of capital stock, which
makes the calculation of their earnings per share even more complicated.


---
capital stock
Ownership shares issued by a business corporation. A business
corporation may issue more than one class of capital stock shares.
One class may give voting privileges in the election of the directors of the
corporation while the other class does not. One class (called preferred
stock) may entitle a certain amount of dividends per share before cash
dividends can be paid on the other class (usually called common stock).
Stock shares may have a minimum value at which they have to be issued
(called the par value), or stock shares can be issued for any amount
(called no-par stock). Stock shares may be traded on public markets such
as the New York Stock Exchange or over the Nasdaq network. There are
about 10,000 stocks traded on public markets (although estimates vary
on this number). In this regard, I find it very interesting that there are
more than 8,000 mutual funds that invest in stocks.


---
Dedicated capital
Total par value (number of shares issued, multiplied by the par value of each share). Also
called dedicated value.


---
Detachable warrant
A warrant entitles the holder to buy a given number of shares of stock at a stipulated
price. A detachable warrant is one that may be sold separately from the package it may have originally been
issued with (usually a bond).


---
diluted earnings per share (EPS)
This measure of earnings per share
recognizes additional stock shares that may be issued in the future for
stock options and as may be required by other contracts a business has
entered into, such as convertible features in its debt securities and preferred
stock. Both basic earnings per share and, if applicable, diluted
earnings per share are reported by publicly owned business corporations.
Often the two EPS figures are not far apart, but in some cases the
gap is significant. Privately owned businesses do not have to report earnings
per share. See also basic earnings per share.


---
Dividend
As the term dividend relates to a corporation's earnings, a dividend is an amount paid per share from a corporation's after tax profits. Depending on the type of share, it may or may not have the right to earn any dividends and corporations may reduce or even suspend dividend payments if they are not doing well. Some dividends are paid in the form of additional shares of the corporation. Dividends paid by Canadian corporations qualify for the dividend tax credit and are taxed at lower rates than other income.
As the term dividend relates to a life insurance policy, it means that if that policy is "participating", the policy owner is entitled to participate in an equitable distribution of the surplus earnings of the insurance company which issued the policy. Surpluses arise primarily from three sources:
1) the difference between anticipated and actual operating expenses,
2) the difference between anticipated and actual claims experience, and
3) interest earned on investments over and above the rate required to maintain policy reserves. Having regard to the source of the surplus, the "dividend" so paid can be considered, in part at least, as a refund of part of the premium paid by the policy owner.
Life insurance policy owners of participating policies usually have four and sometimes five dividend options from which to choose:
1) take the dividend in cash,
2) apply the dividend to reduce current premiums,
3) leave the dividends on deposit with the insurance company to accumulate at interest like a savings plan,
4) use the dividends to purchase paid-up whole life insurance to mature at the same time as the original policy,
5) use the dividends to purchase one year term insurance equal to the guaranteed cash value at the end of the policy year, with any portion of the dividend not required for this purpose being applied under one of the other dividend options.
NOTE: It is suggested here that if you have a participating whole life policy and at the time of purchase received a "dividend projection" of incredible future savings, ask for a current projection. Life insurance company's surpluses are not what they used to be.


---
International Depository Receipt (IDR)
A receipt issued by a bank as evidence of ownership of one or more
shares of the underlying stock of a foreign corporation that the bank holds in trust. The advantage of the IDR
structure is that the corporation does not have to comply with all the regulatory issuing requirements of the
foreign country where the stock is to be traded. The U.S. version of the IDR is the American Depository
Receipt (ADR).


---
Outstanding share capital
issued share capital less the par value of shares that are held in the company's treasury.


---
qualified investments (Canada)
Qualified investments is the term used for investments that can be held in an RSP. These investments generally include:
Canadian dollar savings accounts, guaranteed investment certificates, term deposits
shares of Canadian and foreign companies listed on a prescribed stock exchange
shares of some over-the-counter U.S. and Canadian companies
shares of some small businesses
certain types of bonds and money-market investments such as treasury bills, Canada Savings Bonds, Government of Canada bonds, provincial government bonds, Crown Corporation bonds, bonds issued by Canadian corporations listed on a prescribed stock exchange, and certain strip bonds
certain types of mortgages, including your own
certain covered call options, warrants and rights
certain mutual funds


---
Related to : financial, finance, business, accounting, payroll, inventory, investment, money, inventory control, stock trading, financial advisor, tax advisor, credit.