Definition of Issue

Issue
A particular financial asset.


---
Issue
When an item is approved and released for sale, or when a policy or sales contract is accepted.


---
Related Terms:
Related:Benchmark issues.


---
Also called on-the-run or current coupon issues or bellwether issues. In the secondary
market, it's the most recently auctioned Treasury issues for each maturity.


---
The acceptable Treasury security with the highest implied repo rate; the rate that a
seller of a futures contract can earn by buying an issue and then delivering it at the settlement date.


---
Related: Benchmark issues


---
In Treasury securities, the most recently auctioned issue. Trading is more active in current
issues than in off-the-run issues.


---
Eurobonds that pay coupon interest in one currency but pay the principal in a different
currency.


---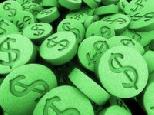 A special committee of the Financial Accounting Standards Board established to reach consensus of how to account for new and unusual financial transactions that have the potential for creating differing financial reporting practices.


---
A separate committee within the Financial Accounting Standards Board composed of 13 members representing CPA firms and preparers of financial statements
whose purpose is to reach a consensus on how to account for new and unusual financial transactions
that have the potential for creating differing financial reporting practices.


---
Securities sold in the Euromarket. That is, securities initially sold to investors
simultaneously in several national markets by an international syndicate. Euromarket.
Related: external market


---
A transaction used to record the reduction in inventory from a location,
because of its release for processing or transfer to another location.


---
Age of an insured as at the policy issue date, using "age nearest" next birthday formula.


---
The date a security is first offered for sale. That date usually
determines when interest payments, known as coupons, are made.


---
Date on which a policy is approved.


---
Total amount of shares that are in issue. Related: outstanding shares.


---
The number of shares that the company has sold to the public.


---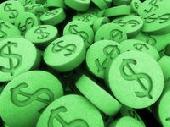 issued shares
Shares that have been issued by the company.


---
Issuer
An entity that issues a financial asset.


---
Multiple-issuer pools
Under the GNMA-II program, pools formed through the aggregation of individual
issuers' loan packages.


---
New-issues market
The market in which a new issue of securities is first sold to investors.


---
Original issue discount debt (OID debt)
Debt that is initially offered at a price below par.


---
Oversubscribed issue
Investors are not able to buy all of the shares or bonds they want, so underwriters must
allocate the shares or bonds among investors. This occurs when a new issue is underpriced or in great demand
because of growth prospects.


---
Presold issue An issue
that is sold out before the coupon announcement.


---
Reopen an issue
The Treasury, when it wants to sell additional securities, will occasionally sell more of an
existing issue (reopen it) rather than offer a new issue.


---
rights issue
issue of securities offered only to current stockholders.


---
Seasoned issue
issue of a security for which there is an existing market. Related: Unseasoned issue.


---
Seasoned new issue
A new issue of stock after the company's securities have previously been issued. A
seasoned new issue of common stock can be made by using a cash offer or a rights offer.


---
Secondary issue
1) Procedure for selling blocks of seasoned issues of stocks.
2) More generally, sale of already issued stock.


---
Small issues exemption
Securities issues that involve less than $1.5 million are not required to file a
registration statement with the SEC. Instead, they are governed by Regulation A, for which only a brief
offering statement is needed.


---
Specific issues market
The market in which dealers reverse in securities they wish to short.


---
Unissued stock
Stock that has been authorized for use, but which has not yet been
released for sale to prospective shareholders.


---
Unseasoned issue
issue of a security for which there is no existing market. See: seasoned issue.


---
Vanilla issue
A security issue that has no unusual features.


---
additional paid-in capital
Difference between issue price and par value of stock. Also called capital surplus.


---
Adjustable rate preferred stock (ARPS)
Publicly traded issues that may be collateralized by mortgages and MBSs.


---
Agency basis
A means of compensating the broker of a program trade solely on the basis of commission
established through bids submitted by various brokerage firms. agency incentive arrangement. A means of
compensating the broker of a program trade using benchmark prices for issues to be traded in determining
commissions or fees.


---
All-or-none underwriting
An arrangement whereby a security issue is canceled if the underwriter is unable
to re-sell the entire issue.


---
American Depositary Receipts (ADRs)
Certificates issued by a U.S. depositary bank, representing foreign
shares held by the bank, usually by a branch or correspondent in the country of issue. One ADR may
represent a portion of a foreign share, one share or a bundle of shares of a foreign corporation. If the ADR's
are "sponsored," the corporation provides financial information and other assistance to the bank and may
subsidize the administration of the ADRs. "Unsponsored" ADRs do not receive such assistance. ADRs carry
the same currency, political and economic risks as the underlying foreign share; the prices of the two, adjusted for the SDR/ordinary ratio, are kept essentially identical by arbitrage. American depositary shares(ADSs) are
a similar form of certification.


---
American shares
Securities certificates issued in the U.S. by a transfer agent acting on behalf of the foreign
issuer. The certificates represent claims to foreign equities.


---
Annual report
A report issued to a company's shareholders, creditors, and regulatory
organizations at the end of its fiscal year. It typically contains at least an income
statement, balance sheet, statement of cash flows, and accompanying footnotes. It
may also contain management comments, an audit report, and other supporting
schedules that may be required by regulatory organizations.


---
Application
A signed statement of facts made by a person applying for life insurance and then used by the insurance company to decide whether or not to issue a policy. The application becomes part of the insurance contract when the policy is issued.


---
Arms index
Also known as a trading index (TRIN)= (number of advancing issues)/ (number of declining
issues) (Total up volume )/ (total down volume). An advance/decline market indicator. Less than 1.0 indicates
bullish demand, while above 1.0 is bearish. The index often is smoothed with a simple moving average.


---
authorized share capital
Maximum number of shares that the company is permitted to issue, as specified in the firm's articles of incorporation.


---
Back To Back Annuity
This term refers to the simultaneous issue of a life annuity with a non-guaranteed period and a guaranteed life insurance policy [usually whole life or term to 100]. The face value of the life insurance would be the same amount that was used to purchase the annuity. This combination of life annuity providing the highest payout of all types of annuities, along with a guaranteed life insurance policy allowed an uninsurable person to convert his/her RRSP into the best choice of annuity and guarantee that upon his/her death, the full value of the annuity would be paid tax free through the life insurance policy to his family members. However, in the early 1990's, the Federal tax authorities put a stop to the issuing of standard life rates to rated or uninsurable applicants. Insuring a life annuity in this manner is still an excellent way to provide guaranteed tax free funds to family members but the application for the annuity and the application for the life insurance are separate transactions and today, most likely conducted through two different insurance companies so that there is no suspicion of preferential treatment given to the life insurance application.


---
Backdating
A procedure for making the effective date of a policy earlier than the application date. Backdating is often used to make the age of the consumer at policy issue lower than it actually was in order to get a lower premium.


---
BAN (Bank anticipation notes)
Notes issued by states and municipalities to obtain interim financing for
projects that will eventually be funded long term through the sale of a bond issue.


---
bank draft
A guaranteed form of payment which is issued in amounts over $5,000.


---
basic earnings per share (EPS)
This important ratio equals the net
income for a period (usually one year) divided by the number capital
stock shares issued by a business corporation. This ratio is so important
for publicly owned business corporations that it is included in the daily
stock trading tables published by the Wall Street Journal, the New York
Times, and other major newspapers. Despite being a rather straightforward
concept, there are several technical problems in calculating
earnings per share. Actually, two EPS ratios are needed for many businesses—
basic EPS, which uses the actual number of capital shares outstanding,
and diluted EPS, which takes into account additional shares of
stock that may be issued for stock options granted by a business and
other stock shares that a business is obligated to issue in the future.
Also, many businesses report not one but two net income figures—one
before extraordinary gains and losses were recorded in the period and a
second after deducting these nonrecurring gains and losses. Many business
corporations issue more than one class of capital stock, which
makes the calculation of their earnings per share even more complicated.


---
Bearer bond
Bonds that are not registered on the books of the issuer. Such bonds are held in physical form by
the owner, who receives interest payments by physically detaching coupons from the bond certificate and
delivering them to the paying agent.


---
Benchmark interest rate
Also called the base interest rate, it is the minimum interest rate investors will
demand for investing in a non-Treasury security. It is also tied to the yield to maturity offered on a
comparable-maturity Treasury security that was most recently issued ("on-the-run").


---
Best-efforts sale
A method of securities distribution/ underwriting in which the securities firm agrees to sell
as much of the offering as possible and return any unsold shares to the issuer. As opposed to a guaranteed or
fixed price sale, where the underwriter agrees to sell a specific number of shares (with the securities firm
holding any unsold shares in its own account if necessary).


---
Blue-sky laws
State laws covering the issue and trading of securities.


---
Bond
Bonds are debt and are issued for a period of more than one year. The U.S. government, local
governments, water districts, companies and many other types of institutions sell bonds. When an investor
buys bonds, he or she is lending money. The seller of the bond agrees to repay the principal amount of the
loan at a specified time. Interest-bearing bonds pay interest periodically.


---
Bond
A long-term debt instrument in which the issuer (borrower) is
obligated to pay the investor (lender) a specified amount of
money, usually at specific intervals, and to repay the principal
amount of the loan at maturity. The periodic payments are based
on the rate of interest agreed upon at the time the instrument is
sold.


---
bond
Security that obligates the issuer to make specified payments
to the bondholder.


---
Bond
Usually a fixed interest security under which the issuer contracts to pay the lender a fixed principal amount at a stated date in the future, and a series of interest payments, either semi-annually or annually. Interest payments may vary through the life of bond.


---
bond
A debt security issued by a government or company. You receive regular interest payments at specified rates while you hold the bond and you receive the face value when it matures. Short-term bonds mature in less than five years; medium-term bonds mature in six to ten years; and long-term bonds mature in eleven years or greater.


---
Bond
Fixed interest security issued by a corporation or government, having a specific maturity date.


---
Bond indenture
The contract that sets forth the promises of a corporate bond issuer and the rights of
investors.


---
Book runner
The managing underwriter for a new issue. The book runner maintains the book of securities sold.


---
Bought deal
Security issue where one or two underwriters buy the entire issue.


---
Bracket
A term signifying the extent an underwriter's commitment in a new issue, e.g., major bracket or
minor bracket.


---
Brady bonds
Bonds issued by emerging countries under a debt reduction plan.


---
Bull-bear bond
Bond whose principal repayment is linked to the price of another security. The bonds are
issued in two tranches: in the first tranche repayment increases with the price of the other security, and in the
second tranche repayment decreases with the price of the other security.


---
Bulldog bond
Foreign bond issue made in London.


---
Business risk
The risk that the cash flow of an issuer will be impaired because of adverse economic
conditions, making it difficult for the issuer to meet its operating expenses.


---
Calendar
List of new issues scheduled to come to market shortly.


---
Call
a. An option to buy a certain quantity of a stock or commodity for a
specified price within a specified time. See Put.
b. A demand to submit bonds to the issuer for redemption before the maturity date.
c. A demand for payment of a debt.
d. A demand for payment due on stock bought on margin.


---
Call date
A date before maturity, specified at issuance, when the issuer of a bond may retire part of the bond
for a specified call price.


---
Call price
The price, specified at issuance, at which the issuer of a bond may retire part of the bond at a
specified call date.


---
Call provision
An embedded option granting a bond issuer the right to buy back all or part of the issue prior
to maturity.


---
Callable
A financial security such as a bond with a call option attached to it, i.e., the issuer has the right to
call the security.


---
Callable bond
A bond that allows the issuer to buy back the bond at a
predetermined price at specified future dates. The bond contains an embedded
call option; i.e., the holder has sold a call option to the issuer. See Puttable
bond.


---
callable bond
Bond that may be repurchased by the issuer before maturity at specified call price.


---
Canada Savings Bonds
A bond issued each year by the federal government. These bonds can be cashed in at any time for their full face value.


---
capital stock
Ownership shares issued by a business corporation. A business
corporation may issue more than one class of capital stock shares.
One class may give voting privileges in the election of the directors of the
corporation while the other class does not. One class (called preferred
stock) may entitle a certain amount of dividends per share before cash
dividends can be paid on the other class (usually called common stock).
Stock shares may have a minimum value at which they have to be issued
(called the par value), or stock shares can be issued for any amount
(called no-par stock). Stock shares may be traded on public markets such
as the New York Stock Exchange or over the Nasdaq network. There are
about 10,000 stocks traded on public markets (although estimates vary
on this number). In this regard, I find it very interesting that there are
more than 8,000 mutual funds that invest in stocks.


---
capital structure, or capitalization
Terms that refer to the combination of
capital sources that a business has tapped for investing in its assets—in
particular, the mix of its interest-bearing debt and its owners' equity. In a
more sweeping sense, the terms also include appendages and other features
of the basic debt and equity instruments of a business. Such things
as stock options, stock warrants, and convertible features of preferred
stock and notes payable are included in the more inclusive sense of the
terms, as well as any debt-based and equity-based financial derivatives
issued by the business.


---
Capitalization
The total amount of debt and equity issued by a company.


---
Cash offer
A public equity issue that is sold to all interested investors.


---
Certificate of deposit (CD)
Also called a time deposit, this is a certificate issued by a bank or thrift that
indicates a specified sum of money has been deposited. A CD bears a maturity date and a specified interest
rate, and can be issued in any denomination. The duration can be up to five years.


---
Circle
Underwriters, actual or potential, often seek out and "circle" investor interest in a new issue before
final pricing. The customer circled basically made a commitment to purchase the issue if it comes at an
agreed-upon price. In the latter case, if the price is other than that stipulated, the customer supposedly has first
offer at the actual price.


---
Closed-end mortgage
Mortgage against which no additional debt may be issued.


---
Collateral trust bonds
A bond in which the issuer (often a holding company) grants investors a lien on
stocks, notes, bonds, or other financial asset as security. Compare mortgage bond.


---
Comanger
A bank that ranks just below a lead manager in a syndicated Eurocredit or international bond
issue. Comanagers may assist the lead manger bank in the pricing and issue of the instrument.


---
Commercial paper
Short-term unsecured promissory notes issued by a corporation. The maturity of
commercial paper is typically less than 270 days; the most common maturity range is 30 to 50 days or less.


---
commercial paper
Short-term unsecured notes issued by firms.


---
Common stock equivalent
A convertible security that is traded like an equity issue because the optioned
common stock is trading high.


---
Competitive bidding
A securities offering process in which securities firms submit competing bids to the
issuer for the securities the issuer wishes to sell.


---
Confirmation
he written statement that follows any "trade" in the securities markets. Confirmation is issued
immediately after a trade is executed. It spells out settlement date, terms, commission, etc.


---
Consol
A type of bond that has an infinite life but is not issued in the U.S. capital markets.


---
Conversion factors
Rules set by the Chicago Board of Trade for determining the invoice price of each
acceptable deliverable Treasury issue against the Treasury Bond futures contract.


---
Conversion premium
The percentage by which the conversion price in a convertible security exceeds the
prevailing common stock price at the time the convertible security is issued.


---
Convertible exchangeable preferred stock
Convertible preferred stock that may be exchanged, at the
issuer's option, into convertible bonds that have the same conversion features as the convertible preferred
stock.


---
Corporate bonds
Debt obligations issued by corporations.


---
Cost Accounting Standards Board (CASB)
a body established by Congress in 1970 to promulgate cost accounting
standards for defense contractors and federal agencies; disbanded
in 1980 and reestablished in 1988; it previously issued
pronouncements still carry the weight of law for those
organizations within its jurisdiction


---
Coupon / Coupons
The periodic interest payment(s) made by the issuer of a bond
(debt security). Calculated by multiplying the face value of the
security by the coupon rate.


---
Coupon rate
The nominal interest rate that the issuer promises to pay the
buyer of a bond.


---
Covenants
Provisions in a bond indenture or preferred stock agreement that require the bond or preferred
stock issuer to take certain specified actions (affirmative covenants) or to refrain from taking certain specified
actions (negative covenants).


---
Credit analysis
The process of analyzing information on companies and bond issues in order to estimate the
ability of the issuer to live up to its future contractual obligations. Related: default risk


---
Related to : financial, finance, business, accounting, payroll, inventory, investment, money, inventory control, stock trading, financial advisor, tax advisor, credit.