Definition of Import Quota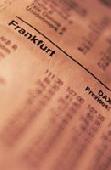 Import Quota
Restriction on the quantity of a foreign good that can be imported.


---
Related Terms:
Policy of tariffs or import quotas to protect domestic producers from foreign competition.


---
See import quota.


---
The U.S. federal government agency that extends trade credits to U.S.
companies to facilitate the financing of U.S. exports.


---
A development strategy followed by many Latin American
countries and other LDCs that emphasized import substitution - accomplished through protectionism - as the
route to economic growth.


---
The bid and offered prices a dealer is willing to buy or sell at.


---
Foreign-produced good or service bought by us.


---
Fraction of an increase in disposable income that is spent on imports.


---

Protecting domestic industry from import competition by means of tariffs, quotas, and other
trade barriers.


---
The absence of any government restrictions, such as tariffs or quotas, on imports or exports.


---
Related to : financial, finance, business, accounting, payroll, inventory, investment, money, inventory control, stock trading, financial advisor, tax advisor, credit.