Definition of Hedging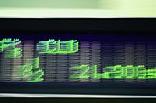 Hedging
A strategy designed to reduce investment risk using call options, put options, short selling, or futures
contracts. A hedge can help lock in existing profits. Its purpose is to reduce the volatility of a portfolio, by
reducing the risk of loss.


---
Hedging
Reducing one's exposure to risk by buying and selling contracts for future delivery (of foreign currency, for example) at a price that is determined now.


---
Related Terms:
The practice of hedging with a futures contract that is different from the underlying being
hedged.


---
A strategy that involves rebalancing hedge positions as market conditions change; a
strategy that seeks to insure the value of a portfolio using a synthetic put option.


---
Demands for securities to hedge particular sources of consumption risk, beyond the usual
mean-variance diversification motivation.


---
The uncertainty about the basis at the time a hedge may be lifted. hedging substitutes basis risk for
price risk.


---
A dynamic hedging strategy using options with continuous adjustment of the number of options
used, as a function of the delta of the option.


---
A method for hedging price risk which involves an agreement between a lender and an investor
to sell particular kinds of loans at a specified price and future time.


---

The ratio of volatility of the portfolio to be hedged and the return of the volatility of the
hedging instrument.


---
A method for hedging price risk that utilizes debt-market instruments, such as interest rate
futures, or that involves selling borrowed securities as the primary assets.


---
The relationship between the yields on fixed-interest
securities and their maturity dates. Expectation of changes in interest rates
affects term structure, as do liquidity preferences and hedging pressure. A
yield curve is one representation in the term structure.


---
Related to : financial, finance, business, accounting, payroll, inventory, investment, money, inventory control, stock trading, financial advisor, tax advisor, credit.