Definition of growth funds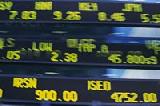 growth funds
Mutual funds that seek long-term capital growth. This type of fund invests primarily in equity securities.


---
Related Terms:
Mutual funds that do not charge an upfront or back-end commission, but instead take out up to
1.25% of average daily fund assets each year to cover the costs of selling and marketing shares, an
arrangement allowed by the SEC's Rule 12b-I (passed in 1980).


---
The beta of a fund is determined as follows:
[(n) (sum of (xy)) ]-[ (sum of x) (sum of y)]
[(n) (sum of (xx)) ]-[ (sum of x) (sum of x)]
where: n = # of observations (36 months)
x = rate of return for the S&P 500 Index
y = rate of return for the fund


---
The measure of a fund's or stocks risk in relation to the market. A beta of 0.7 means
the fund's total return is likely to move up or down 70% of the market change; 1.3 means total return is likely
to move up or down 30% more than the market. Beta is referred to as an index of the systematic risk due to
general market conditions that cannot be diversified away.


---
Version of the dividend discount model in which dividends grow at a constant rate.


---
Also called the Gordon-Shapiro model, an application of the dividend discount
model which assumes (1) a fixed growth rate for future dividends and (2) a single discount rate.


---
Interest rate associated with borrowing money.


---
Times in a company's history when growth is essential and without which survival of the business might be in jeopardy.


---

a method of computing the cost
of common stock equity that indicates the rate of return
that common shareholders expect to earn in the form of
dividends on a company's common stock


---
A model wherein dividends are assumed to be at a constant rate in perpetuity.


---
Indicated yield represents return on a share of a mutual fund held over the past 12
months. Assumes fund was purchased 1 year ago. Reflects effect of sales charges (at current rates), but not
redemption charges.


---
funds which are electronically credited to your account (e.g. direct deposit), or electronically debited from your account on an ongoing basis (e.g. a pre-authorized monthly bill payment, or a monthly loan or mortgage payment). A wire transfer is a form of EFT.


---
Investment funds established for the support of institutions such as colleges, private
schools, museums, hospitals, and foundations. The investment income may be used for the operation of the
institution and for capital expenditures.


---
Non-interest bearing deposits held in reserve for depository institutions at their district Federal
Reserve Bank. Also, excess reserves lent by banks to each other.


---
The market where banks can borrow or lend reserves, allowing banks temporarily
short of their required reserves to borrow reserves from banks that have excess reserves.


---
This is the interest rate that banks with excess reserves at a Federal Reserve district bank
charge other banks that need overnight loans. The Fed funds rate, as it is called, often points to the direction
of U.S. interest rates.


---
Federal Funds Rate
The interest rate at which banks lend deposits at the Federal Reserve to one another overnight.


---
Forward Fed funds
Fed funds traded for future delivery.


---
Funds From Operations (FFO)
Used by real estate and other investment trusts to define the cash flow from
trust operations. It is earnings with depreciation and amortization added back. A similar term increasingly
used is funds Available for Distribution (FAD), which is FFO less capital investments in trust property and
the amortization of mortgages.


---
Growth manager
A money manager who seeks to buy stocks that are typically selling at relatively high P/E
ratios due to high earnings growth, with the expectation of continued high or higher earnings growth.


---
Growth opportunity
Opportunity to invest in profitable projects.


---
Growth phase
A phase of development in which a company experiences rapid earnings growth as it produces
new products and expands market share.


---
growth rate
an estimate of the increase expected in dividends
(or in market value) per share of stock


---
Growth rates
Compound annual growth rate for the number of full fiscal years shown. If there is a negative
or zero value for the first or last year, the growth is NM (not meaningful).


---
Growth stock
Common stock of a company that has an opportunity to invest money and earn more than the
opportunity cost of capital.


---
income funds
Mutual funds that seek regular income. This type of fund invests primarily in government, corporate and other types of bonds, debt securities, and other income producing securities and in certain circumstances can also hold common and preferred shares.


---
index funds
Mutual funds that aim to track the performance of a specific stock or bond index. This process is also referred to as indexing and passive management.


---
Internal growth rate
Maximum rate a firm can expand without outside source of funding. growth generated
by cash flows retained by company.


---
internal growth rate
Maximum rate of growth without external financing.


---
internally generated funds
Cash reinvested in the firm; depreciation plus earnings not paid out as dividends.


---
Labour-Sponsored Venture Funds
Venture capital corporations established by labour unions. They function as other venture capital corporations but are subject to government regulation.


---
Net present value of growth opportunities
A model valuing a firm in which net present value of new
investment opportunities is explicitly examined.


---
NSF (non-sufficient funds)
This appears on your statement if there are insufficient funds in your account to cover a cheque that you have written or a pre-authorized payment that you have already arranged. You will be charged a service fee for non-sufficient funds.


---
Present value of growth opportunities (NPV)
Net present value of investments the firm is expected to make
in the future.


---
present value of growth opportunities (PVGO)
Net present value of a firm's future investments.


---
savings funds
Mutual funds that seek to preserve capital. This type of fund invests primarily in short-term securities with an average term to maturity of one year or less, or in the case of money market funds, 90 days or less.


---
Shareholders' funds
The capital invested in a business by the shareholders, including retained profits.


---
Simple compound growth method
A method of calculating the growth rate by relating the terminal value to
the initial value and assuming a constant percentage annual rate of growth between these two values.


---
Surplus funds
Cash flow available after payment of taxes in the project.


---
Sustainable growth rate
Maximum rate of growth a firm can sustain without increasing financial leverage.


---
sustainable growth rate
Steady rate at which a firm can grow without changing leverage; plowback ratio × return on equity.


---
Term Fed Funds
Fed funds sold for a period of time longer than overnight.


---
Insured Retirement Plan
This is a recently coined phrase describing the concept of using Universal Life Insurance to tax shelter earnings which can be used to generate tax-free income in retirement. The concept has been described by some as "the most effective tax-neutralization strategy that exists in Canada today."
In addition to life insurance, a Universal Life Policy includes a tax-sheltered cash value fund that cannot exceed the policy's face value. Deposits made into the policy are partially used to fund the life insurance and partially grow tax sheltered inside the policy. It should be pointed out that in order for this to work, you must make deposits into this kind of policy well in excess of the cost of the underlying insurance. Investment of the cash value inside the policy are commonly mutual fund type investments. Upon retirement, the policy owner can draw on the accumulated capital in his/her policy by using the policy as collateral for a series of demand loans at the bank. The loans are structured so the sum of money borrowed plus interest never exceeds 75% of the accumulated investment account. The loans are only repaid with the tax free death benefit at the death of the policy holder. Any remaining funds are paid out tax free to named beneficiaries.
Recognizing the value to policy holders of this use of Universal Life Insurance, insurance companies are reworking features of their products to allow the policy holder to ask to have the relationship of insurance to investment growth tracked so that investment growth inside the policy may be maximized. The only potential downside of this strategy is the possibility of the government changing the tax rules to prohibit using a life insurance product in this manner.


---
Turnover
Mutual funds: A measure of trading activity during the previous year, expressed as a percentage of
the average total assets of the fund. A turnover ratio of 25% means that the value of trades represented onefourth
of the assets of the fund. Finance: The number of times a given asset, such as inventory, is replaced
during the accounting period, usually a year. Corporate: The ratio of annual sales to net worth, representing
the extent to which a company can growth without outside capital. Markets: The volume of shares traded as a
percent of total shares listed during a specified period, usually a day or a year. Great Britain: total revenue.


---
Related to : financial, finance, business, accounting, payroll, inventory, investment, money, inventory control, stock trading, financial advisor, tax advisor, credit.