Definition of Gamma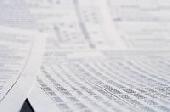 Gamma
The rate of change of delta for a derivative security relative to the
price of the underlying asset; i.e., the second derivative of the option price
relative to the security price.


---
Gamma
The ratio of a change in the option delta to a small change in the price of the asset on which the
option is written.


---
Related Terms:
Collectively, "greeks" refer to the financial measures delta, gamma,
lambda, rho, theta, and vega, which are sensitivity measures used in
evaluating derivatives.


---
the rate of return on investment that would be required by a prudent investor to invest in an asset with a specific level risk. Also, a rate of return used to convert a monetary sum, payable or receivable in the future, into present value.


---
The option of terminating an investment earlier than originally planned.


---
Schedule of depreciation rates allowed for tax purposes.


---
Any depreciation method that produces larger deductions for depreciation in the
early years of a project's life. Accelerated cost recovery system (ACRS), which is a depreciation schedule
allowed for tax purposes, is one such example.


---
Also called the quick ratio, the ratio of current assets minus inventories, accruals, and prepaid
items to current liabilities.


---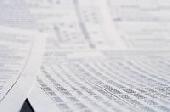 A merger or consolidation in which an acquirer purchases the selling firm's assets.


---
A strategy that uses available information and forecasting techniques to seek a
better performance than a portfolio that is simply diversified broadly. Related: passive portfolio strategy


---
Publicly traded issues that may be collateralized by mortgages and MBSs.


---
Money after-tax rate of return minus the inflation rate.


---
The discount rate that reflects only the business risks of a project and abstracts from the
effects of financing.


---
An option that may be exercised at any time up to and including the expiration date.
Related: European option


---
The second-largest stock exchange in the United States. It trades
mostly in small-to medium-sized companies.


---
An option contract that can be exercised at any time between the date of purchase and
the expiration date. Most exchange-traded options are American style.


---
Swap in which the principal or national amount rises (falls) as interest rates
rise (decline).


---

Annual percentage rate (APR)
The periodic rate times the number of periods in a year. For example, a 5%
quarterly return has an APR of 20%.


---
Appraisal ratio
The signal-to-noise ratio of an analyst's forecasts. The ratio of alpha to residual standard
deviation.


---
Arbitrage-free option-pricing models
Yield curve option-pricing models.


---
Arithmetic average (mean) rate of return
Arithmetic mean return.


---
Arm's length price
The price at which a willing buyer and a willing unrelated seller would freely agree to
transact.


---
Articles of incorporation
Legal document establishing a corporation and its structure and purpose.


---
Asian option
option based on the average price of the asset during the life of the option.


---
Ask price
A dealer's price to sell a security; also called the offer price.


---
Asset
Any possession that has value in an exchange.


---
Asset/equity ratio
The ratio of total assets to stockholder equity.


---
Asset/liability management
Also called surplus management, the task of managing funds of a financial
institution to accomplish the two goals of a financial institution:
1) to earn an adequate return on funds invested, and
2) to maintain a comfortable surplus of assets beyond liabilities.


---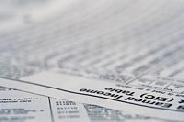 Asset activity ratios
ratios that measure how effectively the firm is managing its assets.


---
Asset allocation decision
The decision regarding how an institution's funds should be distributed among the
major classes of assets in which it may invest.


---
Asset-backed security
A security that is collateralized by loans, leases, receivables, or installment contracts
on personal property, not real estate.


---
Asset-based financing
Methods of financing in which lenders and equity investors look principally to the
cash flow from a particular asset or set of assets for a return on, and the return of, their financing.


---
Asset classes
Categories of assets, such as stocks, bonds, real estate and foreign securities.


---
Asset-coverage test
A bond indenture restriction that permits additional borrowing on if the ratio of assets to
debt does not fall below a specified minimum.


---
Asset for asset swap
Creditors exchange the debt of one defaulting borrower for the debt of another
defaulting borrower.


---
Asset pricing model
A model for determining the required rate of return on an asset.


---
Asset substitution
A firm's investing in assets that are riskier than those that the debtholders expected.


---
Asset substitution problem
Arises when the stockholders substitute riskier assets for the firm's existing
assets and expropriate value from the debtholders.


---
Asset swap
An interest rate swap used to alter the cash flow characteristics of an institution's assets so as to
provide a better match with its iabilities.


---
Asset turnover
The ratio of net sales to total assets.


---
Asset pricing model
A model, such as the Capital asset Pricing Model (CAPM), that determines the required
rate of return on a particular asset.


---
Assets
A firm's productive resources.


---
Assets requirements
A common element of a financial plan that describes projected capital spending and the
proposed uses of net working capital.


---
Auction rate preferred stock (ARPS)
Floating rate preferred stock, the dividend on which is adjusted every
seven weeks through a Dutch auction.


---
Average (across-day) measures
An estimation of price that uses the average or representative price of a
large number of trades.


---
Average rate of return (ARR)
The ratio of the average cash inflow to the amount invested.


---
Average tax rate
Taxes as a fraction of income; total taxes divided by total taxable income.


---
Barbell strategy
A strategy in which the maturities of the securities included in the portfolio are concentrated
at two extremes.


---
Bargain-purchase-price option
Gives the lessee the option to purchase the asset at a price below fair market
value when the lease expires.


---
Barrier options
Contracts with trigger points that, when crossed, automatically generate buying or selling of
other options. These are very exotic options.


---
Base interest rate
Related: Benchmark interest rate.


---
Basic business strategies
Key strategies a firm intends to pursue in carrying out its business plan.


---
Basis price
price expressed in terms of yield to maturity or annual rate of return.


---
Basket options
Packages that involve the exchange of more than two currencies against a base currency at
expiration. The basket option buyer purchases the right, but not the obligation, to receive designated
currencies in exchange for a base currency, either at the prevailing spot market rate or at a prearranged rate of
exchange. A basket option is generally used by multinational corporations with multicurrency cash flows
since it is generally cheaper to buy an option on a basket of currencies than to buy individual options on each
of the currencies that make up the basket.


---
Benchmark interest rate
Also called the base interest rate, it is the minimum interest rate investors will
demand for investing in a non-Treasury security. It is also tied to the yield to maturity offered on a
comparable-maturity Treasury security that was most recently issued ("on-the-run").


---
Bid price
This is the quoted bid, or the highest price an investor is willing to pay to buy a security. Practically
speaking, this is the available price at which an investor can sell shares of stock. Related: Ask , offer.


---
Bill of exchange
General term for a document demanding payment.


---
Binomial option pricing model
An option pricing model in which the underlying asset can take on only two
possible, discrete values in the next time period for each value that it can take on in the preceding time period.


---
Black-Scholes option-pricing model
A model for pricing call options based on arbitrage arguments that uses
the stock price, the exercise price, the risk-free interest rate, the time to expiration, and the standard deviation
of the stock return.


---
Break-even payment rate
The prepayment rate of a MBS coupon that will produce the same CFY as that of
a predetermined benchmark MBS coupon. used to identify for coupons higher than the benchmark coupon
the prepayment rate that will produce the same CFY as that of the benchmark coupon; and for coupons lower
than the benchmark coupon the lowest prepayment rate that will do so.


---
Break-even tax rate
The tax rate at which a party to a prospective transaction is indifferent between entering
into and not entering into the transaction.


---
Broker loan rate
Related: Call money rate.


---
Bullet strategy
A strategy in which a portfolio is constructed so that the maturities of its securities are highly
concentrated at one point on the yield curve.


---
Buy-and-hold strategy
A passive investment strategy with no active buying and selling of stocks from the
time the portfolio is created until the end of the investment horizon.


---
Call an option
To exercise a call option.


---
Call money rate
Also called the broker loan rate , the interest rate that banks charge brokers to finance
margin loans to investors. The broker charges the investor the call money rate plus a service charge.


---
Call option
An option contract that gives its holder the right (but not the obligation) to purchase a specified
number of shares of the underlying stock at the given strike price, on or before the expiration date of the
contract.
Call premium
Premium in price above the par value of a bond or share of preferred stock that must be paid to
holders to redeem the bond or share of preferred stock before its scheduled maturity date.


---
Call price
The price, specified at issuance, at which the issuer of a bond may retire part of the bond at a
specified call date.


---
Call price
The price for which a bond can be repaid before maturity under a call provision.


---
Capital asset pricing model (CAPM)
An economic theory that describes the relationship between risk and
expected return, and serves as a model for the pricing of risky securities. The CAPM asserts that the only risk
that is priced by rational investors is systematic risk, because that risk cannot be eliminated by diversification.
The CAPM says that the expected return of a security or a portfolio is equal to the rate on a risk-free security
plus a risk premium.


---
Capital rationing
Placing one or more limits on the amount of new investment undertaken by a firm, either
by using a higher cost of capital, or by setting a maximum on parts of, and/or the entirety of, the capital
budget.


---
Capitalization ratios
Also called financial leverage ratios, these ratios compare debt to total capitalization
and thus reflect the extent to which a corporation is trading on its equity. Capitalization ratios can be
interpreted only in the context of the stability of industry and company earnings and cash flow.


---
Cash flow coverage ratio
The number of times that financial obligations (for interest, principal payments,
preferred stock dividends, and rental payments) are covered by earnings before interest, taxes, rental
payments, and depreciation.


---
Cash flow from operations
A firm's net cash inflow resulting directly from its regular operations
(disregarding extraordinary items such as the sale of fixed assets or transaction costs associated with issuing
securities), calculated as the sum of net income plus non-cash expenses that were deducted in calculating net
income.


---
Cash ratio
The proportion of a firm's assets held as cash.


---
Changes in Financial Position
Sources of funds internally provided from operations that alter a company's
cash flow position: depreciation, deferred taxes, other sources, and capital expenditures.


---
Chicago Mercantile Exchange (CME)
A not-for-profit corporation owned by its members. Its primary
functions are to provide a location for trading futures and options, collect and disseminate market information,
maintain a clearing mechanism and enforce trading rules.


---
Clean price
Bond price excluding accrued interest.


---
Combination strategy
A strategy in which a put and with the same strike price and expiration are either both
bought or both sold. Related: Straddle


---
Commodities Exchange Center (CEC)
The location of five New York futures exchanges: Commodity
Exchange, Inc. (COMEX), the New York Mercantile exchange (NYMEX), the New York Cotton Exchange,
the Coffee, Sugar and Cocoa exchange (CSC), and the New York futures exchange (NYFE). common size
statement A statement in which all items are expressed as a percentage of a base figure, useful for purposes of
analyzing trends and the changing relationship between financial statement items. For example, all items in
each year's income statement could be presented as a percentage of net sales.


---
Common stock ratios
ratios that are designed to measure the relative claims of stockholders to earnings
(cash flow per share), and equity (book value per share) of a firm.


---
Compound option
option on an option.


---
Concentration account
A single centralized account into which funds collected at regional locations
(lockboxes) are transferred.


---
Concentration services
Movement of cash from different lockbox locations into a single concentration
account from which disbursements and investments are made.


---
Conglomerate
A firm engaged in two or more unrelated businesses.


---
Conglomerate merger
A merger involving two or more firms that are in unrelated businesses.


---
Consumer Price Index (CPI)
The CPI, as it is called, measures the prices of consumer goods and services and is a
measure of the pace of U.S. inflation. The U.S.Department of Labor publishes the CPI very month.


---
Controlled foreign corporation (CFC)
A foreign corporation whose voting stock is more than 50% owned
by U.S. stockholders, each of whom owns at least 10% of the voting power.


---
Conversion parity price
Related:Market conversion price


---
Convertible price
The contractually specified price per share at which a convertible security can be
converted into shares of common stock.


---
Conversion ratio
The number of shares of common stock that the security holder will receive from
exercising the call option of a convertible security.


---
Convertible exchangeable preferred stock
Convertible preferred stock that may be exchanged, at the
issuer's option, into convertible bonds that have the same conversion features as the convertible preferred
stock.


---
Convertible preferred stock
Preferred stock that can be converted into common stock at the option of the holder.


---
Convertible security
A security that can be converted into common stock at the option of the security holder,
including convertible bonds and convertible preferred stock.


---
Corporate acquisition
The acquisition of one firm by anther firm.


---
Corporate bonds
Debt obligations issued by corporations.


---
Corporate charter
A legal document creating a corporation.


---
Corporate finance
One of the three areas of the discipline of finance. It deals with the operation of the firm
(both the investment decision and the financing decision) from that firm's point of view.


---
Corporate financial management
The application of financial principals within a corporation to create and
maintain value through decision making and proper resource management.


---
Corporate financial planning
financial planning conducted by a firm that encompasses preparation of both
long- and short-term financial plans.


---
Corporate processing float
The time that elapses between receipt of payment from a customer and the
depositing of the customer's check in the firm's bank account; the time required to process customer
payments.


---
Corporate tax view
The argument that double (corporate and individual) taxation of equity returns makes
debt a cheaper financing method.


---
Corporate taxable equivalent
rate of return required on a par bond to produce the same after-tax yield to
maturity that the premium or discount bond quoted would.


---
Related to : financial, finance, business, accounting, payroll, inventory, investment, money, inventory control, stock trading, financial advisor, tax advisor, credit.