Definition of Disability

Disability
Inability to work due to injury or sickness.


---
Related Terms:
A tax charged by selected states to maintain a disability insurance
fund, from which payments are made to employees who are unable to
work due to illness or injury.


---
Insurance that pays you an ongoing income if you become disabled and are unable to pursue employment or business activities. There are limits to how much you can receive based on your pre-disability earnings. Rates will vary based on occupational duties and length of time in a particular industry. This kind of coverage has a waiting period before you can begin collecting benefits, usually 30, 60 or 90 days. The benefit paying period also varies from 2 years to age 65. A short waiting period will cost more that a longer waiting period. As well, a long benefit paying period will cost more than a short benefit paying period.


---
Group Insurance designed to cover monthly obligations due to a borrower being unable to work due to sickness or injury.


---
This is an agreement entered into by the owners of a business to define the conditions under which the interests of each shareholder will be bought and sold. The agreement sets the value of each shareholders interest and stipulates what happens when one of the owners wishes to dispose of his/her interest during his/her lifetime as well as disposal of interest upon death or disability. Life insurance, critical illness coverage and disability insurance are major considerations to help fund this type of agreement.


---
Conditional payments may be made by an insurance company to a disability insurance claimant who has a loss of income claim against a third party who caused or contributed to their disability, however, the insurance company has a right to seek reimbursement of any payments they made to the claimant either from the third party or from any judgement or settlement received by the claimant from the third party.


---
This could be the person (broker or agent) who helps you choose the proper type of life insurance or disability insurance and the insurance company for your particular needs. This could also be the person at the insurance company's head office who reviews your application for coverage to determine whether or not the insurance company will issue a policy to you.


---
This is an option available to the applicant for life insurance which sets certain conditions under which an insurance policy will be kept in full force by the insurance company without the payment of premiums. Very specifically, a life insured would have to become totally disabled through injury or illness for a period of six months before the benefit kicks in. When it does, the insurance company retroactively pays premiums from the beginning of the disability until the time the insured is able to perform some form of regular activity. 'Totally disabled' is highlited here, because that is what is required to receive this benefit.


---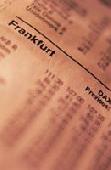 A plan that provides retirement and long term disability income benefits to residents of Canadian provinces (excluding Quebec).


---
A plan that primarily provides retirement and long-term disability income benefits for residents of Quebec.


---
A specific time that must pass following the onset of a covered disability before any benefits will be paid under a creditor disability policy. (Also known as an elimination period).


---
Related to : financial, finance, business, accounting, payroll, inventory, investment, money, inventory control, stock trading, financial advisor, tax advisor, credit.