Definition of Subrogation
Subrogation
Conditional payments may be made by an insurance company to a disability insurance claimant who has a loss of income claim against a third party who caused or contributed to their disability, however, the insurance company has a right to seek reimbursement of any payments they made to the claimant either from the third party or from any judgement or settlement received by the claimant from the third party.


---
Related Terms:
Goods may be returned to the seller by the purchaser without restrictions.


---
Provides additional financial security should an insured person be dismembered or lose the use of a limb as the result of an accident.


---
income that has been earned but not yet received. For instance, if you have a non-registered Guaranteed Investment Certificate (GIC), Mutual Fund or Segregated Equity Fund, growth accrues annually or semi-annually and is taxable annually even though the gain is only paid at maturity of your investment.


---
Cumulative gains or losses reported in shareholders'
equity that arise from changes in the fair value of available-for-sale securities, from the
effects of changes in foreign-currency exchange rates on consolidated foreign-currency financial
statements, certain gains and losses on financial derivatives, and from adjustments for underfunded
pension plans.


---
Operations Reported income from continuing operations
adjusted to remove nonrecurring items.


---
Refers to the reduction of debt by regular payments of interest and principal in order to pay off a loan by maturity.


---
A right of shareholders in a merger to demand the payment of a fair price for their shares, as
determined independently.


---
A statistical compilation formulated by a sovereign nation of all economic transactions
between residents of that nation and residents of all other nations during a stipulated period of time, usually a
calendar year.


---
The difference between the demand for and supply of a country's currency on the foreign exchange market.


---
A statement of a country's transactions with other countries.


---
An international bank headquartered in Basel, Switzerland, which
serves as a forum for monetary cooperation among several European central banks, the Bank of Japan, and the
U.S. Federal Reserve System. Founded in 1930 to handle the German payment of World War I reparations, it
now monitors and collects data on international banking activity and promulgates rules concerning
international bank regulation.


---
Gives the lessee the option to purchase the asset at a price below fair market
value when the lease expires.


---
The probability of not achieving a portfolio expected return.


---
The person or party designated to receive proceeds entitled by a benefit. Payment of a benefit is triggered by an event. In the case of credit insurance, the beneficiary will always be the creditor.


---
Large and creditworthy company.


---
Book Income
Pretax income reported on the income statement.


---

Borrower (Credit Insurance)
A consumer who borrows money from a lender.


---
Canadian Deposit Insurance Corporation
Better known as CDIC, this is an organization which insures qualifying deposits and GICs at savings institutions, mainly banks and trust companys, which belong to the CDIC for amounts up to $60,000 and for terms of up to five years. Many types of deposits are not insured, such as mortgage-backed deposits, annuities of duration of more than five years, and mutual funds.


---
Canadian Life and Health Insurance Association (CLHIA)
An association of most of the life and health insurance companies in Canada that conducts research and compiles information about the life and health insurance industry in Canada.


---
Capital loss
The difference between the net cost of a security and the net sale price, if that security is sold at a loss.


---
capital loss
The negative difference between the adjusted cost base of an investment held as a capital property and the proceeds of disposition you receive when you sell it. When you sell such an investment for less than you paid, you incur a capital loss.


---
Capitalized Cost An expenditure or accrual that is reported as an asset to be amortized against
future-period revenue.


---
Cash Flow–to–Income Ratio (CFI)
Adjusted cash flow provided by continuing operations
divided by adjusted income from continuing operations.


---
Cash settlement contracts
Futures contracts, such as stock index futures, that settle for cash, not involving
the delivery of the underlying.


---
Child Insurance Rider (CIR)
insurance or insurability provided on current or future children of insured.


---
Claim
Request for payment of benefits under the terms of an insurance policy.


---
Claim dilution
A reduction in the likelihood one or more of the firm's claimants will be fully repaid,
including time value of money considerations.


---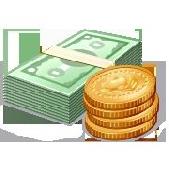 Claimant
A party to an explicit or implicit contract.


---
Claimant
Person or party making request for payment of benefits under the terms of an insurance policy.


---
Clearing House Automated Payments System (CHAPS)
A computerized clearing system for sterling funds
that began operations in 1984. It includes 14 member banks, nearly 450 participating banks, and is one of the
clearing companies within the structure of the Association for Payment Clearing Services (APACS).


---
Clearing House Interbank Payments System (CHIPS)
An international wire transfer system for high-value
payments operated by a group of major banks.


---
Closing purchase
A transaction in which the purchaser's intention is to reduce or eliminate a short position in
a stock, or in a given series of options.


---
Co-insurance
In medical insurance, the insured person and the insurer sometimes share the cost of services under a policy in a specified ratio, for example 80% by the insurer and 20% by the insured. By this means, the cost of coverage to the insured is reduced.


---
Coinsurance effect
Refers to the fact that the merger of two firms decreases the probability of default on
either firm's debt.


---
Commercial Business Loan (Credit Insurance)
An agreement between a creditor and a borrower, where the creditor has loaned an amount to the borrower for business purposes.


---
common-size income statement
income statement that presents items as a percentage of revenues.


---
Company Acquisitions
Assets acquired to create money. May include plant, machinery and equipment, shares of another company etc.


---
company cost of capital
Expected rate of return demanded by investors in a company, determined by the average risk of the company's assets and operations.


---
Company-specific risk
Related: Unsystematic risk


---
Companyspecific Risk
See asset-specific risk


---
Conditional Buyer
One of two parties to a Conditional sale agreement, the other being the Conditional seller.


---
Conditional Sale
A type of agreement to sell whereby a seller retains title to goods sold and delivered to a purchaser until full payment has been made.


---
Conditional Sale Agreement
An agreement entered into between a Conditional buyer and a Conditional seller setting out the terms under which goods change hands.


---
Conditional sales contracts
Similar to equipment trust certificates except that the lender is either the
equipment manufacturer or a bank or finance company to whom the manufacturer has sold the Conditional
sales contract.


---
Conditional Seller
One of two parties to a Conditional sale agreement, the other being the Conditional buyer.


---
Contingent claim
A claim that can be made only if one or more specified outcomes occur.


---
continuous loss
any reduction in units that occurs uniformly
throughout a production process


---
Contributed capital
The amount put into the business by the owners by purchasing stock and by paying more than the par value for the stock (additional paid-in capital or capital in excess of par).


---
Conversion Right
Term life insurance products are offered as non-convertible or convertible to a certain time in the future. The coversion right has a time limit, usually to the policy holder's age 60 or possibly even age 70. This right means that the policy holder has the right to convert their existing policy to another specific different plan of permanent insurance within the specified time period, without providing evidence of insurability. There is a slightly higher cost for a term policy with the conversion priviledge but it is a valuable feature should a policy holder's health change for the worst and continued insurance coverage becomes a necessity.
Most often this right is also granted to individuals covered under employee group benefit policies where individuals leaving the employee group have a limited amount of time, usually anywhere from 30 to 90 days, to convert to a specific permanent individual policy without evidence of insurability.


---
Cost company arrangement
Arrangement whereby the shareholders of a project receive output free of
charge but agree to pay all operating and financing charges of the project.


---
Cost of Insurance
The cost of insuring a particular individual under the policy. It is based on the amount of coverage, as well as the underwriting class, age, sex and tobacco consumption of that individual.


---
Counterparty Party
on the other side of a trade or transaction.


---
Counterparty risk
The risk that the other party to an agreement will default. In an options contract, the risk
to the option buyer that the option writer will not buy or sell the underlying as agreed.
Country economic risk Developments in a national economy that can affect the outcome of an international
financial transaction.


---
Coupon payments
A bond's interest payments.


---
Credit Loss
A loan receivable that has proven uncollectible and is written off.


---
Creditor (Credit Insurance)
A lender or lending institution that offers financing and loans to a borrower, for the purpose of acquiring a commodity.


---
Critical Illness Insurance
Coverage that provides a lump-sum payment should you be diagnosed with a critical illness and survive a pre-determined period of time. There are no restrictions on how you use your benefit.


---
Critical Illness Insurance (Credit Insurance)
Coverage that provides a lump-sum payment should you become seriously ill with a specified illness. The payment is made to your creditors to pay off your debt owing.


---
Cum rights
With rights.


---
Current Income Tax Expense
That portion of the total income tax provision that is based on
taxable income.


---
Dead Peasants Insurance
Also known as "Dead Janitors insurance", this is the practice, where allowed, in several U.S. states, of numerous well known large American Corporations taking out corporate owned life insurance policies on millions of their regular employees, often without the knowledge or consent of those employees. Corporations profiting from the deaths of their employees [and sometimes ex-employees] have attracted adverse publicity because ultimate death benefits are seldom, even partially passed down to surviving families.


---
Debt (Credit Insurance)
Money, goods or services that someone is obligated to pay someone else in accordance with an expressed or implied agreement. Debt may or may not be secured.


---
Deferred Income Tax Expense
That portion of the total income tax provision that is the result
of current-period originations and reversals of temporary differences.


---
Depository Trust Company (DTC)
DTC is a user-owned securities depository which accepts deposits of
eligible securities for custody, executes book-entry deliveries and records book-entry pledges of securities in
its custody, and provides for withdrawals of securities from its custody.


---
Direct stock-purchase programs
The purchase by investors of securities directly from the issuer.


---
Disability
Inability to work due to injury or sickness.


---
Disability Insurance
insurance that pays you an ongoing income if you become disabled and are unable to pursue employment or business activities. There are limits to how much you can receive based on your pre-disability earnings. Rates will vary based on occupational duties and length of time in a particular industry. This kind of coverage has a waiting period before you can begin collecting benefits, usually 30, 60 or 90 days. The benefit paying period also varies from 2 years to age 65. A short waiting period will cost more that a longer waiting period. As well, a long benefit paying period will cost more than a short benefit paying period.


---
Disability Insurance (Credit Insurance)
Group insurance designed to cover monthly obligations due to a borrower being unable to work due to sickness or injury.


---
Disclaimer of opinion
An auditor's statement disclaiming any opinion regarding the company's financial
condition.


---
discrete loss
a reduction in units that occurs at a specific
point in a production process


---
Disposable Income
income less income tax.


---
Dividend income
income that a company receives in the form of dividends on stock in other companies that it holds.


---
Dividend rights
A shareholders' rights to receive per-share dividends identical to those other shareholders receive.


---
earned income
Earned income is generally an individual's salary or wages from employment. It also includes some taxable benefits. Earned income also includes business income if the individual is self-employed. Earned income is used as the basis for calculating RRSP maximum contribution limits.


---
earnings before interest and income tax (EBIT)
A measure of profit that
equals sales revenue for the period minus cost-of-goods-sold expense
and all operating expenses—but before deducting interest and income
tax expenses. It is a measure of the operating profit of a business before
considering the cost of its debt capital and income tax.


---
Economic income
Cash flow plus change in present value.


---
Either/or facility
An agreement permitting a bank customer to borrow either domestic dollars from the
bank's head office or Eurodollars from one of its foreign branches.


---
Either-way market
In the interbank Eurodollar deposit market, an either-way market is one in which the bid
and offered rates are identical.


---
Employee Retirement Income Security Act of 1974 (ERISA)
A federal Act that sets minimum operational and funding standards for employee benefit
plans.


---
Equity-based insurance
Life insurance or annuity product in which the cash value and benefit level fluctuate according to the performance of an equity portfolio.


---
Equity claim
Also called a residual claim, a claim to a share of earnings after debt obligation have been
satisfied.


---
Errors and Omissions Insurance
insurance coverage purchased by the agent/broker which provides protection against loss incurred by a client because of some negligent act, error, oversight, or omission by the agent/broker.


---
Ex-rights
In connection with a rights offering, shares of stock that are trading without the rights attached.


---
Ex-rights date
The date on which a share of common stock begins trading ex-rights.


---
Export Credit Insurance
The granting of insurance to cover the commercial and political risks of selling in foreign markets.


---
Extraordinary Gain or Loss
Gains and losses that are judged to be both unusual and nonrecurring.


---
extraordinary gains and losses
No pun intended, but these types of gains
and losses are extraordinarily important to understand. These are nonrecurring,
onetime, unusual, nonoperating gains or losses that are
recorded by a business during the period. The amount of each of these
gains or losses, net of the income tax effect, is reported separately in the
income statement. Net income is reported before and after these gains
and losses. These gains and losses should not be recorded very often, but
in fact many businesses record them every other year or so, causing
much consternation to investors. In addition to evaluating the regular
stream of sales and expenses that produce operating profit, investors
also have to factor into their profit performance analysis the perturbations
of these irregular gains and losses reported by a business.


---
Federal Deposit Insurance Corporation (FDIC)
A federal institution that insures bank deposits.


---
Federal Insurance Contributions Act of 1935 (FICA)
A federal Act authorizing the government to collect Social Security and Medicare payroll taxes.


---
Finance Company
company engaged in making loans to individuals or businesses. Unlike a bank, it does not receive deposits from the public.


---
Fixed-income equivalent
Also called a busted convertible, a convertible security that is trading like a straight
security because the optioned common stock is trading low.


---
Fixed-income instruments
Assets that pay a fixed-dollar amount, such as bonds and preferred stock.


---
Fixed-income market
The market for trading bonds and preferred stock.


---
Fixed-income security
A security that pays a specified cash flow over a
specific period. Bonds are typical fixed-income securities.


---
Good delivery and settlement procedures
Refers to PSA Uniform Practices such as cutoff times on delivery
of securities and notification, allocation, and proper endorsement.


---
Group Life Insurance
This is a very common form of life insurance which is found in employee benefit plans and bank mortgage insurance. In employee benefit plans the form of this insurance is usually one year renewable term insurance. The cost of this coverage is based on the average age of everyone in the group. Therefore a group of young people would have inexpensive rates and an older group would have more expensive rates.
Some people rely on this kind of insurance as their primary coverage forgetting that group life insurance is a condition of employment with their employer. The coverage is not portable and cannot be taken with you if you change jobs. If you have a change in health, you may not qualify for new coverage at your new place of employment.
Bank mortgage insurance is also usually group insurance and you can tell this by virtue of the fact that you only receive a certificate of insurance, and not a complete policy. The only form in which bank mortgage insurance is sold is reducing term insurance, matching the declining mortgage balance. The only beneficiary that can be chosen for this kind of insurance is the bank. In both cases, employee benefit plan group insurance and bank mortgage insurance, the coverage is not guaranteed. This means that coverage can be cancelled by the insurance company underwriting that particular plan, if they are experiencing excessive claims.


---
Growth phase
A phase of development in which a company experiences rapid earnings growth as it produces
new products and expands market share.


---
Guaranteed insurance contract
A contract promising a stated nominal interest rate over some specific time
period, usually several years.


---
Health Insurance Portability and Accountability Act of 1996 (HIPAA)
A federal Act expanding upon many of the insurance reforms created by
COBRA. In particular, it ensures that small businesses will have access to
health insurance, despite the special health status of any employees.


---
Holding company
A corporation that owns enough voting stock in another firm to control management and
operations by influencing or electing its board of directors.


---
Related to : financial, finance, business, accounting, payroll, inventory, investment, money, inventory control, stock trading, financial advisor, tax advisor, credit.