Definition of Structural Unemployment

Structural Unemployment
unemployment due to a mismatch between the skills or location of labor and the skills or location required by firms.


---
Related Terms:
The ratio of the number of people classified as unemployed to the total labor force.


---
unemployment that increases when the economy enters a recession and decreases when the economy enters a boom.


---
unemployment associated with people changing jobs or quitting to search for new jobs.


---
unemployment due to institutional phenomena such as the degree of labor force unionization, the level of discrimination, and government policies such as unemployment insurance programs, minimum wages, or regulations on business.


---
The level of unemployment characterizing the economy in long-run equilibrium, determined by the levels of frictional, structural, and institutionally induced unemployment. At this rate of unemployment, inflation should be constant, so it is sometimes called the nonaccelerating inflation rate of unemployment, or NAIRU.


---
The budget deficit in excess of the deficit that in the long run keeps constant the ratio of the publically held national debt to GDP.


---
A program in which workers and firms pay contributions and workers collect benefits if they become unemployed.


---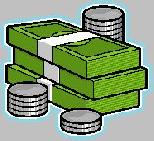 Fraction of the labor force that is not employed.


---
A federal Act requiring employers to pay a tax on the wages paid to their employees, which is then used to create a
pool of funds to be used for unemployment benefits.


---
Related to : financial, finance, business, accounting, payroll, inventory, investment, money, inventory control, stock trading, financial advisor, tax advisor, credit.