Definition of Rings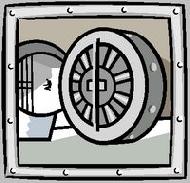 Rings
Trading arenas located on the floor of an exchange in which traders execute orders. Sometimes called a pit.


---
Related Terms:
A street-smart term that refers to the practice by many businesses
of recording very large lump-sum write-offs of certain assets or
recording large amounts for pending liabilities triggered by business
restructurings, massive employee layoffs, disposals of major segments of
the business, and other major traumas in the life of a business. Businesses
have been known to use these occasions to record every conceivable
asset write-off and/or liability write-up that they can think of in
order to clear the decks for the future. In this way a business avoids
recording expenses in the future, and its profits in the coming years will
be higher. The term is derisive, but investors generally seem very forgiving
regarding the abuses of this accounting device. But you never
know—investors may cast a more wary eye on this practice in the future.


---
The securities regulation that exempts small public offerings, those valued at less than
$1.5MM, from most registration requirements with the SEC.


---
Issuance of "rights" to current shareholders allowing them to purchase additional shares,
usually at a discount to market price. Shareholders who do not exercise these rights are usually diluted by the
offering. Rights are often transferable, allowing the holder to sell them on the open market to others who may
wish to exercise them. Rights offerings are particularly common to closed end funds, which cannot otherwise
issue additional common stock.


---
A group of investment banks that work together to sell new security offerings to
investors. The underwriting syndicate is led by the lead underwriter. See also: lead underwriter.
Underwritten offering
A purchase and sale.


---
The term applied to the liberalization in 1986 of the London Stock Exchange in which trading was
automated with the use of computers.


---
A nickname for the New York Stock Exchange. Also known as The Exchange. More than 2,000
common and preferred stocks are traded. Founded in 1792, the NYSE is the oldest exchange in the United
States, and the largest. It is located on Wall Street in New York City.


---
Fed regulation currently that required member banks to hold reserves against their net
borrowings from foreign offices of other banks over a 28-day averaging period. regulation D has been
merged with regulation M.


---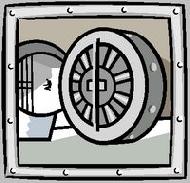 Fed regulation currently requiring member banks to hold reserves against their net borrowings
from their foreign branches over a 28-day averaging period. Reg M has also required member banks to hold
reserves against Eurodollars lent by their foreign branches to domestic corporations for domestic purposes.


---
Fed regulation imposing caps on the rates that banks may pay on savings and time deposits.
Currently time deposits with a denomination of $100,000 or more are exempt from Reg Q.


---
Capital rationing that under certain circumstances can be violated or even viewed
as made up of targets rather than absolute constraints.


---
Schedule of depreciation rates allowed for tax purposes.


---
Clause causing repayment of a debt, if specified events occur or are not met.


---
A collection of systems and processes used to record, report and interpret business transactions.


---
A broad, all-inclusive term that refers to the methods and procedures
of financial record keeping by a business (or any entity); it also
refers to the main functions and purposes of record keeping, which are
to assist in the operations of the entity, to provide necessary information
to managers for making decisions and exercising control, to measure
profit, to comply with income and other tax laws, and to prepare financial
reports.


---
Administrative proceedings or litigation releases that entail an accounting or auditing-related violation of the SECurities laws.


---
Accounting change
An alteration in the accounting methodology or estimates used in
the reporting of financial statements, usually requiring discussion in a footnote
attached to the financial statements.


---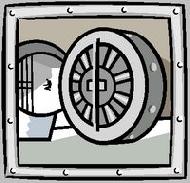 Accounting earnings
Earnings of a firm as reported on its income statement.


---
Accounting entity
A business for which a separate set of accounting records is being
maintained.


---
Accounting equation
The representation of the double-entry system of accounting such that assets are equal to liabilities plus capital.


---
Accounting equation
The formula assets = liabilities + Equity.


---
accounting equation
An equation that reflects the two-sided nature of a
business entity, assets on the one side and the sources of assets on the
other side (assets = liabilities + owners' equity). The assets of a business
entity are subject to two types of claims that arise from its two basic
sources of capital—liabilities and owners' equity. The accounting equation
is the foundation for double-entry bookkeeping, which uses a
scheme for recording changes in these basic types of accounts as either
debits or credits such that the total of accounts with debit balances
equals the total of accounts with credit balances. The accounting equation
also serves as the framework for the statement of financial condition,
or balance sheet, which is one of the three fundamental financial
statements reported by a business.


---
Accounting Errors
Unintentional mistakes in financial statements. Accounted for by restating
the prior-year financial statements that are in error.


---
Accounting exposure
The change in the value of a firm's foreign currency denominated accounts due to a
change in exchange rates.


---
Accounting insolvency
Total liabilities exceed total assets. A firm with a negative net worth is insolvent on
the books.


---
Accounting Irregularities
Intentional misstatements or omissions of amounts or disclosures in
financial statements done to deceive financial statement users. The term is used interchangeably with fraudulent financial reporting.


---
Accounting liquidity
The ease and quickness with which assets can be converted to cash.


---
Accounting period
The period of time for which financial statements are produced – see also financial year.


---

Accounting Policies
The principles, bases, conventions, rules and procedures adopted by management in preparing and presenting financial statements.


---
Accounting rate of return (ARR)
A method of investment appraisal that measures
the profit generated as a percentage of the
investment – see return on investment.


---
accounting rate of return (ARR)
the rate of earnings obtained on the average capital investment over the life of a capital project; computed as average annual profits divided by average investment; not based on cash flow


---
Accounting system
A set of accounts that summarize the transactions of a business that have been recorded on source documents.


---
Accrual accounting
The recording of revenue when earned and expenses when
incurred, irrespective of the dates on which the associated cash flows occur.


---
accrual-basis accounting
Well, frankly, accrual is not a good descriptive
term. Perhaps the best way to begin is to mention that accrual-basis
accounting is much more than cash-basis accounting. recording only the
cash receipts and cash disbursement of a business would be grossly
inadequate. A business has many assets other than cash, as well as
many liabilities, that must be recorded. Measuring profit for a period as
the difference between cash inflows from sales and cash outflows for
expenses would be wrong, and in fact is not allowed for most businesses
by the income tax law. For management, income tax, and financial
reporting purposes, a business needs a comprehensive record-keeping
system—one that recognizes, records, and reports all the assets and liabilities
of a business. this all-inclusive scope of financial record keeping
is referred to as accrual-basis accounting. Accrual-basis accounting
records sales revenue when sales are made (though cash is received
before or after the sales) and records expenses when costs are incurred
(though cash is paid before or after expenses are recorded). Established
financial reporting standards require that profit for a period
must be recorded using accrual-basis accounting methods. Also, these
authoritative standards require that in reporting its financial condition a
business must use accrual-basis accounting.


---
Accruals accounting
A method of accounting in which profit is calculated as the difference between income when it is earned and expenses when they are incurred.


---
Accrued expenses payable
expenses that have to be recorded in order for the financial statements to be accurate. Accrued expenses usually do not involve the receipt of an invoice from the company providing the goods or services.


---
accrued expenses payable
The account that records the short-term, noninterest-
bearing liabilities of a business that accumulate over time, such
as vacation pay owed to employees. this liability is different than
accounts payable, which is the liability account for bills that have been
received by a business from purchases on credit.


---
Accumulated Other Comprehensive Income
Cumulative gains or losses reported in shareholders'
equity that arise from changes in the fair value of available-for-sale SECurities, from the
effects of changes in foreign-currency exchange rates on consolidated foreign-currency financial
statements, certain gains and losses on financial derivatives, and from adjustments for underfunded
pension plans.


---
acid test ratio (also called the quick ratio)
The sum of cash, accounts receivable, and short-term marketable
investments (if any) is divided by
total current liabilities to compute this ratio. Suppose that the short-term
creditors were to pounce on a business and not agree to roll over the
debts owed to them by the business. In this rather extreme scenario, the
acid test ratio reveals whether its cash and near-cash assets are enough
to pay its short-term current liabilities. this ratio is an extreme test that
is not likely to be imposed on a business unless it is in financial straits.
this ratio is quite relevant when a business is in a liquidation situation
or bankruptcy proceedings.


---
Acquisition of assets
A merger or consolidation in which an acquirer purchases the selling firm's assets.


---
Additional paid-in capital
amounts in excess of the par value or stated value that have been paid by the public to acquire stock in the company; synonymous with capital in excess of par.


---
Additional paid-in capital
Any payment received from investors for stock that exceeds
the par value of the stock.


---
additional paid-in capital
Difference between issue price and par value of stock. Also called capital surplus.


---
Aggregate Supply
Total quantity of goods and services supplied.


---
Aggregate Supply Curve
Combinations of price level and income for which the labor market is in equilibrium. The short-run aggregate supply curve incorporates information and price/wage inflexibilities in the labor market, whereas the long-run aggregate supply curve does not.


---
Aggressive Accounting
A forceful and intentional choice and application of accounting principles
done in an effort to achieve desired results, typically higher current earnings, whether the practices followed are in accordance with generally accepted accounting principles or not. Aggressive
accounting practices are not alleged to be fraudulent until an administrative, civil, or criminal proceeding takes that step and alleges, in particular, that an intentional, material misstatement
has taken place in an effort to deceive financial statement readers.


---
Aggressive Capitalization Policies
Capitalizing and reporting as assets significant portions of
expenditures, the realization of which require unduly optimistic assumptions.


---
Aggressive Cost Capitalization
Cost capitalization that stretches the flexibility within generally
accepted accounting principles beyond its intended limits, resulting in reporting as assets
items that more reasonably should have been expensed. The purpose of this activity is likely to
alter financial results and financial position in order to create a potentially misleading impression
of a firm's business performance or financial position.


---
American Stock Exchange (AMEX)
The SECond-largest stock exchange in the United States. It trades
mostly in small-to medium-sized companies.


---
Annual fund operating expenses
For investment companies, the management fee and "other expenses,"
including the expenses for maintaining shareholder records, providing shareholders with financial statements,
and providing custodial and accounting services. For 12b-1 funds, selling and marketing costs are included.


---
Asset
Any possession that has value in an exchange.


---
Asset
A resource, recorded through a transaction, that is expected to yield a benefit to a
company.


---
Asset
Something that is owned; a financial claim or a piece of property that is a store of value.


---
Asset
Probable future economic benefit that is obtained or controlled by an entity as a result of
a past transaction or event.


---
asset
Anything owned by, or owed to, an individual or business which has commercial or exchange value (e.g., cash, property, etc.).


---
Asset
All things of value owned by an individual or organization.


---
Asset activity ratios
Ratios that measure how effectively the firm is managing its assets.


---
Asset allocation decision
The decision regarding how an institution's funds should be distributed among the
major classes of assets in which it may invest.


---
Asset-Backed Securities
Bond or note SECured by assets of company.


---
Asset-backed security
A SECurity that is collateralized by loans, leases, receivables, or installment contracts
on personal property, not real estate.


---
Asset-based financing
Methods of financing in which lenders and equity investors look principally to the
cash flow from a particular asset or set of assets for a return on, and the return of, their financing.


---
Asset-Based Financing
Loans granted usually by a financial institution where the asset being financed constitutes the sole SECurity given to the lender.


---
Asset classes
Categories of assets, such as stocks, bonds, real estate and foreign SECurities.


---
Asset Coverage
Extent to which a company's net assets cover a particular debt obligation, class of preferred stock, or equity position.


---
Asset-coverage test
A bond indenture restriction that permits additional borrowing on if the ratio of assets to
debt does not fall below a specified minimum.


---
Asset/equity ratio
The ratio of total assets to stockholder equity.


---
Asset for asset swap
Creditors exchange the debt of one defaulting borrower for the debt of another
defaulting borrower.


---
Asset/liability management
Also called surplus management, the task of managing funds of a financial
institution to accomplish the two goals of a financial institution:
1) to earn an adequate return on funds invested, and
2) to maintain a comfortable surplus of assets beyond liabilities.


---
asset mix
The weighting of assets in an investment portfolio among different asset classes (e.g. shares, bonds, property, cash, overseas investments.


---
Asset pricing model
A model for determining the required rate of return on an asset.


---
Asset pricing model
A model, such as the Capital asset Pricing Model (CAPM), that determines the required
rate of return on a particular asset.


---
Asset-specific Risk
The amount of total risk that can be eliminated by diversification by
creating a portfolio. Also known as company-specific risk or
unsystematic risk.


---
Asset substitution
A firm's investing in assets that are riskier than those that the debtholders expected.


---
Asset substitution problem
Arises when the stockholders substitute riskier assets for the firm's existing
assets and expropriate value from the debtholders.


---
Asset swap
An interest rate swap used to alter the cash flow characteristics of an institution's assets so as to
provide a better match with its iabilities.


---
Asset turnover
The ratio of net sales to total assets.


---
asset turnover
a ratio measuring asset productivity and showing the number of sales dollars generated by each dollar of assets


---
asset turnover ratio
A broad-gauge ratio computed by dividing annual
sales revenue by total assets. It is a rough measure of the sales-generating
power of assets. The idea is that assets are used to make sales, and the
sales should lead to profit. The ultimate test is not sales revenue on
assets, but the profit earned on assets as measured by the return on
assets (ROA) ratio.


---
Assets
A firm's productive resources.


---
ASSETS
Anything of value that a company owns.


---
Assets
Things that the business owns.


---
Assets
Items owned by the company or expenses that have been paid for but have not been used up.


---
Assets requirements
A common element of a financial plan that describes projected capital spending and the
proposed uses of net working capital.


---
authorized share capital
Maximum number of shares that the company is permitted to issue, as specified in the firm's articles of incorporation.


---
Automated Clearing House (ACH)
A collection of 32 regional electronic interbank networks used to
process transactions electronically with a guaranteed one-day bank collection float.


---
Automated Clearing House (ACH)
A banking clearinghouse that processes direct
deposit transfers.


---
Available-for-Sale Security
A debt or equity SECurity not classified as a held-to-maturity SECurity or a Trading SECurity. Can be classified as a current or noncurrent investment depending on the intended holding period.


---
Average accounting return
The average project earnings after taxes and depreciation divided by the average
book value of the investment during its life.


---
Average cost of capital
A firm's required payout to the bondholders and to the stockholders expressed as a
percentage of capital contributed to the firm. Average cost of capital is computed by dividing the total
required cost of capital by the total amount of contributed capital.


---
Average life
Also referred to as the weighted-average life (WAL). The average number of years that each
dollar of unpaid principal due on the mortgage remains outstanding. Average life is computed as the weighted average time to the receipt of all future cash flows, using as the weights the dollar amounts of the principal
paydowns.


---
Average Propensity to Consume
Ratio of consumption to disposable income. See also marginal propensity to consume.


---
Away
A trade, quote, or market that does not originate with the dealer in question, e.g., "the bid is 98-10
away from me."


---
Back-up
1) When bond yields and prices fall, the market is said to back-up.
2) When an investor swaps out of one SECurity into another of shorter current maturity he is said to back up.


---
Bankruptcy
State of being unable to pay debts. Thus, the ownership of the firm's assets is transferred from
the stockholders to the bondholders.


---
bankruptcy
The reorganization or liquidation of a firm that cannot pay its debts.


---
Bankruptcy cost view
The argument that expected indirect and direct bankruptcy costs offset the other
benefits from leverage so that the optimal amount of leverage is less than 100% debt finaning.


---
Bankruptcy risk
The risk that a firm will be unable to meet its debt obligations. Also referred to as default or insolvency risk.


---
Bankruptcy view
The argument that expected bankruptcy costs preclude firms from being financed entirely
with debt.


---
Basic business strategies
Key strategies a firm intends to pursue in carrying out its business plan.


---
Bill and Hold Practices
Products that have been sold with an explicit agreement that delivery
will occur at a later, often yet-to-be-determined, date.
Capitalize To report an expenditure or accrual as an asset as opposed to expensing it and charging it against earnings currently.


---
Bill of exchange
General term for a document demanding payment.


---
Block house
Brokerage firms that help to find potential buyers or sellers of large block trades.


---
Book-entry securities
The Treasury and federal agencies are moving to a book-entry system in which SECurities are not represented by engraved pieces of paper but are maintained in computerized records at the
Fed in the names of member banks, which in turn keep records of the SECurities they own as well as those they
are holding for customers. In the case of other SECurities where a book-entry has developed, engraved
SECurities do exist somewhere in quite a few cases. these SECurities do not move from holder to holder but are
usually kept in a central clearinghouse or by another agent.


---
Bottom-up equity management style
A management style that de-emphasizes the significance of economic
and market cycles, focusing instead on the analysis of individual stocks.


---
British clearers
The large clearing banks that dominate deposit taking and short-term lending in the domestic
sterling market.


---
Business cycle
Repetitive cycles of economic expansion and recession.


---
Business Cycle
Fluctuations of GDP around its long-run trend, consisting of recession, trough, expansion, and peak.


---
Business Expansion Investment
The use of capital to create more money through the addition of fixed assets or through income producing vehicles.


---
Business failure
A business that has terminated with a loss to creditors.


---
business intelligence (BI) system
a formal process for gathering and analyzing information and producing intelligence to meet decision making needs; requires information about
internal processes as well as knowledge, technologies, and competitors


---
Related to : financial, finance, business, accounting, payroll, inventory, investment, money, inventory control, stock trading, financial advisor, tax advisor, credit.