Definition of Non-participating Policy

Non-participating Policy
A type of insurance policy or annuity in which the owner does not receive dividends.


---
Related Terms:
A monetary policy of matching wage and price increases with money supply increases so that the real money supply does not fall and push the economy into recession.


---
Requirement that none of an order be executed unless all of it can be executed at the specified price.


---
An arrangement whereby a security issue is canceled if the underwriter is unable
to re-sell the entire issue.


---
A policy designed to increase an economy's prosperity at the expense of another country's prosperity.


---
Decreasing inflation by immediately decreasing the money growth rate to a new, low rate. Contrast with gradualism.


---
Procedures followed by a firm in attempting to collect accounts receivables.


---
Procedures to collect and monitor receivables.


---

Standards set to determine the amount and nature of credit to extend to customers.


---
A company's stated goal for how soon a customer order will be
shipped following receipt of that order.


---
Fiscal or monetary policy designed to influence aggregate demand for goods and services.


---
A policy that is a conscious, considered response to each situation as it arises. Contrast with policy rule.


---
An established guide for the firm to determine the amount of money it will pay as dividends.


---
This policy governs Canada Life's actions regarding distribution of dividends to policyholders. It's goal is to achieve a dividend distribution that is equitable and timely, and which gives full recognition of the need to ensure the ongoing solidity of the company. It also specifies that distribution to individual policyholders must be equitable between dividend classes and policyholder generations, and among policyholders within any class.


---
The use of government spending and taxing for the specific purpose of stabilizing the economy.


---
A change in government spending or taxing, designed to influence economic activity.


---
Incomes Policy
A policy designed to lower inflation without reducing aggregate demand. Wage/price controls are an example.


---

Insurance Policy (Credit Insurance)
A policy under which the insurance company promises to pay a benefit of the person who is insured.


---
Joint Policy Life
One insurance policy that covers two lives, and generally provides for payment at the time of the first insured's death. It could also be structured to pay on second death basis for estate planning purposes.


---
Lending Policy
A course of action adopted by a financial institution to guide and usually determine present and future decisions in the light of given conditions.


---
Monetary / non-monetary method
Under this translation method, monetary items (e.g. cash, accounts
payable and receivable, and long-term debt) are translated at the current rate while non-monetary items (e.g.
inventory, fixed assets, and long-term investments) are translated at historical rates.


---
Monetary policy
Actions taken by the Board of Governors of the Federal Reserve System to influence the
money supply or interest rates.


---
Monetary Policy
Actions taken by the central bank to change the supply of money and the interest rate and thereby affect economic activity.


---
Non-cumulative preferred stock
Preferred stock whose holders must forgo dividend payments when the
company misses a dividend payment.
Related: Cumulative preferred stock


---
Non-financial services
Include such things as freight, insurance, passenger services, and travel.


---
Non-insured plans
Defined benefit pension plans that are not guaranteed by life insurance products. Related:
insured plans


---
Non-Medical Limit
This is the maximum value of a policy that an insurance company will issue without the applicant taking a medical examination, although medical questions are invariably asked during the application process. When a non-medical issue is made through group insurance, in most cases, medical data is not requested at all.


---
non-negativity constraint
a restriction in a linear programming
problem stating that negative values for physical
quantities cannot exist in a solution


---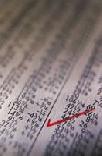 Non-parallel shift in the yield curve
A shift in the yield curve in which yields do not change by the same
number of basis points for every maturity. Related: Parallel shift in the yield curve.


---
Non-production overhead
A general term referring to period costs, such as selling, administration and financial expenses.


---
Non-reproducible assets
A tangible asset with unique physical properties, like a parcel of land, a mine, or a
work of art.


---
Non-Smoker Discount
In October 1996 it was announced in the international news that scientists had finally located the link between cigarette smoking and lung cancer. In the early 1980's, some Canadian Life Insurance Companies had already started recognizing that non-smokers had a better life expectancy than smokers so commenced offering premium discounts for life insurance to new applicants who have been non-smokers for at least 12 months before applying for coverage. Today, most life insurance companies offer these discounts.
Savings to non-smokers can be up to 50% of regular premium depending on age and insurance company. Most life insurance companies offering non-smoker rates insist that the person applying for coverage have abstained from any form of tobacco or marijuana for at least twelve months, some companies insist on longer periods, up to 15 years.
Tobacco use is generally considered to be cigarettes, cigarillos, cigars, pipes, chewing tobacco, nicorette gum, snuff, marijuana and nicotine patches. In addition to these, if anyone tests positive to cotinine, a by-product of nicotine, they are also considered a smoker. There are some insurance companies which allow moderate or occasional use of cigars, cigarillos or pipes as acceptable for non-smoker status. Experienced brokers are aware of how to locate these insurance companies and save you money.
Special care should be taken by applicants for coverage who qualify for non-smoker rates by virtue of having ceased a smoking habit for the required period before application, but for some reason, fall back into the smoking habit some time after obtaining coverage. While contractually, the insurance company is still bound to a non-smoking rate, the facts of the applicant's smoking hiatus may become vague over the subsequent years of the resumed habit and at time of death claim, the insurance company may decide to contest the original non-smoking declaration. The consequence is not simply a need to back pay the difference between non-smoker and smoker rates but in reality the possibility of denial of death claim. It is therefore, important to advise the servicing broker as well as the insurance company of the change in smoking habits to make certain that sufficient evidence is documented to track the non-smoking period.


---
Non-tradables
Refer to goods and services produced and consumed domestically that are not close
substitutes to import or export goods and services.


---
non-value-added (NVA) activity
an activity that increases the time spent on a product or service but that does not increase its worth or value to the customer


---
Noncash charge
A cost, such as depreciation, depletion, and amortization, that does not involve any cash outflow.


---
Noncompetitive bid
In a Treasury auction, bidding for a specific amount of securities at the price, whatever it
may turn out to be, equal to the average price of the accepted competitive bids.


---
Nonconforming material
Any inventory item that does not match its original design
specifications within approved tolerance levels.


---
noncontrollable variance
the fixed overhead volume variance;
it is computed as part of the two-variance approach to overhead analysis


---
Nondiversifiability of human capital
The difficulty of diversifying one's human capital (the unique
capabilities and expertise of individuals) and employment effort.


---
Nondiversifiable risk
Risk that cannot be eliminated by diversification.


---
Nonmarketable Security
A debt or equity security for which there is no posted price or bidand-
ask quotation available on a securities exchange or over-the-counter market.


---
Nonmarketed claims
Claims that cannot be easily bought and sold in the financial markets, such as those of
the government and litigants in lawsuits.


---
Nonqualified Retirement Plan
A pension plan that does not follow ERISA and
IRS guidelines, typically allowing a company to pay key personnel more than
other participants.


---
Nonqualified Stock Option
A stock option not given any favorable tax treatment
under the Internal Revenue Code. The option is taxed when it is exercised,
based on the difference between the option price and the fair market
value of the stock on that day.


---
Nonrecourse
Without recourse, as in a non-recourse lease.


---
Nonrecurring Items
Revenues or gains and expenses or losses that are not expected to recur
on a regular basis. This term is often used interchangeably with special items.


---
Nonredeemable
Not permitted, under the terms of indenture, to be redeemed.


---
Nonrefundable
Not permitted, under the terms of indenture, to be refundable.


---
Nonsignificant part number
An identifying number assigned to a part that conveys
no other information.


---
Nonsystematic risk
nonmarket or firm-specific risk factors that can be eliminated by diversification. Also
called unique risk or diversifiable risk. Systematic risk refers to risk factors common to the entire economy.


---
NSF (non-sufficient funds)
This appears on your statement if there are insufficient funds in your account to cover a cheque that you have written or a pre-authorized payment that you have already arranged. You will be charged a service fee for non-sufficient funds.


---
Participating fees
The portion of total fees in a syndicated credit that go to the participating banks.


---
Participating GIC
A guaranteed investment contract where the policyholder is not guaranteed a crediting
rate, but instead receives a return based on the actual experience of the portfolio managed by the life company.


---
Participating Policy
A policy offers the potential of sharing in the success of an insurance company through the receipt of dividends.


---
Perfect market view (of dividend policy)
Analysis of a decision on dividend policy, in a perfect capital
market environment, that shows the irrelevance of dividend policy in a perfect capital market.


---
Policy
A written document that serves as evidence of insurance coverage and contains pertinent information about the benefits, coverage and owner, as well as its associated directives and obligations.


---
Policy Acquisition Costs
Costs incurred by insurance companies in signing new policies, including expenditures on commissions and other selling expenses, promotion expenses, premium
taxes, and certain underwriting expenses. Refer also to customer, member, or subscriber
acquisition costs.


---
Policy Anniversary
Yearly event linked to a policy. Usually the date issued.


---
Policy asset allocation
A long-term asset allocation method, in which the investor seeks to assess an
appropriate long-term "normal" asset mix that represents an ideal blend of controlled risk and enhanced
return.


---
Policy Date
Date on which the insurance company assumes responsibilities for the obligations outlined in a policy.


---
Policy Fee
This is an administrative fee which is part of most life insurance policies. It ranges from about $40 to as much as $100 per year per policy. It is not a separate fee. It is incorporated in the regular monthly, quarterly, semi-annual or annual payment that you make for your policy. Knowing about this hidden fee is important because some insurance companies offer a policy fee discount on additional policies purchased under certain conditions. Sometimes they reduce the policy fee or waive it altogether on one or more additional policies purchased at the same time and billed to the same address. The rules are slightly different depending on the insurance company. There could be enormous savings if several people in the same family or business were intending to purchase coverage at the same time.


---
Policy Fee
Administrative charge included in a policy Premium.


---
Policy-Ineffectiveness Proposition
Theory that anticipated policy has no effect on output.


---
Policy Rule
A formula for determining policy. Contrast with discretionary policy.


---
Policy Year
Period between two policy anniversaries.


---
Policyholder
This is the person who owns a life insurance policy. This is usually the insured person, but it may also be a relative of the insured, a partnership or a corporation. There are instances in marriage breakup (or relationship breakup with dependent children) where appropriate life insurance on the support provider, owned and paid for by the ex-spouse receiving the support is an acceptable method of ensuring future security.


---
Policyowner
The person who owns and holds all rights under the policy, including the power to name and change beneficiaries, make a policy loan, assign the policy to a financial institution as collateral for a loan, withdraw funds or surrender the policy.


---
Signaling view (on dividend policy)
The argument that dividend changes are important signals to investors
about changes in management's expectation about future earnings.


---
Tax differential view ( of dividend policy)
The view that shareholders prefer capital gains over dividends,
and hence low payout ratios, because capital gains are effectively taxed at lower rates than dividends.


---
Tax-Related Incomes Policy (TIP)
Tax incentives for labor and business to induce them to conform to wage/price guidelines.


---
Traditional view (of dividend policy)
An argument that "within reason," investors prefer large dividends to
smaller dividends because the dividend is sure but future capital gains are uncertain.


---
Variable life insurance policy
A whole life insurance policy that provides a death benefit dependent on the
insured's portfolio market value at the time of death. Typically the company invests premiums in common
stocks, and hence variable life policies are referred to as equity-linked policies.


---
Related to : financial, finance, business, accounting, payroll, inventory, investment, money, inventory control, stock trading, financial advisor, tax advisor, credit.