Definition of Income
Income
Net earnings after all expenses for an accounting period are subtracted from all
revenues recognized during that period.


---
Related Terms:
income that has been earned but not yet received. For instance, if you have a non-registered Guaranteed Investment Certificate (GIC), Mutual Fund or Segregated Equity Fund, growth accrues annually or semi-annually and is taxable annually even though the gain is only paid at maturity of your investment.


---
Cumulative gains or losses reported in shareholders'
equity that arise from changes in the fair value of available-for-sale securities, from the
effects of changes in foreign-currency exchange rates on consolidated foreign-currency financial
statements, certain gains and losses on financial derivatives, and from adjustments for underfunded
pension plans.


---
Operations Reported income from continuing operations
adjusted to remove nonrecurring items.


---
Pretax income reported on the income statement.


---
Adjusted cash flow provided by continuing operations
divided by adjusted income from continuing operations.


---
income statement that presents items as a percentage of revenues.


---
That portion of the total income tax provision that is based on
taxable income.


---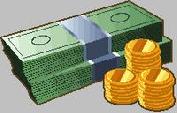 That portion of the total income tax provision that is the result
of current-period originations and reversals of temporary differences.


---
income less income tax.


---
income that a company receives in the form of dividends on stock in other companies that it holds.


---
Earned income is generally an individual's salary or wages from employment. It also includes some taxable benefits. Earned income also includes business income if the individual is self-employed. Earned income is used as the basis for calculating RRSP maximum contribution limits.


---
A measure of profit that
equals sales revenue for the period minus cost-of-goods-sold expense
and all operating expenses—but before deducting interest and income
tax expenses. It is a measure of the operating profit of a business before
considering the cost of its debt capital and income tax.


---
Cash flow plus change in present value.


---
A federal Act that sets minimum operational and funding standards for employee benefit
plans.


---
Also called a busted convertible, a convertible security that is trading like a straight
security because the optioned common stock is trading low.


---
Fixed-income instruments
Assets that pay a fixed-dollar amount, such as bonds and preferred stock.


---

Fixed-income market
The market for trading bonds and preferred stock.


---
Fixed-income security
A security that pays a specified cash flow over a
specific period. Bonds are typical fixed-income securities.


---
Income beneficiary
One who receives income from a trust.


---
Income bond
A bond on which the payment of interest is contingent on sufficient earnings. These bonds are
commonly used during the reorganization of a failed or failing business.


---
Income from Continuing Operations
After-tax net income before discontinued operations,
extraordinary items, and the cumulative effect of changes in accounting principle.


---
Income fund
A mutual fund providing for liberal current income from investments.


---
income funds
Mutual funds that seek regular income. This type of fund invests primarily in government, corporate and other types of bonds, debt securities, and other income producing securities and in certain circumstances can also hold common and preferred shares.


---
Income Smoothing
A form of earnings management designed to remove peaks and valleys
from a normal earnings series. The practice includes taking steps to reduce and "store" profits
during good years for use during slower years.


---
Income Splitting
This is a tax planning strategy of arranging for income to be transferred to family members who are in lower tax brackets than the one earning the income, thus reducing taxes. Even though attribution rules limit income splitting, there are still a number of legitimate ways to do so, such as through the use of spousal RRSPs.


---
INCOME STATEMENT
An accounting statement that summarizes information about a company in the following format:
Net Sales
– Cost of goods sold
--------------------
Gross profit
– Operating expenses
--------------------
Earnings before income tax
– income tax
--------------------
= Net income or (Net loss)
Formally called a "consolidated earnings statement," it covers a period of time such as a quarter or a year.


---
Income Statement
One of the basic financial statements; it lists the revenue and expense accounts of the company.
The income Statement is prepared for a given period of time.


---

income statement
Financial statement that summarizes sales revenue
and expenses for a period and reports one or more profit lines for the
period. It's one of the three primary financial statements of a business.
The bottom-line profit figure is labeled net income or net earnings by
most businesses. Externally reported income statements disclose less
information than do internal management profit reports—but both are
based on the same profit accounting principles and methods. Keep in
mind that profit is not known until accountants complete the recording
of sales revenue and expenses for the period (as well as determining any
extraordinary gains and losses that should be recorded in the period).
Profit measurement depends on the reliability of a business's accounting
system and the choices of accounting methods by the business. Caution:
A business may engage in certain manipulations of its accounting methods,
and managers may intervene in the normal course of operations for
the purpose of improving the amount of profit recorded in the period,
which is called earnings management, income smoothing, cooking the
books, and other pejorative terms.


---
Income statement
A financial report that summarizes a company's revenue, cost of
goods sold, gross margin, other costs, income, and tax obligations.


---
income statement
Financial statement that shows the revenues, expenses, and net income of a firm over a period of time.


---
Income statement (statement of operations)
A statement showing the revenues, expenses, and income (the
difference between revenues and expenses) of a corporation over some period of time.


---
Income Statements
A financial statement that displays a breakdown of total sales and total expenses.


---
Income stock
Common stock with a high dividend yield and few profitable investment opportunities.


---
INCOME TAX
What the business paid to the IRS.


---
Income tax
A government tax on the income earned by an individual or corporation.


---
Income Tax Expense
See income tax provision.


---
Income Tax Provision
The expense deduction from pretax book income reported on the
income statement. It consists of both current income tax expense and deferred income tax
expense. The terms income tax expense and income tax provision are used interchangeably.


---
Incomes Policy
A policy designed to lower inflation without reducing aggregate demand. Wage/price controls are an example.


---
Interest income
income that a company receives in the form of interest, usually as the result of keeping money in interest-bearing accounts at financial institutions and the lending of money to other companies.


---
Investment income
The revenue from a portfolio of invested assets.
Investment management Also called portfolio management and money management, the process of
managing money.


---
Life Income Fund
Commonly known as a LIF, this is one of the options available to locked in Registered Pension Plan (RPP) holders for income payout as opposed to Registered Retirement Savings Plan (RRSP) holders choice of payout through Registered Retirement income Funds (RRIF). A LIF must be converted to a unisex annuity by the time the holder reaches age 80.


---
Monthly income preferred security (MIP)
Preferred stock issued by a subsidiary located in a tax haven.
The subsidiary relends the money to the parent.


---
National Income
GDP with some adjustments to remove items that do not make it into anyone's hands as income, such as indirect taxes and depreciation. Loosely speaking, it is interpreted as being equal to GDP.


---
National Income and Product Accounts
The national accounting system that records economic activity such as GDP and related measures.


---
Net income
The company's total earnings, reflecting revenues adjusted for costs of doing business,
depreciation, interest, taxes and other expenses.


---
NET INCOME
The profit a company makes after cost of goods sold, expenses, and taxes are subtracted from net sales.


---
Net income
The last line of the income Statement; it represents the amount that the company earned during a specified period.


---
Net income
The excess of revenues over expenses, including the impact of income taxes.


---
net income (also called the bottom line, earnings, net earnings, and net
operating earnings)
This key figure equals sales revenue for a period
less all expenses for the period; also, any extraordinary gains and losses
for the period are included in this final profit figure. Everything is taken
into account to arrive at net income, which is popularly called the bottom
line. Net income is clearly the single most important number in business
financial reports.


---
Operating income
The net income of a business, less the impact of any financial activity,
such as interest expense or investment income, as well as taxes and extraordinary
items.


---
Operating Income
A measure of results produced by the core operations of a firm. It is common
for both recurring and nonrecurring items that are associated with operations to be included
in this measure. Operating income is typically found in multistep income statements and is a pretax
measure.


---
Permanent Income Hypothesis
Theory that individuals base current consumption spending on their perceived long-run average income rather than their current income.


---
RATIO OF NET INCOME TO NET SALES
A ratio that shows how much net income (profit) a company made on each dollar of net sales. Here's the formula:
(Net income) / (Net sales)


---
RATIO OF NET SALES TO NET INCOME
A ratio that shows how much a company had to collect in net sales to make a dollar of profit. Figure it this way:
(Net sales) / (Net income)


---
Real Income
income expressed in base-year dollars, calculated by dividing nominal income by a price index.


---
Registered Retirement Income Fund (Canada)
Commonly referred to as a RRIF, this is one of the options available to RRSP holders to convert their tax sheltered savings into taxable income.


---
residual income
the profit earned by a responsibility center that exceeds an amount "charged" for funds committed to that center


---
residual income
Also called economic value added. Profit minus cost of capital employed.


---
Residual income (RI)
The profit remaining after deducting from profit a notional cost of capital on the investment in a business or division of a business.


---
Spread income
Also called margin income, the difference between income and cost. For a depository
institution, the difference between the assets it invests in (loans and securities) and the cost of its funds
(deposits and other sources).


---
tax-deferred income
current compensation that is taxed at a future date


---
tax-exempt income
current compensation that is never taxed


---
Tax-Related Incomes Policy (TIP)
Tax incentives for labor and business to induce them to conform to wage/price guidelines.


---
Taxable income
Gross income less a set of deductions.


---
Taxable Income
income subject to income tax as reported on the tax return.


---
Underwriting income
For an insurance company, the difference between the premiums earned and the costs
of settling claims.


---
accounting
A broad, all-inclusive term that refers to the methods and procedures
of financial record keeping by a business (or any entity); it also
refers to the main functions and purposes of record keeping, which are
to assist in the operations of the entity, to provide necessary information
to managers for making decisions and exercising control, to measure
profit, to comply with income and other tax laws, and to prepare financial
reports.


---
Accounting earnings
Earnings of a firm as reported on its income statement.


---
accrual-basis accounting
Well, frankly, accrual is not a good descriptive
term. Perhaps the best way to begin is to mention that accrual-basis
accounting is much more than cash-basis accounting. Recording only the
cash receipts and cash disbursement of a business would be grossly
inadequate. A business has many assets other than cash, as well as
many liabilities, that must be recorded. Measuring profit for a period as
the difference between cash inflows from sales and cash outflows for
expenses would be wrong, and in fact is not allowed for most businesses
by the income tax law. For management, income tax, and financial
reporting purposes, a business needs a comprehensive record-keeping
system—one that recognizes, records, and reports all the assets and liabilities
of a business. This all-inclusive scope of financial record keeping
is referred to as accrual-basis accounting. Accrual-basis accounting
records sales revenue when sales are made (though cash is received
before or after the sales) and records expenses when costs are incurred
(though cash is paid before or after expenses are recorded). Established
financial reporting standards require that profit for a period
must be recorded using accrual-basis accounting methods. Also, these
authoritative standards require that in reporting its financial condition a
business must use accrual-basis accounting.


---
Accruals accounting
A method of accounting in which profit is calculated as the difference between income when it is earned and expenses when they are incurred.


---
Adjusted Cash Flow Provided by Continuing Operations
Cash flow provided by operating
activities adjusted to provide a more recurring, sustainable measure. Adjustments to reported cash
provided by operating activities are made to remove such nonrecurring cash items as: the operating
component of discontinued operations, income taxes on items classified as investing or financing activities, income tax benefits from nonqualified employee stock options, the cash effects of purchases and sales of trading securities for nonfinancial firms, capitalized expenditures, and other nonrecurring cash inflows and outflows.


---
Adjusted Earnings
Net income adjusted to exclude selected nonrecurring and noncash items of reserve, gain, expense, and loss.


---
Administrative pricing rules
IRS rules used to allocate income on export sales to a foreign sales corporation.


---
After-tax profit margin
The ratio of net income to net sales.


---
Aggregate Demand Curve
Combinations of the price level and income for which the goods and services market is in equilibrium, or for which both the goods and services market and the money market are in equilibrium.


---
Aggregate Expenditure Curve
Aggregate demand for goods and services drawn as a function of the level of national income.


---
Aggregate Supply Curve
Combinations of price level and income for which the labor market is in equilibrium. The short-run aggregate supply curve incorporates information and price/wage inflexibilities in the labor market, whereas the long-run aggregate supply curve does not.


---
Annual report
Yearly record of a publicly held company's financial condition. It includes a description of the
firm's operations, its balance sheet and income statement. SEC rules require that it be distributed to all
shareholders. A more detailed version is called a 10-K.


---
Annual report
A report issued to a company's shareholders, creditors, and regulatory
organizations at the end of its fiscal year. It typically contains at least an income
statement, balance sheet, statement of cash flows, and accompanying footnotes. It
may also contain management comments, an audit report, and other supporting
schedules that may be required by regulatory organizations.


---
annual return
The fund return, for any 12-month period, including changes in unit value and the reinvestment of distributions, but not taking into account sales, redemption, distribution or other optional charges or income taxes payable by any unitholder that would reduce returns.


---
Annuity
A contract which provides an income for a specified period of time, such as a certain number of years or for life. An annuity is like a life insurance policy in reverse. The purchaser gives the life insurance company a lump sum of money and the life insurance company pays the purchaser a regular income, usually monthly.


---
Assuris
Assuris is a not for profit organization that protects Canadian policyholders in the event that their life insurance company should become insolvent. Their role is to protect policyholders by minimizing loss of benefits and ensuring a quick transfer of their policies to a solvent company where their benefits will continue to be honoured. Assuris is funded by the life insurance industry and endorsed by government. If you are a Canadian citizen or resident, and you purchased a product from a member life insurance company in Canada, you are protected by Assuris.
All life insurance companies authorized to sell in Canada are required, by the federal, provincial and territorial regulators, to become members of Assuris. Members cannot terminate their membership as long as they are licensed to write business in Canada or have any in force business in Canada.
If your life insurance company fails, your policies will be transferred to a solvent company. Assuris guarantees that you will retain at least 85% of the insurance benefits you were promised. Insurance benefits include Death, Health Expense, Monthly income and Cash Value. Your deposit type products will also be transferred to a solvent company. For these products, Assuris guarantees that you will retain 100% of your Accumulated Value up to $100,000. Deposit type products include accumulation annuities, universal life overflow accounts, premium deposit accounts and dividend deposit accounts. The key to Assuris protection is that it is applied to all benefits of a similar type. If you have more than one policy with the failed company, you will need to add together all similar benefits before applying the Assuris protection. The Assuris website can be found at www.assuris.ca.


---
Average Propensity to Consume
Ratio of consumption to disposable income. See also marginal propensity to consume.


---
Average Propensity to Save
Ratio of saving to disposable income. See also marginal propensity to save.


---
Average tax rate
Taxes as a fraction of income; total taxes divided by total taxable income.


---
average tax rate
Total taxes owed divided by total income.


---
Baker Plan
A plan by U.S. Treasury Secretary James Baker under which 15 principal middle-income debtor
countries (the Baker 15) would undertake growth-oriented structural reforms, to be supported by increased
financing from the World Bank and continued lending from commercial banks.


---
balance sheet
A term often used instead of the more formal and correct
term—statement of financial condition. This financial statement summarizes
the assets, liabilities, and owners' equity sources of a business at a
given moment in time. It is prepared at the end of each profit period and
whenever else it is needed. It is one of the three primary financial statements
of a business, the other two being the income statement and the
statement of cash flows. The values reported in the balance sheet are the
amounts used to determine book value per share of capital stock. Also,
the book value of an asset is the amount reported in a business's most
recent balance sheet.


---
basic earnings per share (EPS)
This important ratio equals the net
income for a period (usually one year) divided by the number capital
stock shares issued by a business corporation. This ratio is so important
for publicly owned business corporations that it is included in the daily
stock trading tables published by the Wall Street Journal, the New York
Times, and other major newspapers. Despite being a rather straightforward
concept, there are several technical problems in calculating
earnings per share. Actually, two EPS ratios are needed for many businesses—
basic EPS, which uses the actual number of capital shares outstanding,
and diluted EPS, which takes into account additional shares of
stock that may be issued for stock options granted by a business and
other stock shares that a business is obligated to issue in the future.
Also, many businesses report not one but two net income figures—one
before extraordinary gains and losses were recorded in the period and a
second after deducting these nonrecurring gains and losses. Many business
corporations issue more than one class of capital stock, which
makes the calculation of their earnings per share even more complicated.


---
Before-tax profit margin
The ratio of net income before taxes to net sales.


---
Beneficiary
This is the person who benefits from the terms of a trust, a will, an RRSP, a RRIF, a LIF, an annuity or a life insurance policy. In relation to RRSP's, RRIF's, LIF's, Annuities and of course life insurance, if the beneficiary is a spouse, parent, offspring or grand-child, they are considered to be a preferred beneficiary. If the insured has named a preferred beneficiary, the death benefit is invariably protected from creditors. There have been some court challenges of this right of protection but so far they have been unsuccessful. See "Creditor Protection" below. A beneficiary under the age of 18 must be represented by an individual guardian over the age of 18 or a public official who represents minors generally. A policy owner may, in the designation of a beneficiary, appoint someone to act as trustee for a minor. Death benefits are not subject to income taxes. If you make your beneficiary your estate, the death benefit will be included in your assets for probate. Probate filing fees are currently $14 per thousand of estate value in British Columbia and $15 per thousand of estate value in Ontario.
Another way to avoid probate fees or creditor claims against life insurance proceeds is for the insured person to designate and register with his/her insurance company's head office an irrevocable beneficiary. By making such a designation, the insured gives up the right to make any changes to his/her policy without the consent of the irrevocable beneficiary. Because of the seriousness of the implications, an irrevocable designation should only be made for good reason and where the insured fully understands the consequences.
NoteA successful challenge of the rules relating to beneficiaries was concluded in an Ontario court in 1996. The Insurance Act says its provisions relating to beneficiaries are made "notwithstanding the Succession Law Reform Act." There are two relevent provisions of the Succession Law Reform Act. One section of the act gives a judge the power to make any order concerning an estate if the deceased person has failed to provide for a dependant. Another section says money from a life insurance policy can be considered part of the estate if an order is made to support a dependant. In the case in question, the deceased had attempted to deceive his lawful dependents by making his common-law-spouse the beneficiary of an insurance policy which by court order was supposed to name his ex-spouse and children as beneficiaries.


---
BONDPAR
A system that monitors and evaluates the performance of a fixed-income portfolio , as well as the
individual securities held in the portfolio. BONDPAR decomposes the return into those elements beyond the
manager's control--such as the interest rate environment and client-imposed duration policy constraints--and
those that the management process contributes to, such as interest rate management, sector/quality allocations,
and individual bond selection.


---
Book profit
The cumulative book income plus any gain or loss on disposition of the assets on termination of the SAT.


---
book rate of return
Accounting income divided by book value.
Also called accounting rate of return.


---
Book Returns
Book yield is the investment income earned in a year on a portfolio of assets purchased over a number of years and at different interest rates, divided by the book value of those assets.


---
bottom line
A commonly used term that refers to the net income (profit)
reported by a business, which is the last, or bottom line, in its income
statement. As you undoubtedly know, the term has taken on a much
broader meaning in everyday use, referring to the ultimate or most important
effect or result of something. Not many accounting-based terms have
found their way into everyday language, but this is one that has.


---
Business Expansion Investment
The use of capital to create more money through the addition of fixed assets or through income producing vehicles.


---
Busted convertible
Related: Fixed-income equivalent.


---
Canada Pension Plan (CPP)
A plan that provides retirement and long term disability income benefits to residents of Canadian provinces (excluding Quebec).


---
Related to : financial, finance, business, accounting, payroll, inventory, investment, money, inventory control, stock trading, financial advisor, tax advisor, credit.