Definition of Fiat

Fiat
money Nonconvertible paper money.


---
Related Terms:
fiat Money is paper currency made legal tender by law or fiat. It is not backed by gold or silver and is not necessarily redeemable in coin. This practice has had widespread use for about the last 70 years. If governments produce too much of it, there is a loss of confidence. Even so, governments print it routinely when they need it. The value of fiat money is dependent upon the performance of the economy of the country which issued it. Canada's currency falls into this category.


---
Any item that serves as a medium of exchange, a store of value, and a unit of account. See medium of exchange.


---
An option is at-the-money if the strike price of the option is equal to the market price of the
underlying security. For example, if xyz stock is trading at 54, then the xyz 54 option is at-the-money.


---
Also called the broker loan rate , the interest rate that banks charge brokers to finance
margin loans to investors. The broker charges the investor the call money rate plus a service charge.


---
See money base.


---
money that moves across country borders in response to interest rate differences and that moves
away when the interest rate differential disappears.


---
A put option that has a strike price higher than the underlying futures price, or a call option
with a strike price lower than the underlying futures price. For example, if the March COMEX silver futures
contract is trading at $6 an ounce, a March call with a strike price of $5.50 would be considered in-the-money
by $0.50 an ounce.
Related: put.


---

Composed of currency and coins outside the banking system plus liabilities to the deposit money banks.


---
Cash plus deposits of the commercial banks with the central bank.


---
Banks that raise most of their funds from the domestic and international money markets, relying less on depositors for funds.


---
This is the process by which "dirty money" generated by criminal activities is converted through legitimate businesses into assets that cannot be easily traced back to their illegal origins.


---
Related: Investment management.


---
Related: Investment manager.


---
money markets are for borrowing and lending money for three years or less. The securities in
a money market can be U.S.government bonds, treasury bills and commercial paper from banks and
companies.


---
A market that specializes in trading short-term, low-risk, very liquid
debt securities


---
money market
Market for short-term financial assets.


---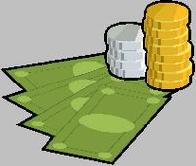 Money Market
A financial market in which short-term (maturity of less than a year) debt instruments such as bonds are traded.


---
Money Market
Financial market in which funds are borrowed or lent for short periods. (The money market is distinguished from the capital market, which is the market for long term funds.)


---
Money market demand account
An account that pays interest based on short-term interest rates.


---
Money market fund
A mutual fund that invests only in short term securities, such as bankers' acceptances,
commercial paper, repurchase agreements and government bills. The net asset value per share is maintained at
$1. 00. Such funds are not federally insured, although the portfolio may consist of guaranteed securities
and/or the fund may have private insurance protection.


---
money market fund
A type of mutual fund that invests primarily in short-term debt securities maturing in one year or less. These include treasury bills, bankers' acceptances, commercial paper, discount notes and guaranteed investment certficates.


---
Money market hedge
The use of borrowing and lending transactions in foreign currencies to lock in the
home currency value of a foreign currency transaction.


---
Money market notes
Publicly traded issues that may be collateralized by mortgages and MBSs.


---
Money Multiplier
Change in the money supply per change in the money base.


---
money order
A guaranteed form of payment in amounts up to and including $5,000. You might request a money order in order to pay for tuition fees at a university or a college, or for a magazine subscription.


---
Money purchase plan
A defined benefit contribution plan in which the participant contributes some part and
the firm contributes at the same or a different rate. Also called and individual account plan.


---
Money Rate of Interest
See interest rate, nominal.


---
Money rate of return
Annual money return as a percentage of asset value.


---
Money supply
M1-A: Currency plus demand deposits
M1-B: M1-A plus other checkable deposits.
M2: M1-B plus overnight repos, money market funds, savings, and small (less than $100M) time deposits.
M3: M-2 plus large time deposits and term repos.
L: M-3 plus other liquid assets.


---
Neutrality of Money
The doctrine that the money supply affects only the price level, with no long-run impact on real variables.


---
New money
In a Treasury auction, the amount by which the par value of the securities offered exceeds that of
those maturing.


---
Out-of-the-money option
A call option is out-of-the-money if the strike price is greater than the market price
of the underlying security. A put option is out-of-the-money if the strike price is less than the market price of
the underlying security.


---
Precautionary demand (for money)
The need to meet unexpected or extraordinary contingencies with a
buffer stock of cash.


---
Printing Money
Sale of bonds by the government to the central bank.


---
Quantity Theory of Money
Theory that velocity is constant, and so a change in money supply will change nominal income by the same percentage. Formalized by the equation Mv = PQ.


---
Real Money Supply
money supply expressed in base-year dollars, calculated by dividing the money supply by a price index.


---
Speculative demand (for money)
The need for cash to take advantage of investment opportunities that may arise.


---
Time value of money
The idea that a dollar today is worth more than a dollar in the future, because the dollar
received today can earn interest up until the time the future dollar is received.


---
Transaction demand (for money)
The need to accommodate a firm's expected cash transactions.


---
Accomodating Policy
A monetary policy of matching wage and price increases with money supply increases so that the real money supply does not fall and push the economy into recession.


---
Accounts payable
money owed to suppliers.


---
Accounts receivable
money owed by customers.


---
Accounts Receivable
money owed to a business for merchandise or services sold on open account.


---
Accumulated Value
An amount of money invested plus the interest earned on that money.


---
After-tax real rate of return
money after-tax rate of return minus the inflation rate.


---
Aggregate Demand Curve
Combinations of the price level and income for which the goods and services market is in equilibrium, or for which both the goods and services market and the money market are in equilibrium.


---
Annuity
A contract which provides an income for a specified period of time, such as a certain number of years or for life. An annuity is like a life insurance policy in reverse. The purchaser gives the life insurance company a lump sum of money and the life insurance company pays the purchaser a regular income, usually monthly.


---
Automatic Benefits Payment
Automatic payment of moneys derived from a benefit.


---
Bane
In the words of Warren Buffet, Bill Bane Sr., is, "a great American and one of the last real traders
around. I like to call him 'Salvo.'" His wife, Carol, is a huge NASCAR fan, and in her own words "delights in
pulling the legs off central bankers." Cooper Bane, son number two, is a thriving artiste who specializes in
making art that is much better than the stuff most folks are doing. Jackson, son number three, is a world
renowned master chef and plans on opening a restaurant. Bill Bane Jr., son number one, plans on giving Mr.
Monroe Trout a run for his money. [Bill Bane, Jr. helped Professor Harvey put the hypertextual glossary
together while an MBA student at Duke University.]


---
Bank
money in a bank cheque account, the difference between receipts and payments.


---
Bank overdraft
money owed to the bank in a cheque account where payments exceed receipts.


---
Banker's acceptance
A short-term credit investment created by a non-financial firm and guaranteed by a
bank as to payment. Acceptances are traded at discounts from face value in the secondary market. These
instruments have been a popular investment for money market funds. They are commonly used in
international transactions.


---
BARRA's performance analysis (PERFAN)
A method developed by BARRA, a consulting firm in
Berkeley, Calif. It is commonly used by institutional investors applying performance attribution analysis to
evaluate their money managers' performances.


---
Barter
A system of exchange in which one good is traded directly for another without the use of money.


---
Beneficiary
This is the person who benefits from the terms of a trust, a will, an RRSP, a RRIF, a LIF, an annuity or a life insurance policy. In relation to RRSP's, RRIF's, LIF's, Annuities and of course life insurance, if the beneficiary is a spouse, parent, offspring or grand-child, they are considered to be a preferred beneficiary. If the insured has named a preferred beneficiary, the death benefit is invariably protected from creditors. There have been some court challenges of this right of protection but so far they have been unsuccessful. See "Creditor Protection" below. A beneficiary under the age of 18 must be represented by an individual guardian over the age of 18 or a public official who represents minors generally. A policy owner may, in the designation of a beneficiary, appoint someone to act as trustee for a minor. Death benefits are not subject to income taxes. If you make your beneficiary your estate, the death benefit will be included in your assets for probate. Probate filing fees are currently $14 per thousand of estate value in British Columbia and $15 per thousand of estate value in Ontario.
Another way to avoid probate fees or creditor claims against life insurance proceeds is for the insured person to designate and register with his/her insurance company's head office an irrevocable beneficiary. By making such a designation, the insured gives up the right to make any changes to his/her policy without the consent of the irrevocable beneficiary. Because of the seriousness of the implications, an irrevocable designation should only be made for good reason and where the insured fully understands the consequences.
NoteA successful challenge of the rules relating to beneficiaries was concluded in an Ontario court in 1996. The Insurance Act says its provisions relating to beneficiaries are made "notwithstanding the Succession Law Reform Act." There are two relevent provisions of the Succession Law Reform Act. One section of the act gives a judge the power to make any order concerning an estate if the deceased person has failed to provide for a dependant. Another section says money from a life insurance policy can be considered part of the estate if an order is made to support a dependant. In the case in question, the deceased had attempted to deceive his lawful dependents by making his common-law-spouse the beneficiary of an insurance policy which by court order was supposed to name his ex-spouse and children as beneficiaries.


---
Bond
Bonds are debt and are issued for a period of more than one year. The U.S. government, local
governments, water districts, companies and many other types of institutions sell bonds. When an investor
buys bonds, he or she is lending money. The seller of the bond agrees to repay the principal amount of the
loan at a specified time. Interest-bearing bonds pay interest periodically.


---
BOND
A long-term, interest-bearing promissory note that companies may use to borrow money for periods of time such as five, ten, or twenty years.


---
Bond
A long-term debt instrument in which the issuer (borrower) is
obligated to pay the investor (lender) a specified amount of
money, usually at specific intervals, and to repay the principal
amount of the loan at maturity. The periodic payments are based
on the rate of interest agreed upon at the time the instrument is
sold.


---
Book inventory
The amount of money invested in inventory, as per a company's
accounting records. It is comprised of the beginning inventory balance, plus the
cost of any receipts, less the cost of sold or scrapped inventory. It may be significantly
different from the actual on-hand inventory, if the two are not periodically
reconciled.


---
Borrow
To obtain or receive money on loan with the promise or understanding that it will be repaid.


---
Borrower (Credit Insurance)
A consumer who borrows money from a lender.


---
Broker loan rate
Related: Call money rate.


---
Bull spread
A spread strategy in which an investor buys an out-of-the-money put option, financing it by
selling an out-of-the money call option on the same underlying.


---
Business Expansion Investment
The use of capital to create more money through the addition of fixed assets or through income producing vehicles.


---
Buy-side analyst
A financial analyst employed by a non-brokerage firm, typically one of the larger money
management firms that purchase securities on their own accounts.


---
Buyout
Purchase of a controlling interest (or percent of shares) of a company's stock. A leveraged buy-out is
done with borrowed money.


---
Capital
money invested in a firm.


---
CAPITAL
The money, raised by selling stock or bonds or taking out loans, that you use to start, operate, and grow a business.


---
capital
A very broad term rooted in economic theory and referring to
money and other assets that are invested in a business or other venture
for the general purpose of earning a profit, or a return on the investment.
Generally speaking, the sources of capital for a business are
divided between debt and equity. Debt, as you know, is borrowed money
on which interest is paid. Equity is the broad term for the ownership
capital invested in a business and is most often called owners' equity.
Owners' equity arises from two quite different sources: (1) money or
other assets invested in the business by its owners and (2) profit earned
by the business that is retained and not distributed to its owners (called
retained earnings).


---
Capital Investments
money used to purchase fixed assets for a business, such as land, buildings, or machinery. Also, money invested in a business on the understanding that it will be used to purchase permanent assets rather than to cover day-to-day operating expenses.


---
Cash
Currency, coin, and funds on deposit that are available for immediate withdrawal without
restriction. money orders, certified checks, cashier's checks, personal checks, and bank drafts
are also considered cash.


---
Cash Flow Forecast
An estimate of the timing and amount of a company's inflows and outflows of money measured over a specific period of time typically monthly for one to two years then annually for an additional one to three years.


---
Cash management bill
Very short maturity bills that the Treasury occasionally sells because its cash
balances are down and it needs money for a few days.


---
Cash Surrender Value
Benefit that entitles a policy owner to an amount of money upon cancellation of a policy.


---
Central Bank
A public agency responsible for regulating and controlling an economy's monetary and financial institutions. It is the sole money-issuing authority.


---
Certificate of deposit (CD)
Also called a time deposit, this is a certificate issued by a bank or thrift that
indicates a specified sum of money has been deposited. A CD bears a maturity date and a specified interest
rate, and can be issued in any denomination. The duration can be up to five years.


---
Claim dilution
A reduction in the likelihood one or more of the firm's claimants will be fully repaid,
including time value of money considerations.


---
Cold-Turkey Policy
Decreasing inflation by immediately decreasing the money growth rate to a new, low rate. Contrast with gradualism.


---
Company Acquisitions
Assets acquired to create money. May include plant, machinery and equipment, shares of another company etc.


---
Comparison universe
The collection of money managers of similar investment style used for assessing
relative performance of a portfolio manager.


---
Compounding
The process of accumulating the time value of money forward in time. For example, interest
earned in one period earns additional interest during each subsequent time period.


---
Contingent immunization
An arrangement in which the money manager pursues an active bond portfolio
strategy until an adverse investment experience drives the then-available potential return down to the safetynet
level. When that point is reached, the money manager is obligated to pursue an immunization strategy to
lock in the safety-net level return.


---
Continuous compounding
The process of accumulating the time value of money forward in time on a
continuous, or instantaneous, basis. Interest is earned continuously, and at each instant, the interest that
accrues immediately begins earning interest on itself.


---
cost avoidance
the practice of finding acceptable alternatives
to high-cost items and/or not spending money for
unnecessary goods or services


---
Cost of funds
Interest rate associated with borrowing money.


---
Covered Put
A put option position in which the option writer also is short the corresponding stock or has
deposited, in a cash account, cash or cash equivalents equal to the exercise of the option. This limits the
option writer's risk because money or stock is already set aside. In the event that the holder of the put option
decides to exercise the option, the writer's risk is more limited than it would be on an uncovered or naked put
option.


---
Credit
money loaned.


---
credit
On your bank statement, 'credit' represents funds that you have deposited into your account. The opposite of a credit is a debit.
However, 'credit' also means money that you borrow from a financial lender, like a bank. A credit card, for example, is a card that allows you to access funds which you then have to repay.


---
Creditor
Lender of money.


---
Creditor
Person or business that is owed money.


---
Creditor Proof Protection
The creditor proof status of such things as life insurance, non-registered life insurance investments, life insurance RRSPs and life insurance RRIFs make these attractive products for high net worth individuals, professionals and business owners who may have creditor concerns. Under most circumstances the creditor proof rules of the different provincial insurance acts take priority over the federal bankruptcy rules.
The provincial insurance acts protect life insurance products which have a family class beneficiary. Family class beneficiaries include the spouse, parent, child or grandchild of the life insured, except in Quebec, where creditor protection rules apply to spouse, ascendants and descendants of the insured. Investments sold by other financial institutions do not offer the same security should the holder go bankrupt. There are also circumstances under which the creditor proof protections do not hold for life insurance products. Federal bankruptcy law disallows the protection for any transfers made within one year of bankruptcy. In addition, should it be found that a person shifted money to an insurance company fund in bad faith for the specific purpose of avoiding creditors, these funds will not be creditor proof.


---
Currency
money.


---
Currency arbitrage
Taking advantage of divergences in exchange rates in different money markets by
buying a currency in one market and selling it in another market.


---
Dealer loan
Overnight, collateralized loan made to a dealer financing his position by borrowing from a
money market bank.


---
Debt
money borrowed.


---
Debt (Credit Insurance)
money, goods or services that someone is obligated to pay someone else in accordance with an expressed or implied agreement. Debt may or may not be secured.


---
Debt leverage
The amplification of the return earned on equity when an investment or firm is financed
partially with borrowed money.


---
Deposit Creation
The process whereby the banking system transforms a dollar of reserves into several dollars of money supply.


---
Depreciation Allowances
Tax deductions that businesses can claim when they spend money on investment goods.


---
Discount securities
Non-interest-bearing money market instruments that are issued at a discount and
redeemed at maturity for full face value, e.g. U.S. Treasury bills.


---
Related to : financial, finance, business, accounting, payroll, inventory, investment, money, inventory control, stock trading, financial advisor, tax advisor, credit.