Definition of Exogenous Expenditure

Exogenous Expenditure
See autonomous expenditure.


---
Related Terms:
Elements of spending that do not vary systematically with variables such as GDP that are explained by the theory. See also exogenous expenditure.


---
Aggregate demand for goods and services drawn as a function of the level of national income.


---
Amount used during a particular period to acquire or improve long-term assets such as
property, plant or equipment.


---
Refers to investments by a business in long-term
operating assets, including land and buildings, heavy machinery and
equipment, vehicles, tools, and other economic resources used in the
operations of a business. The term capital is used to emphasize that
these are relatively large amounts and that a business has to raise capital
for these expenditures from debt and equity sources.


---
future-period revenue.


---
expenditures that are accounted for as assets to be amortized
against income in future periods as opposed to current-period expenses.


---
An adjective indicating that something is determined by forces unrelated to the theory determining the variables under investigation.


---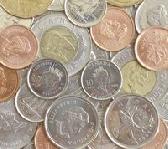 A variable whose value is determined outside the model in which it is used. Also called
a parameter.


---
A payment or the incurrence of a liability by an entity.


---
Capital expenditure program as outlined in the corporate financial plan.


---
Capital expenditures required to replace productive
capacity consumed during a reporting period.


---
Related to : financial, finance, business, accounting, payroll, inventory, investment, money, inventory control, stock trading, financial advisor, tax advisor, credit.