Definition of eurodollars

eurodollars
Dollars held on deposit in a bank outside the United States.


---
Eurodollars
Deposits denominated in U.S. dollars but held in banks located outside the United States, such as in Canada or France.


---
Related Terms:
An agreement permitting a bank customer to borrow either domestic dollars from the
bank's head office or eurodollars from one of its foreign branches.


---
In the Euromarket, a period over which eurodollars are sold is said to be neutral if it does not
start or end on either a Friday or the day before a holiday.


---
A bank depositing eurodollars with (selling eurodollars to) another bank is often said to be
making a placement.


---
Fed regulation currently requiring member banks to hold reserves against their net borrowings
from their foreign branches over a 28-day averaging period. Reg M has also required member banks to hold
reserves against eurodollars lent by their foreign branches to domestic corporations for domestic purposes.


---
In the interbank Eurodollar deposit market, an either-way market is one in which the bid
and offered rates are identical.


---
International Banking facility. A branch that an American bank
establishes in the United States to do Eurocurrency business.


---

A syndicated confirmed credit line with attached options.


---
An agreement by which a syndicate of banks indicates a willingness to accept
short-term notes from borrowers and resell these notes in the Eurocurrency markets.


---
A loan facility on a customers account at a financial institution allowing the customer to overdraw up to a certain agreed limit for an agreed period.


---
Bank borrowing facility to provide finance while the firm replaces U.S. commercial paper
with eurocommercial paper.


---
A bank machine, sometimes referred to as an automated teller machine (ATM).


---
A form of organization commonly used by foreign banks to enter the U.S. market. An agency
bank cannot accept deposits or extend loans in its own name; it acts as agent for the parent bank.


---
Requirement that none of an order be executed unless all of it can be executed at the specified price.


---
An arrangement whereby a security issue is canceled if the underwriter is unable
to re-sell the entire issue.


---
hours, machine hours or volume of production
used to apportion overheads to products and
services.


---

American Depositary Receipts (ADRs)
Certificates issued by a U.S. depositary bank, representing foreign
shares held by the bank, usually by a branch or correspondent in the country of issue. one ADR may
represent a portion of a foreign share, one share or a bundle of shares of a foreign corporation. If the ADR's
are "sponsored," the corporation provides financial information and other assistance to the bank and may
subsidize the administration of the ADRs. "Unsponsored" ADRs do not receive such assistance. ADRs carry
the same currency, political and economic risks as the underlying foreign share; the prices of the two, adjusted for the SDR/ordinary ratio, are kept essentially identical by arbitrage. American depositary shares(ADSs) are
a similar form of certification.


---
applied overhead
the amount of overhead that has been assigned to Work in Process Inventory as a result of productive activity; credits for this amount are to an overhead account


---
At-the-money
An option is at-the-money if the strike price of the option is equal to the market price of the
underlying security. For example, if xyz stock is trading at 54, then the xyz 54 option is at-the-money.


---
Back office
Brokerage house clerical operations that support, but do not include, the trading of stocks and
other securities. Includes all written confirmation and settlement of trades, record keeping and regulatory
compliance.
Back-end loan fund
A mutual fund that charges investors a fee to sell (redeem) shares, often ranging from
4% to 6%. Some back-end load funds impose a full commission if the shares are redeemed within a
designated time, such as one year. The commission decreases the longer the investor holds the shares. The
formal name for the back-end load is the contingent deferred sales charge, or CDSC.


---
BAN (Bank anticipation notes)
Notes issued by States and municipalities to obtain interim financing for
projects that will eventually be funded long term through the sale of a bond issue.


---
Bank
Money in a bank cheque account, the difference between receipts and payments.


---
Bank collection float
The time that elapses between when a check is deposited into a bank account and when the funds are available to the depositor, during which period the bank is collecting payment from the payer's bank.


---
Bank discount basis
A convention used for quoting bids and offers for treasury bills in terms of annualized
yield , based on a 360-day year.


---
Bank draft
A draft addressed to a bank.


---
bank draft
A guaranteed form of payment which is issued in amounts over $5,000.


---
Bank for International Settlements (BIS)
An international bank headquartered in Basel, Switzerland, which
serves as a forum for monetary cooperation among several European central banks, the bank of Japan, and the
U.S. Federal Reserve System. Founded in 1930 to handle the German payment of World War I reparations, it
now monitors and collects data on international banking activity and promulgates rules concerning
international bank regulation.


---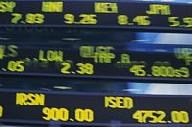 Bank line
Line of credit granted by a bank to a customer.


---
Bank overdraft
Money owed to the bank in a cheque account where payments exceed receipts.


---
Bank reconciliation
The process of taking the balances from the bank statement and the general ledger and making adjustments so that they agree.


---
Bank reconciliation
A comparison between the cash position recorded on a company's
books and the position noted on the records of its bank, usually resulting in some
changes to the book balance to account for transactions that are recorded on the
bank's records but not the company's.


---
Bank wire
A computer message system linking major banks. It is used not for effecting payments, but as a
mechanism to advise the receiving bank of some action that has occurred, e.g. the payment by a customer of
funds into that bank's account.


---
Banker's acceptance
A short-term credit investment created by a non-financial firm and guaranteed by a
bank as to payment. Acceptances are traded at discounts from face value in the secondary market. These
instruments have been a popular investment for money market funds. They are commonly used in
international transactions.


---
Bankers Acceptances
A bill of exchange, or draft, drawn by the borrower for payment on a specified date, and accepted by a chartered bank. Upon acceptance, the bill becomes, in effect, a postdated certified cheque.


---
Bankruptcy
State of being unable to pay debts. Thus, the ownership of the firm's assets is transferred from
the stockholders to the bondholders.


---
bankruptcy
The reorganization or liquidation of a firm that cannot pay its debts.


---
Bankruptcy cost view
The argument that expected indirect and direct bankruptcy costs offset the other
benefits from leverage so that the optimal amount of leverage is less than 100% debt finaning.


---
Bankruptcy risk
The risk that a firm will be unable to meet its debt obligations. Also referred to as default or insolvency risk.


---
Bankruptcy view
The argument that expected bankruptcy costs preclude firms from being financed entirely
with debt.


---
Bond agreement
A contract for privately placed debt.


---
Borrow
To obtain or receive money on loan with the promise or understanding that it will be repaid.


---
Borrower (Credit Insurance)
A consumer who borrows money from a lender.


---
Borrower fallout
In the mortgage pipeline, the risk that prospective borrowers of loans committed to be
closed will elect to withdraw from the contract.


---
Bretton Woods Agreement
An agreement signed by the original United Nations members in 1944 that
established the International Monetary Fund (IMF) and the post-World War II international monetary system
of fixed exchange rates.


---
Buy/Sell Agreement
This is an agreement entered into by the owners of a business to define the conditions under which the interests of each shareholder will be bought and sold. The agreement sets the value of each shareholders interest and stipulates what happens when one of the owners wishes to dispose of his/her interest during his/her lifetime as well as disposal of interest upon death or disability. Life insurance, critical illness coverage and disability insurance are major considerations to help fund this type of agreement.


---
Call money rate
Also called the broker loan rate , the interest rate that banks charge brokers to finance
margin loans to investors. The broker charges the investor the call money rate plus a service charge.


---
Canada Pension Plan (CPP)
A plan that provides retirement and long term disability income benefits to residents of Canadian provinces (excluding Quebec).


---
Canada Savings Bonds
A bond issued each year by the federal government. These bonds can be cashed in at any time for their full face value.


---
Canadian Deposit Insurance Corporation
Better known as CDIC, this is an organization which insures qualifying deposits and GICs at savings institutions, mainly banks and trust companys, which belong to the CDIC for amounts up to $60,000 and for terms of up to five years. Many types of deposits are not insured, such as mortgage-backed deposits, annuities of duration of more than five years, and mutual funds.


---
Cash deficiency agreement
An agreement to invest cash in a project to the extent required to cover any cash
deficiency the project may experience.


---
Central Bank
A public agency responsible for regulating and controlling an economy's monetary and financial institutions. It is the sole money-issuing authority.


---
Certificate of deposit (CD)
Also called a time deposit, this is a certificate issued by a bank or thrift that
indicates a specified sum of money has been deposited. A CD bears a maturity date and a specified interest
rate, and can be issued in any denomination. The duration can be up to five years.


---
Certificate of Deposit (CD)
A bank deposit that cannot be withdrawn for a specified period of time. See also term deposit.


---
chief financial officer (CFO)
officer who oversees the treasurer and controller and sets overall financial strategy.


---
Clearing House Interbank Payments System (CHIPS)
An international wire transfer system for high-value
payments operated by a group of major banks.


---
co-borrower
A co-borrower is the secondary borrower on a borrowing account. The primary borrower will receive mailed monthly statements while the co-borrower has the option to choose whether or not he/she will also receive statements.


---
Commercial Bank
A privately owned, profit-seeking firm that accepts deposits and makes loans.


---
Component
Raw materials or subassemblies used to make either finished goods
or higher levels of subassembly.


---
concentration banking
System whereby customers make payments to a regional collection center which transfers funds to
a principal bank.


---
Concession agreement
An understanding between a company and the host government that specifies the
rules under which the company can operate locally.


---
Conditional Sale Agreement
An agreement entered into between a conditional buyer and a conditional seller setting out the terms under which goods change hands.


---
Confidentiality Agreement
A legal document whereby the one party, usually the prospective investor, pledges to keep strictly confidential, and return on request, any and all information provided by the entrepreneur seeking funding.


---
Consortium banks
A merchant banking subsidiary set up by several banks that may or may not be of the
same nationality. Consortium banks are common in the Euromarket and are active in loan syndication.


---
Constant dollars
See real dollars.


---
Controlled foreign corporation (CFC)
A foreign corporation whose voting stock is more than 50% owned
by U.S. stockholders, each of whom owns at least 10% of the voting power.


---
Current Dollars
A variable like GDP is measured in current dollars if each year's value is measured in prices prevailing during that year. In contrast, when measured in real or constant dollars, each year's value is measured in a base year's prices.


---
Demand Deposit
A bank deposit that can be withdrawn on demand, such as a deposit in a checking account.


---
Demand deposits
Checking accounts that pay no interest and can be withdrawn upon demand.


---
Deposit Creation
The process whereby the banking system transforms a dollar of reserves into several dollars of money supply.


---
Deposit Switching
Central bank switching of government deposits between the central bank and commercial banks.


---
Depository transfer check (DTC)
Check made out directly by a local bank to a particular firm or person.


---
Depository Trust Company (DTC)
DTC is a user-owned securities depository which accepts deposits of
eligible securities for custody, executes book-entry deliveries and records book-entry pledges of securities in
its custody, and provides for withdrawals of securities from its custody.


---
Direct Deposit
The direct transfer of payroll funds from the company bank account
directly into that of the employee, avoiding the use of a paycheck.


---
direct deposit
A system where funds are electronically credited to your account by a financial institution or a payroll service. For example, you can arrange with your employer to have your pay cheques automatically deposited into your no fee bank account.


---
Domestic International Sales Corporation (DISC)
A U.S. corporation that receives a tax incentive for
export activities.


---
Domestic market
Part of a nation's internal market representing the mechanisms for issuing and trading
securities of entities domiciled within that nation. Compare external market and foreign market.


---
Double-tax agreement
agreement between two countries that taxes paid abroad can be offset against
domestic taxes levied on foreign dividends.


---
Dow Jones industrial average
This is the best known U.S.index of stocks. It contains 30 stocks that trade on
the New York Stock Exchange. The Dow, as it is called, is a barometer of how shares of the largest
U.S.companies are performing. There are thousands of investment indexes around the world for stocks,
bonds, currencies and commodities.


---
Dow Jones Industrial Average
Index of the investment performance of a portfolio of 30 "blue-chip" stocks.


---
economic components model
Abrams' model for calculating DLOM based on the interaction of discounts from four economic components.
This model consists of four components: the measure of the economic impact of the delay-to-sale, monopsony power to buyers, and incremental transactions costs to both buyers and sellers.


---
Electronic depository transfers
The transfer of funds between bank accounts through the Automated
Clearing House (ACH) system.


---
Eligible bankers' acceptances
In the BA market, an acceptance may be referred to as eligible because it is
acceptable by the Fed as collateral at the discount window and/or because the accepting bank can sell it
without incurring a reserve requirement.


---
Equity contribution agreement
An agreement to contribute equity to a project under certain specified
conditions.


---
Eurobank
A bank that regularly accepts foreign currency denominated deposits and makes foreign currency loans.


---
Eurocurrency deposit
A short-term fixed rate time deposit denominated in a currency other than the local
currency (i.e. US$ deposited in a London bank).


---
European Monetary System (EMS)
An exchange arrangement formed in 1979 that involves the currencies
of European Union member countries.


---
Export-Import Bank (Ex-Im Bank)
The U.S. federal government agency that extends trade credits to U.S.
companies to facilitate the financing of U.S. exports.


---
Factory overhead
All the costs incurred during the manufacturing process, minus the
costs of direct labor and materials.


---
Federal Deposit Insurance Corporation (FDIC)
A federal institution that insures bank deposits.


---
Federal Financing Bank
A federal institution that lends to a wide array of federal credit agencies funds it
obtains by borrowing from the U.S. Treasury.


---
Federal Home Loan Banks
The institutions that regulate and lend to savings and loan associations. The
Federal Home Loan banks play a role analogous to that played by the Federal Reserve banks vis-à-vis
member commercial banks.


---
Federal Reserve Banks
The twelve district banks in the Federal Reserve System.


---
Fiat Money
Fiat Money is paper currency made legal tender by law or fiat. It is not backed by gold or silver and is not necessarily redeemable in coin. This practice has had widespread use for about the last 70 years. If governments produce too much of it, there is a loss of confidence. Even so, governments print it routinely when they need it. The value of fiat money is dependent upon the performance of the economy of the country which issued it. Canada's currency falls into this category.


---
Fiscal agency agreement
An alternative to a bond trust deed. Unlike the trustee, the fiscal agent acts as an
agent of the borrower.


---
Fixed overhead
That portion of total overhead costs which remains constant in size
irrespective of changes in activity within a certain range.


---
fixed overhead spending variance
the difference between the total actual fixed overhead and budgeted fixed overhead;
it is computed as part of the four-variance overhead analysis


---
fixed overhead volume variance
see volume variance


---
Foreign banking market
That portion of domestic bank loans supplied to foreigners for use abroad.


---
Foreign bond
A bond issued on the domestic capital market of anther company.


---
Foreign bond market
That portion of the domestic bond market that represents issues floated by foreign
companies to governments.


---
Foreign Corrupt Practices Act (FCPA)
a law passed by U.S. Congress in 1977 that makes it illegal for a U.S. company to engage in various "questionable" foreign payments and
makes it mandatory for a U.S. company to maintain accurate
accounting records and a reasonable system of internal
control


---
Foreign currency
foreign money.


---
Foreign currency option
An option that conveys the right to buy or sell a specified amount of foreign
currency at a specified price within a specified time period.


---
Foreign currency translation
The process of restating foreign currency accounts of subsidiaries into the
reporting currency of the parent company in order to prepare consolidated financial statements.


---
Foreign direct investment (FDI)
The acquisition abroad of physical assets such as plant and equipment, with
operating control residing in the parent corporation.


---
Foreign equity market
That portion of the domestic equity market that represents issues floated by foreign companies.


---
Foreign exchange
Currency from another country.


---
Foreign Exchange
The currency of a foreign country.


---
Foreign exchange controls
Various forms of controls imposed by a government on the purchase/sale of
foreign currencies by residents or on the purchase/sale of local currency by nonresidents.


---
Related to : financial, finance, business, accounting, payroll, inventory, investment, money, inventory control, stock trading, financial advisor, tax advisor, credit.