Definition of Cookie Jar Reserves

Cookie Jar Reserves
An overly aggressive accrual of operating expenses and the creation of
liability accounts done in an effort to reduce future-year operating expenses.


---
Related Terms:
Any excess of actual reserves above required reserves.


---
reserves of commercial banks in excess of those they are legally required to hold.


---
A fund containing the central bank's holdings of foreign currency or claims thereon.


---
Excess reserves minus member bank borrowings at the Fed.


---
See foreign exchange reserves.


---
Holdings of gold and foreign currencies by official monetary institutions.


---
The dollar amounts based on reserve ratios that banks are required to keep on deposit at a Federal Reserve Bank.


---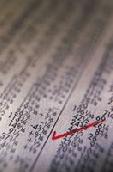 reserves that the central bank requires commercial banks to hold.


---
Commercial banks' reserves consist of their holdings of cash and their balances in deposits with the central bank. See also foreign exchange reserves, excess reserves, required reserves, reserve requirement.


---
Related to : financial, finance, business, accounting, payroll, inventory, investment, money, inventory control, stock trading, financial advisor, tax advisor, credit.